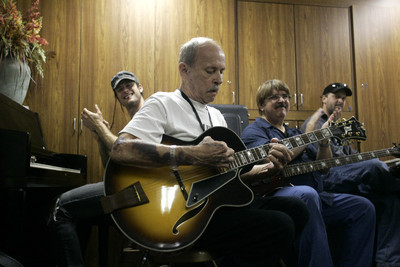 The right arm, large patches of its skin purple from subcutaneous hemorrhaging, shakes as it strains toward full extension.
Dick Zastrow can't reach his cup of water. His electric guitar nearly falls out of his lap.
Ben Zastrow, who has flown in from Chicago to share his 67-year-old father's last days on earth, retrieves the cup for him.
The jam session about to transpire in the rec room at Nathan Adelson Hospice is Dick Zastrow's dying wish.
"Last night, we were talking about music," explained Carole Weiss, one of Zastrow's nurses. "He told me he used to play music in a band and it gave him his greatest pleasure in life."
To receive hospice care, patients typically must have six months or less to live. Zastrow — a retired truck driver and guitar teacher from Minnesota — checked in 10 days ago. He told Weiss how great it would be to perform music for a live audience one last time.
"I said be careful what you wish for," Weiss recalled, "because things like that have a habit of happening around here."
At 4:30 p.m., exactly on schedule, Zastrow begins his first public performance in 25 years.
"Let's try blues in G," he tells his fellow musicians.
A torrent of jazzy staccato notes and chords explodes from Zastrow's Japanese guitar, chafing against the bluesy chug in a manner suggestive of guitar great Les Paul.
The audience on this Thursday afternoon — 16 friends, family and hospice workers — stares transfixed, occasionally clapping along.
Zastrow suffers from myelodysplastic syndrome, which is marked by ineffective red blood cell production. He was diagnosed 13 months ago.
"If I said leukemia, it'd be closer," Zastrow said earlier. "I can't make red blood anymore."
Zastrow had been receiving transfusions every one to three weeks. While they alleviated some symptoms, they did little to stop the progression of his disease.
"I'm not transfusing anymore," he said. "So I will just slow down as we progress."
Until two months ago, Zastrow had hope. Then doctors issued their death sentence. They estimate he has anywhere from three to six more weeks.
"Once you get over the initial shock," Zastrow said, "it's not too bad."
It's Frank Briski's turn to take a guitar solo. Zastrow's neighbor at the hospice suffers from terminal brain and lung cancer.
"I know I'm dying," the 56-year-old retired welder and professional guitarist said earlier. "But as far as timewise, I'm not keeping track. I'm not thinking like that."
Briski's Fender Stratocaster emits more of an Eric Clapton sizzle as the jam takes a new sonic turn.
"Frank and Dick have been going back and forth to each other's rooms over the past few days to share their passion for music and guitar," Weiss said.
Weiss, who sings for a local band called Rebound, finished off the ensemble with two of her own band mates: bassist Steve McKinley and his son, Shawn, who plays keyboard.
After four loose-knit songs, Zastrow — breathing heavily from overexertion — begins plinking out a familiar melody. It's "Misty," the Erroll Garner standard immortalized by Johnny Mathis.
An audience member leaves his seat to offer the tune a silky voice. It's Clint Holmes, whose daughter, Brittany, works as the hospice's communications manager.
"That was great, guys," Zastrow says after the applause dies down. "I'm not gonna forget that."
Contact reporter Corey Levitan at clevitan@reviewjournal.com or 702-383-0456.