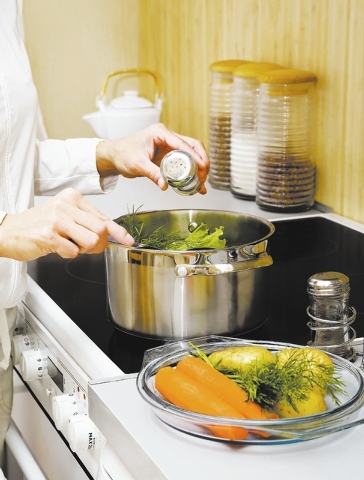 It's time for comfort food to heal the wounds of the hectic holiday season, and soup to warm the soul. And what, after all, is more comforting than a bowl of soup?
Ah, but that little doubt devil lingers: You've been indulging since raiding the kids' Halloween stash way back in October, which means it's time to lighten up. So here's the good news: Soups can definitely be part of a healthy diet — if you choose wisely.
"Soups are great because they can kind of become a one-dish meal, where you can get your vegetables and your whole grains and your lean proteins and pack it all in there, which is awesome," said Sidney Fry, a registered dietitian and assistant editor for nutrition at Cooking Light magazine.
Mary Wilson, a registered dietitian with Nevada Cooperative Extension, said soups can even be considered diet food.
"Certainly," Wilson said, "eating soup helps people lose weight, because it takes longer to eat soup, thereby giving your brain more time to get that signal that you're full. We find that if people start with a soup when they begin a meal, they tend to not eat as many calories. That's a strategy we've used for many years."
There are, of course, some caveats, and avoiding that triple-creamy lobster bisque is one of them.
"We usually tell people to look for the broth-based soups or the bean-based soups," Wilson said, or vegetable-based, such as gazpacho.
"Avoid anything cream-based," Fry said. "A tablespoon of cream has 3½ grams of saturated fat. There's no telling how much there is in a cream-based soup."
So, OK, broth-based soups. But what if you find those a little on the thin side?
"Grains — like a little bit of brown rice or quinoa — thicken up soup easily, quickly and nutritiously," Fry said. "Barley, farro — all of the whole grains add texture."
One way to add flavor, she said, is with a tablespoon of pesto.
"You can add greens to almost any soup," she said. "That's a great way to up the nutrient content. Spinach, Swiss chard, kale — you can pretty much add a handful of a few to the simmering soup and it'll cook right in. Sprinkle some high-flavor cheese, like feta or sharp cheddar or Parmesan. Just a tablespoon will thicken a broth-based soup and give it that richer feel."
That's all well and good, but what if you really want cream-of-something soup? The dietitians have work-arounds for those cases.
"A lot of these cream-based soups are vegetable-driven," Fry said. "You don't need the cream. You can puree some of the vegetables. Beans, cruciferous vegetables and root vegetables all puree beautifully, and they turn creamy and silky. You can add that to your soup to thicken it up. A few dollops of Greek yogurt can add a rich consistency."
In recipes that call for cream, you can make substitutions. Fry suggested trading out the whipping cream for whole milk, half and half or low-fat sour cream, or use broth for half of it.
"Use skim evaporated milk when it calls for cream, because it's condensed and that makes it a little bit creamier, but you don't have the fat," Wilson said. "Maybe use 2 percent evaporated milk. It just depends on what you can tolerate for a recipe."
Wider nutritional choices are available among canned soups, such as low-sodium or low or no fat (and fat-free chicken broth can be a starting point for some homemade soups), but homemade soups are pretty simple, and they offer endless opportunity for tinkering to your own or your family's taste.
"I prefer to make my own broth," Wilson said, "because I can put in my own vegetables to add more flavor."
SLOW COOKER FRENCH ONION SOUP
For caramelized onions:
4 large sweet onions, peeled and thinly sliced (about 5 cups)
Olive oil
For soup:
2 14½-ounce cans low-fat, low-sodium beef broth
1 14½-ounce can fat-free, low-sodium chicken broth
¼ cup sherry
1 tablespoon Worcestershire sauce
2 cloves garlic, minced
1 teaspoon dried thyme
4 slices lightly toasted French bread
Grated Gruyere, to taste
Place onions in slow cooker; drizzle lightly with olive oil. Cover and cook on high for about 9 hours.
Place broths, sherry, Worcestershire, garlic and thyme in a large saucepan and add onions and any juices from slow cooker. Heat, then ladle into oven-proof bowls.
Top with bread slices and sprinkle with cheese. Heat under boiler until cheese is melted.
Serves 4.
— Recipe from Las Vegas Review-Journal files
CHILI-SPICED CHICKEN SOUP WITH STOPLIGHT PEPPERS AND AVOCADO RELISH
Spice blend:
2½ teaspoons chili powder
2 teaspoons ground cumin
1½ teaspoons ground coriander
1 teaspoon dried oregano
1 teaspoon cracked black pepper
½ teaspoon kosher salt
Soup:
1 tablespoon canola oil (divided use)
1¼ pounds skinless, boneless chicken breasts, cut into ½-inch-wide strips
2 cups chopped sweet onion
1 cup chopped red bell pepper
1 cup chopped green bell pepper
1 cup chopped yellow bell pepper
1 tablespoon minced garlic
½ teaspoon salt
2 cups fresh corn kernels
1 (32-ounce) carton fat-free, less-sodium chicken broth
1 (28-ounce) can fire-roasted crushed tomatoes, undrained
2 tablespoons fresh lime juice
Relish:
½ cup chopped fresh cilantro
1/3 cup chopped green onions
1 teaspoon grated lime rind
3 ounces queso fresco, crumbled
1 diced peeled avocado
Cilantro sprigs (optional)
To prepare spice blend, combine ingredients in a small bowl.
To prepare soup, heat 2 teaspoons oil in a large nonstick saucepan over medium-high heat. Add chicken; sprinkle 1½ tablespoons spice blend over chicken. Saute 8 minutes or until done; cool. Chop chicken; set aside.
Heat remaining 1 teaspoon oil in pan over medium-high heat; add onion, bell peppers, garlic and ½ teaspoon salt. Sprinkle vegetable mixture with remaining spice blend; sauté 8 minutes or until vegetables are tender. Stir in chicken, corn, broth and tomatoes; bring to a boil. Reduce heat; simmer 15 minutes. Add lime juice.
To prepare relish, combine chopped cilantro and next 4 ingredients (through avocado).
Ladle 1¼ cups soup into bowls; top with ¼ cup relish. Garnish with cilantro sprigs, if desired.
Serves 8.
ROASTED CHESTNUT SOUP WITH THYME CREAM
3 cups whole bottled chestnuts
2 cups chopped yellow onion
¾ cup thinly sliced carrot
1 tablespoon olive oil
6 cups fat-free, lower-sodium chicken broth
5/8 teaspoon kosher salt, divided
1/4 teaspoon freshly ground black pepper
1/3 cup heavy whipping cream
1½ teaspoons chopped fresh thyme leaves
Preheat oven to 400 degrees. Place chestnuts on a jelly-roll pan. Bake for 15 minutes. Place chestnuts in a large bowl; cool to room temperature.
Combine onion, carrot and oil on pan; toss to coat vegetables. Bake for 1 hour or until tender, stirring occasionally. Add to chestnuts; stir in broth. Pour half of broth mixture into a blender; blend until smooth. Pour pureed mixture into a Dutch oven. Repeat procedure with remaining broth mixture. Stir in 1/2 teaspoon salt and pepper. Place pan over medium-high heat; bring to a simmer. Reduce heat and simmer 20 minutes.
Place cream in a medium bowl; beat with a mixer at high speed until soft peaks form. Add remaining 1/8 teaspoon salt; beat at high speed until stiff peaks form (do not overbeat). Ladle about 3/4 cup soup into each of 10 bowls; top each serving with about 1 tablespoon cream. Sprinkle with thyme. Serve immediately.
Serves 10.
CHICKEN BARLEY SOUP WITH WALNUT PESTO
Soup:
5 bacon slices, chopped
1½ cups chopped onion
2 tablespoons minced fresh garlic
2 (4-inch) portobello mushroom caps, chopped
1 (3-pound) whole chicken, skinned
1 thyme sprig
4½ quarts cold water
8 ounces Swiss chard
1 cup uncooked pearl barley, rinsed and drained
1 cup (½-inch) cubed peeled butternut squash
½ cup finely chopped carrot
½ cup finely chopped celery
¼ cup finely chopped Granny Smith apple
1 habanero pepper
¾ teaspoon salt
¼ teaspoon freshly ground black pepper
Pesto:
¼ cup walnuts, toasted
¼ cup (1 ounce) freshly grated Parmigiano-Reggiano cheese
2 tablespoons extra-virgin olive oil
1 tablespoon minced fresh garlic
¼ teaspoon salt
Cook bacon in a large skillet over medium heat until crisp. Add onion, garlic, and mushrooms to pan; cook 5 minutes, stirring frequently. Set aside.
Remove and discard giblets and neck from chicken. Place chicken and thyme in a large Dutch oven over medium heat. Cover with 4½ quarts cold water; bring to a simmer. Skim fat from surface; discard. Remove stems and center ribs from Swiss chard. Coarsely chop stems and ribs; reserve leaves. Add stems ribs, and next 5 ingredients (through apple) to pan; bring to a simmer. Pierce habanero with a fork; add to pan. Cook 35 minutes or until chicken is done.
Remove chicken from pan; cool slightly. Remove chicken from bones; chop meat. Discard bones, thyme sprig and habanero. Strain barley mixture through a sieve over a bowl. Reserve 4 cups of broth for another use. Return remaining 6 cups broth to pan; bring to a boil. Cook 10 minutes. Return chicken and barley mixture to pan; bring to a simmer. Add mushroom mixture. Cook 2 minutes or until thoroughly heated. Stir in ¾ teaspoon salt and black pepper.
To prepare pesto, cook reserved Swiss chard leaves in boiling water 2 minutes. Drain and rinse under cold water; drain. Place leaves, walnuts and remaining ingredients in a food processor; process until smooth. Serve with soup.
Serves 8.
— Recipes from Cooking Light magazine