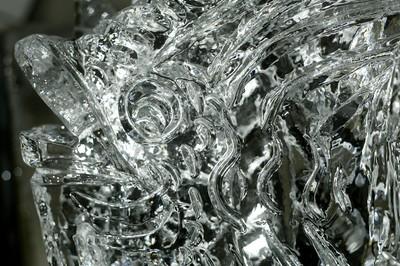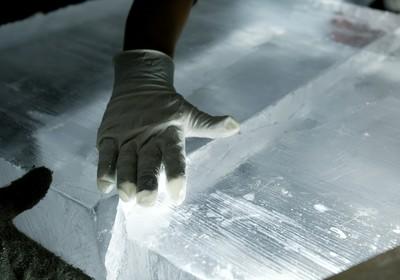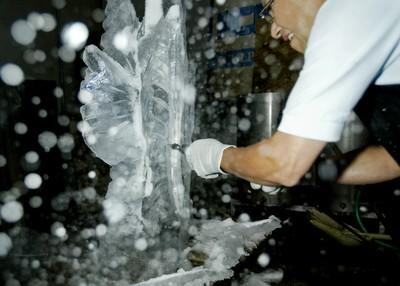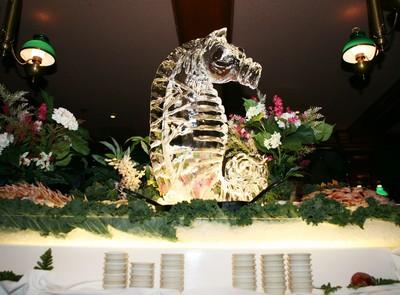 For ice sculptor Juan Carlos Paredes, finishing a piece is bittersweet: There's the moment when he can step back and admire his craftsmanship and think of the impact it will have on the people who see it. But after a few short hours, it all melts away.
Literally.
That's OK, he says. It takes him only minutes to create something from a block of ice that looks as though it took hours or even days.
Ice sculptures are used across Las Vegas to decorate buffets or lend a novel touch to a chichi party or event. A good one looks as clear as glass and is so pristine, it appears machine-made.
At least, that's what people think when they see one, Paredes says. In fact, they're carved by hand, with the help of chain saws, electric drills, lasers and a few hand tools.
"People love them," Circus Circus' The Steak House chef Bob O'Brien says of their appeal. He has been using Parades' services for the past 10 years.
Ice carvings have become a necessary, convenient and popular way to decorate a buffet or any dining setting, O'Brien says.
"It allows us to theme it to the occasion," he says. "For Mother's Day, we can do a vase and put flowers in it. For Father's Day we can do something like a golf club. It brings a lot of elegance to the room and brightens it up."
It's a skill that is taught in many culinary schools, O'Brien says, but it takes artistic ability to be good at it.
Paredes has been sculpting ice for 22 years, first as a sous chef at Caesars Palace. He opened Ice Studio, 6445 Hinson St., 15 years ago and now provides ice sculptures to many hotels.
The ice carver claims he's not an artist. Instead, he learned his craft in a culinary school in Mexico, he notes.
When he was learning, he used hand tools, and the process took so long, the ice often melted into a mess, Paredes recalls.
Practice made him good, he says. Paredes wields a chain saw as though it were nothing more than a paintbrush or an extension of his hand.
Starting with a block of ice that weighs 300 pounds, he makes a few scratches on it. They look like scratches on a block of ice. Snow flies from the chain saw as it bites into the ice, Paredes curving it one way and back again.
A shape emerges, and when it's finished, Paredes rinses the ice with water to make it look clear as glass. Within 15 minutes, an ice fish is leaping from the block. Those are popular with buffets, Paredes notes.
One of the hottest trends — so to speak — in ice sculpting is company logos, he adds.
He often makes entire bars out of ice, from which bartenders serve drinks through an ice luge. It's an elaborate-looking sculpture and earns "oohs" and "ahhs," Paredes says. It's all for show, though. The luge doesn't ice the liquid, because it's not in contact with it for long.
"People can't believe it's done in ice, especially with the quality of what you can do today," O'Brien says of the ice bars. "It brings a lot of joy to an event."
Sculptures such as the fish and luge cost $200. Larger sculptures vary in price according to the amount of time it takes to make and install them, Paredes says. The most expensive carving he did was about three years ago, for a carpenters' union. A logo standing about 30 feet high cost $35,000, he says.
HOW IT WORKS
A standard block of ice used for carving weighs 300 pounds and measures 40 inches by 20 inches by 19 inches.
It takes four to five days to freeze one block of ice; two to three days during winter months. Parades' studio can produce about 200 blocks of ice every five days.
The water used is specially treated with reverse osmosis and other filters so that the blocks will have a clear look, Parades says.
The sculptures are transported by refrigerated truck. Setup depends on the complexity of the display; it can vary from one hour to several hours. Workers install the sculptures by hand, transporting them by cart.
When a sculpture is installed, a drainage system is connected to it so that as it melts, the water is collected.
At an outdoor event, a sculpture will last about three to four hours, he says. Inside a 72-degree room, it can last as long as eight hours.
The busy season is around Christmas and New Year's, and during that time, Parades says, he can produce about 30 sculptures a day. During the slow months, he might do half that. His wife also sculpts but Parades says he does most of the sculpting.
REVIEW-JOURNAL