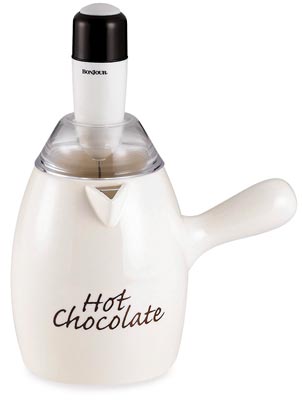 You can feel it in the air, that refreshing hint of coolness early in the morning and late at night that heralds the imminent arrival of fall.
Around this time of year, we find ourselves transitioning from the iced tea, iced coffee, iced soda, iced water and, on particularly hellish days, iced ice that helped us survive a Southern Nevada summer to more seasonally appropriate beverages.
One of our favorites: hot chocolate. And this hot chocolate maker from Bed Bath & Beyond seems like just the thing to make preparing a mug of hot chocolate an aesthetic, as well as a culinary, experience.
The 32-ounce ceramic pot brings to mind something from the 19th century, while the battery-powered frother on its top makes it easy to whip up a pot of creamy, frothy hot chocolate.
It's dishwasher and microwave safe, and retails for $29.99 at Bed Bath and Beyond, which has stores at 2100 N. Rainbow Blvd. and 10950 W. Charleston Blvd. in Las Vegas, 6564 Decatur Blvd. in North Las Vegas and 621 Marks St. in Henderson. It's also available online (www.bedbathandbeyond.com).
Story by John Przybys. What's New is a weekly column about new products on the market.