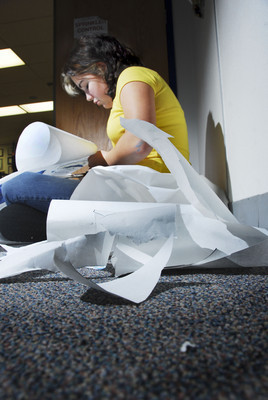 Every day, pounds of paper in elementary, middle and high schools throughout Las Vegas are thrown in the trash. Though many students and teachers would prefer to recycle, it is simply not an option in many schools.
"It's a laziness, which is inexcusable in the dawning of an environmentally aware culture," Las Vegas Academy senior Tim Schmeising says.
Since the termination of a districtwide recycling program, some students have taken the initiative and started their own recycling programs at their schools. Clubs such as the National Honor Society at Bonanza High School and the newly founded Recycling Club at the Las Vegas Academy of International Studies, Visual and Performing Arts have taken the responsibility upon themselves to recycle as much as possible at those schools.
However, the process is difficult considering the amount of recyclable material schools produce. The paper and plastic used by hundreds or even thousands of kids every day is almost impossible for a club of sometimes only 10 or 20 students to handle.
Las Vegas Academy teacher Robert Zambon says his classes throw out around 50 papers a day and it would be nearly impossible for him to take 250 papers a week home to his personal recycling bins.
Republic Services initially picked up recycled items from the schools. The company had provided white bins in the classrooms, but one year the bins disappeared. Republic's reason for discontinuing the program was that the Clark County School District wanted to price each material individually, which would cost the company more money.
The next company that ran a recycling program for the district was Abitibi. However, after only a short time, it went out of business.
The district then put out a bid for recycling to which no company responded. Republic Services declined the bid and claims the school district doesn't understand how recycling works, a company representative says.
Mark McGrath of the district's purchasing department says he is talking to as many recyclers as possible to be as informed as he can be about the business. He also says the district has three companies willing to do recycling, but the contracts still are in negotiation.
Recently, Secured Fibers has offered to provide a co-mingled recycling no cost-no pay service to the school district. This program is in place at Cimarron Memorial High School. However, the company offers no funds to the school for its recyclables. This recycling program is not widespread, and many schools do not know about it or have not taken advantage of it.
Although clubs that recycle are present in some schools, many students are unaware of them and don't know where to take their recyclables. Schmeising from Las Vegas Academy says, "I feel guilty every time I have to throw something that can be recycled away, but I just don't know what else to do with it."
There are also many more schools around the district that don't recycle at all. Palo Verde is a school of 3,252 students and has no recycling program or club.
After the recent districtwide budget cuts that were focused on supplies, many students think recycling is more important than ever.
"When we have paper shortages and budget problems, it's wasteful not only in resources but also in funds that could be acquired through the sale of recycled paper," says Las Vegas Academy senior Circe McDonald. "I think the fact that schools don't recycle in an age when the environment is a public policy priority is incredibly wasteful and unnecessary."
It's not easy being
R-Jeneration