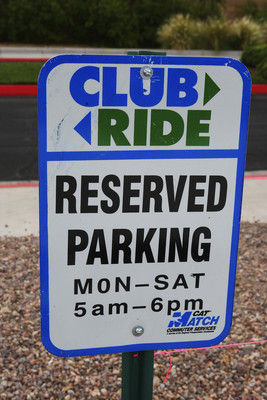 The satisfaction that you're helping the environment and reducing congestion on valley roadways? Nah.
The prospect of catching a few extra winks during that boring drive to work? Still not enough.
The chance to shave a few bucks off of your monthly gasoline bill, which is skyrocketing quicker than the mercury in that thermometer out on your patio? Oh, yeah.
Definitely: Oh, yeah.
Funny what it takes to make car-loving Southern Nevadans finally take a serious look at car pooling. But gasoline at more than $4 a gallon and a struggling economy seem to be doing the trick.
Jacob Snow, general manager of the Regional Transportation Commission of Southern Nevada, says interest in the RTC's Club Ride Commuter Services program — which aims to encourage Southern Nevadans to car pool, ride buses, bike and take other, alternative, means of transportation to get to and from work — is higher than it has been in the program's 10-year history.
"I think it is primarily because of gasoline prices," Snow says. "Car pooling, transit riding, and biking and walking are no longer thought of as an afterthought by people."
Car pooling's public profile in Southern Nevada also received a boost in November with the opening of HOV, or high occupancy vehicle, lanes on U.S. 95, between Rainbow and Martin Luther King boulevards. Mondays through Fridays, from 6 to 10 a.m. and 2 to 7 p.m., the lanes can be used only by motorcycles and vehicles that contain two or more occupants.
CAR POOLERS
Kara Kysor and Jennifer West have been car pooling to their jobs at Lexus of Las Vegas for more than a year-and-a-half. Both live in northwest Las Vegas, and their trip takes about 20 minutes each way.
Their car pooling relationship began informally. "My husband and I only have one car, and we were just shuffling all the time," says West. So when office-mate Kysor suggested that they double up, it just made sense.
In a typical week, Kysor will drive about three days and West two. Because they live a quarter-mile or so from each other, the daily pickups and drop-offs at one another's homes take little time.
"It's been working fine," Kysor says. "I think the major (hitch) is if I'm running late I make her late, and vice versa."
But that's no problem, either. They just take a shorter lunch break or work a bit later to make up the lost time, "and our boss is very OK with it," Kysor says.
Lonnie Mann also is a car pooling veteran. He car pooled for about 15 years while working for a Nevada Test Site contractor — he and a few other workers shared a daily ride to Indian Springs — and, for the past seven years, has been car pooling to his job at North Las Vegas' code enforcement department with one, and sometimes two, co-workers.
As ride-sharing veterans, Mann and his partners have their daily routine, he jokes, "down to a science."
Each workday morning, they drive their cars to the parking lot of a school in the northwest part of town and, with the principal's approval, leave them in a few outlying spaces. Then, they pile into the car of whoever's driving that day for the 20-minute commute to their office on Civic Center Drive. At the end of the day, they reverse the routine.
They alternate driving weeks, Mann says. "It made sense not only for fuel savings — money savings — but just overall wear and tear on the vehicles."
Car pooling does require more planning, flexibility and communication than driving individually. Mann says he and his car pooling mates have established protocols for unexpected problems.
"If one person can't make it or calls in sick, we have a cutoff time," Mann says. And, if the no-show on a particular day had been scheduled to drive, that person will take "a make-up day for whoever drove for them."
INCENTIVES
According to the Regional Transportation Commission, about 20,000 alternate rides — rides that didn't involve one person driving one car, and most of them car pools — were reported to the Club Ride program in May.
As part of Club Ride's roster of incentives, car poolers can log their trips through the program's Web site and become eligible for monthly drawings for merchandise and gift cards.
On the Club Ride Web site (www.rtcsouthernnevada.com/clubride), prospective car poolers also can enter their names in a computer database that will match them up with prospective pooling partners. Club Ride participants even can receive free taxi rides home if an emergency or unexpected overtime strands their car pool driver at work.
In its effort to encourage Southern Nevadans to change their commuting ways, Club Ride works, in large part, through the valley's employers. Workplaces are effective places for creating car poolers, Snow explains, because employees already know each other and "feel more safe and secure about starting a car pool."
Club Ride-supporting employers, in turn, can receive tax benefits for encouraging employees to use alternate forms of transportation, and some companies even offer car-pooling employees a few perks of their own.
At Lexus of Las Vegas, for example, Kysor and West park in specially designated parking spaces that are close to the building. And, Kysor says, the company matches the gift cards employees win in the RTC's monthly Club Ride drawings.
As Kysor sees it, the benefits — lower gasoline costs, reduced air pollution and highway congestion, the chance to enjoy good company while driving to and from work, and the perks from employers and Club Ride — make car pooling "almost a no-brainer."
MIXED RESULTS WITH HOV LANES
The high occupancy vehicle lanes on U.S. 95 are the first car pool lanes in Nevada, and Bob McKenzie, spokesman for the Nevada Department of Transportation, says plans are to incorporate HOV lanes on other freeways in the valley as roadway improvements are made.
McKenzie says the department has no tally of how many cars use the lanes during peak commuting periods, but adds that the motoring public seems to be warming up to them.
Early on, some motorists were "pretty negative" about the new lanes, McKenzie recalls, arguing that "we don't need them in Las Vegas."
But, now that the lanes have opened, "people are seeing a practical use" to them, McKenzie says.
Some drivers even seem to like the HOV lanes a bit too much, says Kevin Honea, a spokesman for the Nevada Highway Patrol. While there are not yet statistics of how many citations have been issued for improper HOV lane use, "we do write a lot of citations in car pool lanes," Honea says. "And probably the biggest concern we have is not just the car pool lane (occupancy) violation, but we see a lot of people using that as a very-high-rate-of-speed lane."
Contact reporter John Przybys at jprzybys@reviewjournal.com or 702-383-0280.
MAKE SURE YOU'RE COMPATIBLE The Club Ride Web site suggests that prospective carpoolers first meet over coffee or lunch to decide whether they're suitable as car pool partners. Topics that might be up for discussion include: The finances: How much every member will contribute toward gasoline and other costs. Driving schedules: Who drives and when. How often the group will car pool. The site suggests that participants set a schedule and then agree to notify others in the group immediately if their commuting plans change. (The RTC notes that car pooling, riding a bus, bicycling or walking just one day a week will make a significant difference in road congestion and air quality.) Where pickups and drop-offs will be. Check, too, to see whether permission must be obtained if parking at pickup or drop-off points. What you will do if you cannot car pool on days when it's your turn to drive. What happens if you have to work late or leave early because of an emergency or unexpected event. (Club Ride offers a Guaranteed Ride Home program, but others in the group still must be notified if someone's plans change.) How long will the pool wait for somebody who's running late? What happens during the commute, including will the radio be on and who gets to pick the station? (In Lonnie Mann's car pool, the driver has dibs.) Are smoking and/or eating permitted? Are any riders sensitive to strong perfumes or colognes? Will stops (for dropping off children or getting coffee or gasoline, for example) be made? What are the driver's duties? Will the fuel tank be filled before riders are picked up? The RTC also suggests that new poolers try riding together for a specified, limited period. That way, if the car pool isn't working, members can bow out gracefully after the trial run. HOV LANES The recent HOV, or high occupancy vehicle, lanes on U.S. 95, between Rainbow and Martin Luther King boulevards are the first in Nevada. From 6 to 10 a.m. and 2 to 7 p.m. Mondays through Fridays, they can be used only by motorcycles and vehicles that contain two or more occupants. FIND OUT MORE For more information about car pooling, visit the Club Ride page (www.rtcsouthern nevada.com/club_ride) on the Regional Transportation Commission of Southern Nevada Web site, or call Club Ride at 228-7433. The Club Ride web site offers information about the program and how it works, links to the program's passenger-matching system, general information about the benefits of car pooling and car pool etiquette.