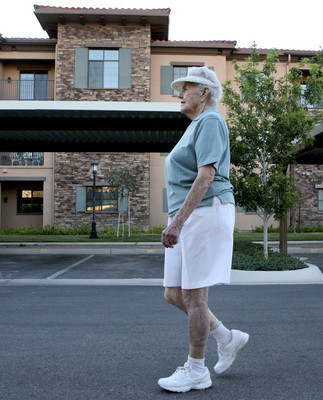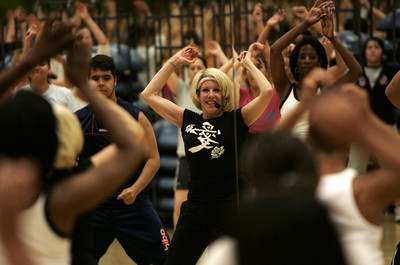 hen Tony Taylor took a vacation two weeks ago, he didn't sign up for one of those relaxing cruise/beach/backyard affairs.
Instead, Taylor went to California and helped to maintain portions of the Pacific Crest Trail, spending a week on parts of the trail backpackers don't even see.
And here's what's really impressive: If Taylor hadn't donated his time to that cause, he probably would have just hung around his Boulder City home, preparing for his next triathlon.
All at a youthful 68 years of age.
Southern Nevadans are turning on its flab-filled head the notion that "age" is just another word for inactivity. From walking programs sponsored by Nevada Senior Games to aerobics classes at local health clubs to people navigating myriad roadways, swimming pools and hiking trails, the Las Vegas Valley is home to some very healthy, often intense, amateur senior athletes.
Taylor, for instance, worked for more than 20 years at Nellis Air Force Base's family support center. He swam when he was younger, although not competitively, and did some running and cycling, too.
But it wasn't until the late '90s, when Nellis sponsored a half-triathlon, that Taylor figured he'd try putting them all together in the triple-sport endurance competition.
Taylor enjoyed the experience and began triathlon training, although more for fun than anything else. Now, he trains daily, competes regularly and says he finds appealing the "logistical, physical and mental challenge" of the sport.
"I do it as a fun thing. I get serious and competitive, but if I don't win, it doesn't bother me. You can't get so serious that it's not fun," he says.
Taylor has discovered that competing at his age has its advantages. Sometimes, he jokes, "I'll be the only competitor, so I'll win. Somebody told me one time, 'OK, Tony, you've already won.' I said, 'I'm still going to do it.' "
Will Rauch has run triathlons, but the pool is his favorite athletic venue. Rauch, 73, has competed in swim meets across the United States and Europe.
Rauch, a native of Austria, worked for 30 years as a bartender at the Sahara. He enjoyed hiking and soccer in his youth — he even played AAA-level soccer in Canada — but had to give up the sport because of knee and leg problems.
When he turned 67, Rauch began swimming with the Las Vegas Masters swim team and discovered that the sport enabled him to both stay in shape and sate his competitive instincts.
Now, he swims three days a week, for about 90 minutes a stretch, hikes for about 31/2 hours on the other days — he takes Sundays off — and says he feels better than ever.
And, while he understands and appreciates the health benefits his exercise regimen brings, Rauch says he swims mostly "because I'm competitive."
Even if, he adds, "that might be crazy at my age."
What do others say about his impressive-at-any-age regimen? Rauch laughs. "People say, 'He's crazy.' "
From a less active point of view, it would seem that Ginny Jones is doing it all wrong.
Jones recalls that she taught three exercise classes a week when she was 40, five classes a week when she was 50 and eight classes a week when she was 60.
Now, at 70 years of age, Jones teaches 11 classes a week — aerobics, kickboxing, variations on a body-sculpting theme and a Latin-flavored cardiovascular workout called Zumba — at the Las Vegas Athletic Club, 9065 S. Eastern Ave.
Exercise isn't a recent addition to Jones' life. She grew up just outside of London and wanted to be a dancer "from the time I could think. When I was 4, I already knew what I wanted to do."
A side trip into professional ice skating — she was recruited while taking dance classes — came at 15 and, at 18, she traveled to the United States with the Ice Capades.
A stint in the "Lido de Paris" show in Paris led to a relocation to the Las Vegas version of the show in 1966. Jones followed that up with several years spent dancing in production shows here.
After leaving dancing at age 37, Jones was invited to attend an aerobics class. She admits she didn't even know what aerobics was, but discovered that she liked it. And, when the teacher left, she was asked to take the class over.
Jones has since earned certification in several forms of fitness workouts and continues to expand her repertoire of skills. "I've always had a drive in me to push the envelope, and my idea is to not slack off or back up," she says.
Jones easily looks two decades younger than her chronological age. How do others react when they find out how old she really is?
"I get my ego built up a lot. Let's just leave it at that," Jones answers. "Then I have to push it down."
But most important, Jones says, is how her fitness activities enable her to interact with students, some of whom have been regulars for years.
"I'm very blessed," Jones says. "It's an other-centered job. I have fun seeing other people have fun and get fit at the same time."
Doyle Ryan's preferred athletic venue is the great outdoors. There, he hikes and enjoys rock scrambling, which, he explains is "just kind of climbing rocks but nothing technical."
Ryan, who will turn 71 in August, is a retired Iowa farmer. When it's suggested that that must have kept him in shape, Ryan says it's "pretty good exercise, but nothing like it used to be. You sit on a tractor, where you used to do the physical labor."
As a kid, Ryan enjoyed athletics. "I went to a really small school, so I was able to play all of the sports they had. And even as a kid, I can remember I'd love to walk or go out by myself and walk around the countryside a few hours."
Now, he indulges in that longtime love by going on hikes — each lasting six hours or more — at least two days a week. When he's not hiking, he works out on a stair-stepping machine and with weights, and "on days I don't hike, I walk at least four miles on sidewalks."
Ryan concedes that there are days when working out is less than appealing.
"I think for some people, it comes a little more naturally, but I don't think that's a big factor, really," he says. "I work hard to keep in shape now. I mean, I've got to force myself to go work out when I don't feel like it.
"But I feel so good afterward, and I'm not about to lose what I've got. And I've noticed I feel better now than I did when I was in my 50s, to tell you the truth."
In fact, he says, "I feel as good as when I was a kid. I never believed that would have been possible."
Gertrude Deegan knows something about maintaining an exercise routine. For the past 40 years or so, she has taken a daily walk, and to this day continues that tradition with a mile-and-a-half walk each morning and a mile walk each night, every day but Sunday.
And Deegan is 94 years old.
Before moving to Las Vegas, Deegan and her husband lived near a lake in California, and she and her husband walked around that lake every morning and every night.
They continued that walking habit after moving to Sun City in Las Vegas in 1991. After her husband died in 2003 and Deegan moved into the Las Ventanas senior community here, she continued her daily walks.
Why? "I don't know why I do it," she says "I'm just a fresh air person, I guess.
"I never thought of it as being for health. I never thought that. I guess it's because I was born and raised on a farm in the northeastern part of Missouri and you had to walk to school."
She has made one small concession, though. "I have to tell you the truth: Now that I'm older, I come back to bed for a while after I walk," she says.
Her exercise routine does impress her neighbors. "They all want to know how old I am, and then it's, 'Oh, you look good for your age,' " Deegan says. "I don't know what they're comparing with, but anyway that's what they say."
Do her walks ever become boring? "Oh my, no," she says. "I could walk further sometimes."
But not with anybody else, necessarily, because, for Deegan, the benefits of a daily workout aren't just physical.
"I don't want company when I walk," Deegan explains. "If you walk with somebody else, you're talking, and you need the air in your lungs, I think."
Besides, Deegan adds, "it's my devotion time. It's a time I can be with God myself."
Contact reporter John Przybys at jprzybys@reviewjournal.com or 702-383-0280.
SOME WALKERS OUT FOR FUN, TOO
Reg Rod sees active seniors and soon-to-be-seniors all the time in his job as executive director of Nevada Senior Games. And, from what he sees, more and more of them aren't using aging as an excuse to just kick back and relax.
"It's a trend for (older) people to take better care of themselves, to look at things that, maybe, will prolong their lives or make their lives rewarding."
Rod sees some of those enthusiasts at the weekly walking programs Nevada Senior Games sponsors at three locations in the valley. Those events, designed for everybody from casual walkers to power walkers, include music, refreshments and other twists designed to make the gatherings as social as much as fitness-oriented.
In addition, Nevada Senior Games sponsors the Nevada Senior Olympics — this year's edition runs from Sept. 23 through Oct. 19 — in which people ages 50 and older compete in 29 sports and more than 80 events. And while that event does attract its share of serious competitors, Rod says, "that isn't the thrust of it."
Some older Southern Nevadans who exercise simply are continuing a lifelong habit. Then, Rod says, "there are people starting to do it because they recognize the health benefits. They try to give up smoking, they try to eat healthy, all these different kinds of things."
For them, he says, "it's not a question of living longer as much as living well longer."
For others, exercise "gets them up and out, and it's a social thing," Rod says. "In our walking program, we have music for them so they have fun doing it. We're really trying to get them into a healthier lifestyle, and that's why they really joined the program in many cases."
The key point, Rod says, is that it's never too late to begin.
In fact, he says, "we have people in our walking program who are using walkers and canes and things like that, who are getting out for the first time in a long time."
For more information about Nevada Senior Olympics, visit the event's Web site (www.nevadaseniorolympics.com).
For more information about Nevada Senior Games' walking program, call 242-1590.
— By JOHN PRZYBYS