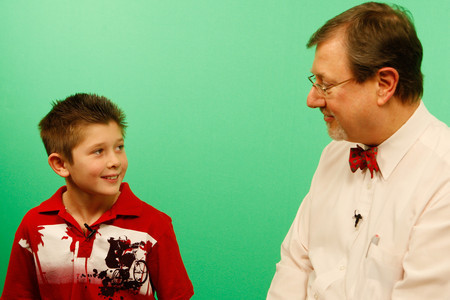 When in doubt, go to the experts, we always say. And never has our rule held up so well as in our quest to learn more about one Mr. S. Claus.
With the help of young readers, we feel we have a better understanding of how Santa does the things he does.
Such as the tricky business of how Santa can travel the world on one single night. Annie David, 10, theorizes that Santa's sleigh is powered "with the help of all the children on the 'nice' list. If there are more kids on the 'naughty' list than on the 'nice' list, the reindeer will not be able to fly."
The sleigh, Annie adds, runs on a "glee tank" that "stores all the cries of glee from the children when they see their presents on Christmas Day."
But not to worry, Annie says. The glee tank is always full, "because there are always happy children on Christmas Day."
Take that, OPEC.
Meanwhile, Kevin Harris, 9, explains that Santa pulls it off with a little help from Father Time and his other friends.
"All magical people are friends and they help each other," Kevin explains. "So, like, if the Tooth Fairy's wing is broken, he borrows Santa's sleigh. They are friends, and they help each other and never expect anything in return."
By the way, Baron Ghiselli, 7, says that, while the reindeer and Santa are, indeed, magical, "if the sleigh doesn't work, he could use a hovercraft."
Another question is how Santa — who is, to be charitable, a big-boned man — could fit down a chimney and what he does in cases where there's no chimney.
Annie says for those sans chimney, Santa makes an invisible hole in the roof that acts like a slide. Then, when he's finished, she adds, he whispers to Blitzen to "press the red button."
"Santa then stands under the slide, and when Blitzen presses the red button, Santa gets sucked up to the roof. After Santa is back on your roof, the hole magically closes."
An alternate theory comes from Jacob Bogdanovich, 9, who says that Santa "squishes through a hole in the roof. He turns into a glob and goes through the hole. Then, boom, there is a fireplace."
Why does Santa wear that red suit? Corey Millington, 11, surmises that "the elves actually found Santa Claus when he was a baby, and they all had red suits, so they just made him a big red suit … so he always wears it."
Justice Hao, 8, looks at our question from a more pragmatic point of view: Santa wears a red suit, "because he's Santa Claus. Why else? He wouldn't be Santa without his red suit."
Point taken.
Speaking of which, we know Santa likes milk and cookies, but wondered what else he might like to dine on during his travels. Our experts suggest eggnog, hot chocolate and even Junior Mints. But Kalina Abaturov, 6, suspects Santa also is fond of Red Fruit Roll-ups, "because they are the same color as his suit."
And that knotty question of how the Big Guy knows who's naughty and who's nice? Annie figures Santa is assisted by his "very talented helpers" who, when they're not making toys, walk among us.
"They look like everyday people, but they are not," Annie explains. "They are the ones who tell Santa if you are naughty or nice while you are outside of your house. Then they report the news back to Santa."
Lauren Brown, 9, offers that Santa "can see through your roof, and there is a naughty or nice detector that is small. You can't ever see it, only he can. That's how he knows you are naughty or nice."
Corey adds that "Frosty the snowman gave him a magic snowball so Santa could always watch the kids all year long. So all he has to do is look into the magic snowball and he can see who is being naughty and nice anytime he wants to."
Brenden Velez, 7, has a more simple explanation. Santa, Brenden says, "knows just the same way police officers know."
One can only wonder if the ACLU has been notified.
Our experts also offer answers for such timeless questions as how Santa found his elves. Baron suggests that Santa found his trusted helpers when they were "stranded at the North Pole and he thought it would be nice to help them."
As for what Santa does during the off-season, Sabrina Rose Richards, 7, says "he watches 'Dancing with the Stars' in the North Pole, and there it is called 'Santa Claus with the Stars.' "
For what it's worth, our young correspondents also note that Santa's tube tastes also include "SpongeBob SquarePants," "The Simpsons," "America's Funniest Home Videos" and "Family Guy."
Finally, because they answered our questions so adeptly, we thought it only fair to ask our experts what questions they'd like to ask Santa if they had the chance. Nicholas Brandwine, 10, says he'd inquire "how many total toys can his workshop make in one day. Also, does he pay the elves fairly? (Bad economy.)"
Meanwhile, Haley Jurbala, 11, would ask: "How do you make so many presents?" and "Is there such (a) thing as coal? (I've never gotten any)."
Taking a clue from Haley, we'd like to thank everybody who participated in our yuletide inquiry, and offer the wish that they never, ever, find coal in their stockings.
Merry Christmas.
Contact reporter John Przybys at jprzybys@ reviewjournal.com or 702-383-0280.
Watch Nathan Tannenbaum's interviews with a few of our young Santa Claus experts