Larry Ruvo wages war against Alzheimer's in the name of his father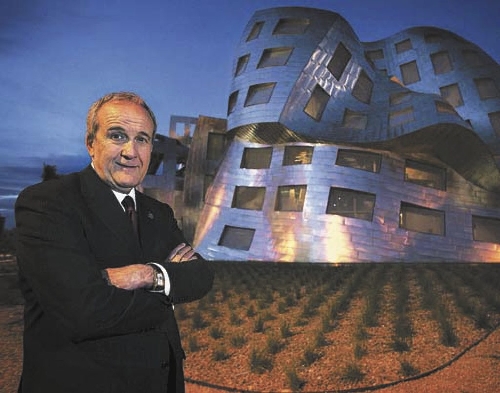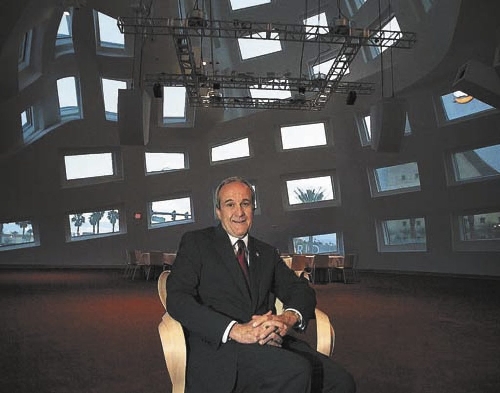 If you want something accomplished, tell Larry Ruvo he can't do it.
In the world of sports betting, Ruvo is what's known as a "sure thing." Never bet against him, friend Michael Severino says. If Ruvo says he will do something, he will. And if someone says he can't, that all but ensures he can.
For years, Ruvo heard "can't."
"You can't bring a great architect to a town where he doesn't want to build. You can't open a high volume medical clinic to offer treatment that Medicare won't reimburse. You can't do it in a city with substandard medical care."
These were only a few of the things that were said about Ruvo's desire to build a world-class brain disease treatment and research facility in Las Vegas, says Maureen Peckman, chief executive officer of Keep Memory Alive, a nonprofit founded by Ruvo to raise money for the treatment and research of Alzheimer's disease.
"There were so many can'ts," she says.
Last month, the Cleveland Clinic Lou Ruvo Center for Brain Health had its grand opening for the facility's Life Activity Center. The event marked the completion of the final stage of the $80 million project, which started seeing patients last year. The center will diagnose, treat and research neurological diseases, including Alzheimer's, Huntington's, Parkinson's and amyotrophic lateral sclerosis. It also houses the offices of Keep Memory Alive.
The event marked the culmination of Ruvo's more than 14 years of hoping, dreaming and planning a way to honor his father, Lou, and fight the disease that killed him: Alzheimer's.
Locals have watched the odd-shaped building on the corner of Bonneville Avenue and Grand Central Parkway take shape since construction started in 2007. They've heard the names Lou and Larry Ruvo for at least that long, too. No doubt, many have not only wondered what the building was but who, exactly, it was named for. And who is the guy who made it all possible, Larry Ruvo?
He persuaded one of the world's most renowned architects, Frank Gehry, to design the brain center, even after Gehry had previously turned down requests from major casino operators to build in Las Vegas. Ruvo also forged a partnership with one of the world's most renowned medical facilities, the Cleveland Clinic.
The husband of Camille Ruvo and father to three daughters, Ruvo, 64, is known for many things: his philanthropy, support of local education, his business acumen. Friends say he is most known for his determination.
"Larry is like a spiritual force," says his friend Severino. "He is unrelenting when it comes to purpose. He's got a style and substance about him that I think will be legendary in time."
Severino, the general manager of event marketing for Southern Wine and Spirits of Nevada, met Ruvo in 1979. They formed a fast, and lasting, friendship.
"He was a young salesman and I was a young food and beverage executive," Severino recalls. "A mutual friend introduced us, said 'I think you guys should meet, I think you'll hit it off,' and boy did we."
Both shared a deep knowledge of food — Ruvo's parents owned a Las Vegas icon, the Venetian restaurant — and liquor. Severino bought it for his employer, and Ruvo sold it through his company, Southern Wine and Spirits. They also were close to their own fathers.
Severino knew Lou Ruvo and eventually managed his restaurant after he was diagnosed with Alzheimer's. Larry is a lot like Lou, he says.
"I think his dad was a super guy. I think both of them have that great common touch," Severino says. "To me, they are the kind of people who are so giving and warm. Their generosity was overwhelming."
Lou Ruvo moved the family to Las Vegas from New York when Larry was 6.
The Ruvos, Angie and Lou, ran the Venetian restaurant for 43 years, building it into a valley favorite before they had to sell it when Lou got sick. It was in the restaurant that Larry Ruvo learned from his father about life and business.
He started working with him when he was 8 or 9 years old, washing dishes and grating cheese. When he was 14, Larry thought he knew everything he needed to know about running a business. One day, he argued with the chef and fired him.
"My father sat me down and said, 'I understand you fired … the chef.' He said, 'Well, I want you to hire him back.' " Ruvo recalls.
When the chef came back, Lou promoted him to manager and told him "your first job is to fire my son."
That was the last day Larry worked in the restaurant.
"I never worked another day at the Venetian. My father taught me about business. He taught me you don't know everything at 14. He taught me that the most important thing, to him, was family," Ruvo says.
After graduating from Las Vegas High School in 1964, Ruvo went on to work for the Sahara and Frontier hotels before establishing a liquor distribution business with Steve Wynn in 1970. That business became Southern Wine and Spirits of Nevada, where Ruvo serves as senior managing director today.
"When Larry took the company over, there were 10 or 11 distributors in town," Severino says. "Southern Wine was like number 11. Now we're like number one. It's been a journey that just keeps going, and it was all built upon his relationships and his understandings of business."
Medical research was the last thing on Larry Ruvo's mind, until 1992, when his father started forgetting things.
Doctors diagnosed him with heart issues and other problems. In reality, he had Alzheimer's. In searching for care for his father, Larry Ruvo was struck by the lack of medical options in Nevada and had to take his father to California for treatment. His father died in 1994.
On the anniversary of his father's death the next year, Larry Ruvo got together with some friends to tell stories about Lou Ruvo. In that casual setting, he walked out with $30,000 of unsolicited donations from his friends, who wanted him to use it to find a cure for Alzheimer's. Shortly after, Larry Ruvo founded Keep Memory Alive to raise money to combat the disease.
The fact that Ruvo was able to raise millions of dollars for the cause, recruit a world-famous architect to build a center and partner with a major health facility doesn't surprise those who know him.
"When he sets his mind to something, there is no alternative other than success," says Peckman, who has known Ruvo for seven years and worked with him since 2007. "I don't think he ever sleeps. You can get an e-mail from him at 1 a.m. and he's singularly focused on the smallest things. I think it's the secret to his sauce."
Says Severino: "His stamina is incredible and unrelenting for the right causes. He has a great sense of humor, and he has great energy, but that's part of his passion. To be around him is infectious. You get the vibes that you want to do it, too."
Ruvo says he's proud that his father's name graces a facility that he is certain will become the standard in neurological care. But just because the center is up and running doesn't mean his work is done.
He wants a cure and will continue to raise money to seek it.
"I don't know what God has in store for me in the future," Ruvo says. "Right now, I've got an amazing team at Southern Wine and Spirits and at Cleveland Clinic. I think I just want to ride the wave right now and see what progress we make on this disease. I'm just excited doing what I'm doing."
Contact reporter Sonya Padgett at spadgett@ reviewjournal.com or 702-380-4564.