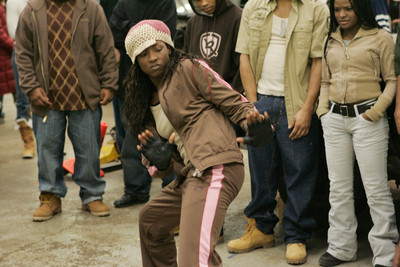 Good thing Rutina Wesley loves to dance. Because she had absolutely no choice in the matter.
"I came out of the womb dancing," she explains.
As the daughter of two dancers — mom performed in "Jubilee!" and dad, a tap-dancer, worked with such tap legends as Gregory Hines and Henry LeTang — it could hardly be any other way.
Las Vegans have been catching her moves since childhood — in musicals at Spring Mountain Ranch, in high school productions at the Las Vegas Academy of International Studies, Performing and Visual Arts (class of '97), even hoppin' and boppin' while clearing tables at the Stratosphere's '50s-style Roxy's Diner.
But now, the rest of the world can catch Wesley's moves as the star of the new movie "How She Move," which opened in theaters Friday.
Wesley plays Raya Green, the ambitious, academically talented daughter of Caribbean immigrants, who returns to her gritty inner-city neighborhood after her big sister's drug overdose — and hopes to finance her tuition at an elite prep school by joining a step-dance crew competing for a $50,000 prize.
Although she "was new to step" before "How She Move" began filming in January 2006, a five-week rehearsal period — "we worked five weeks, six days a week, nine hours a day" — soon remedied that, Wesley says. "The repetition helped us get more comfortable" with "the groove and rhythm" of the movie's 14 dance numbers.
A year later, in January 2007, "How She Move" debuted at the Sundance Film Festival, earning a nomination for the festival's Grand Jury Prize.
And now, in January 2008, the movie's theatrical release has "exploded," Wesley notes.
She and fellow cast members refer to "How She Move" as "the little engine that could," she says. "All of us are new to the business — and all of us worked as hard as we could."
Although "How She Move" marks Wesley's big-screen debut, it's not her first movie. A role in the 2005 Will Smith comedy "Hitch," which she filmed while a drama student at New York's famed Juilliard School, wound up on the cutting-room floor.
Before her movie debut, however, Wesley already had made her Broadway bow, co-starring with Julianne Moore and Bill Nighy in the David Hare drama "The Vertical Hour," which opened in December 2006 under the direction of Oscar-winning director Sam Mendes ("American Beauty").
That was "another amazing experience of my career," she says, "working with actors of that caliber. How beautiful it was to be welcomed by them."
Playing a Yale University student who challenges Moore's news correspondent-turned-professor, Wesley earned strong reviews, with New York Times critic Ben Brantley praising her "sharp and seamless" performance.
He wasn't the only one.
Two Las Vegas Academy faculty members also were in the audience to share in her Great White Way glory.
In her scene at the end with Julianne Moore, Wesley "owned it," reports John Morris, technical director for the Academy's theater department, who worked with Wesley at LVA and in the teen theater program, New Vision. "With star power like Moore, you look to see if the greenie can pass muster. She nailed it."
Then again, knowing Wesley, they expected no less.
"Everyone that worked with her knew there was something special there — it wasn't just talent," comments LVA theater instructor Glenn Edwards, who also taught Wesley at the University of Evansville in Indiana, where she earned an undergraduate degree in theater performance before attending Juilliard.
Besides her obvious talent, Wesley also possesses "determination, bravery, self-confidence," Edwards says. "She had a dream and she was willing to work for it."
That explains Wesley's extensive training, which also includes a summer at London's Royal Academy of Dramatic Arts.
"I wanted to have as many tools as possible," Wesley explains, "so there would be nothing I couldn't do … whether you're doing hip-hop or Juliet," which she played in a RADA production of "Romeo and Juliet."
At Juilliard, Wesley's credits ranged from more Shakespeare ("Macbeth," "Richard III" and "The Winter's Tale") to Mozart's "The Marriage of Figaro." She also participated in the pre-Broadway workshop for the musical version of "The Color Purple" and a staged Public Theater reading of "In Darfur" at Central Park's Delacorte Theater (home of New York's Shakespeare in the Park).
In approaching a character, "it's like you just put on a mask," Wesley says. While filming "How She Move," she continues, "I put on a mask of Raya," then added "a little bit of Rutina. I drew a lot from my own teenage years" to play the role, she acknowledges. "I was a very driven young person."
Driven, her LVA instructors agree, but in a good way.
"She never missed rehearsal, she was not a complainer," Morris remembers, describing Wesley as "kind of an old soul."
And while "she did her homework" and "was a good student, that doesn't mean she didn't like to have fun," he adds.
For Wesley, that fun often revolved around performing.
"I was born to be onstage," she admits. "I loved storytelling. I was always making up stuff. I feel like that was my path."
As a kid growing up in Las Vegas, Wesley also loved twirling her baton in parades, decked out in white cowboy boots. She studied dance at Simba Studios and the West Las Vegas Arts Center, but climbed the monkey bars at Lorenzi Park and roller skated with her aunt and cousins at the Crystal Palace on Rancho Drive.
And in high school, Wesley remembers cruising the Strip, where Circus Circus was a favorite hangout.
Clearly, times have changed in Las Vegas — and so have attitudes toward her hometown, where "all you see on TV is the slots and the gambling," Wesley says. "I'm very proud of Las Vegas and the academy and how far it's come."
The same sentiments apply as her LVA teachers watch her progress, which now extends to television — as a co-star in "Six Feet Under" creator Alan Ball's latest HBO series, a vampire fantasy titled "True Blood." (Production is on hold until the current Writers Guild strike ends.)
Pondering how far Wesley's come, Edwards remembers the day he met her at the airport and drove her to Evansville to begin her college drama studies.
"We were going across the Ohio River to Indiana and she said, 'I have never crossed a bridge over a river before. I've never seen trees like this,' " he recalls.
Several years later, Edwards joined Wesley for breakfast at a New York restaurant across the street from Juilliard. "There she was, at Juilliard on a free ride," he says, "confident and self-assured. It was so neat to see this little girl from Las Vegas become a woman of the world."
Making the transition, Wesley notes, requires constant dedication — and a sense of perspective.
"When you're young, it's so easy to get burnt out," she admits. "I keep reminding myself why I do this: because I love it. I'm here for the work and the stories, not the money and the fame."
Contact reporter Carol Cling at ccling@reviewjournal.com or (702) 383-0272.