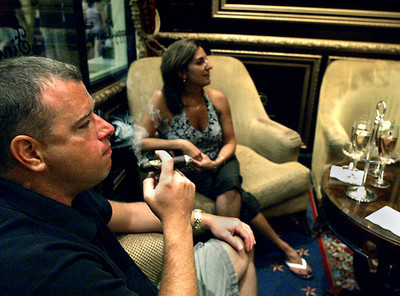 Russell Worman may have been sitting alone at a small cafe table at Casa Fuente in the Forum Shops at Caesars, but with a good cigar in one hand and a cold drink in the other, he was by no means lonely.
A security systems analyst from Alaska, Worman was wrapping up a recent computer convention in the way he celebrates all the good things in life: with a cigar.
The cigar trend of the 1990s may have faded and celebrities and common folk alike may not flash cigars like fashion accessories anymore, but the popularity of cigars is nowhere near extinguished, according to those in the business. And, even in light of recent smoking restrictions in Nevada, Las Vegas remains a cigar-friendly town.
Although there are only a handful of places like Casa Fuente, where a cigar lover can enjoy a smoke and a drink, that's poised to change, ironically, because of the restrictions, local cigar experts say.
"People want to smoke after dinner, before a show and any time, so I think you're going to see more cigar lounges sprouting up because of the smoking restrictions," says Michael Frey, who is a co-owner of Casa Fuente and several cigar shops in town. "I'm working on quite a few new ones and I think some hotels are going to see that as the way to go. You're going to see an upsurge in cigar lounges."
Cigars and Las Vegas go hand in hand, says Alam Leyva, director of food and beverage for Paris Las Vegas and Bally's. Many cigar smokers light up on special occasions and they consider a trip to Las Vegas a special occasion. Then there are the bachelor parties, New Year's Eve celebrations and other similar events that make Las Vegas a cigar-friendly town.
"I think they just represent so much about the city; this is where you come to indulge. You want to live everything that you don't do in your regular life. Cigars are sort of associated with that, with living the dream," Leyva says. "And it's hard to find a place where you can sip on Louis XIII (cognac) and smoke a cigar. We definitely offer a unique thing."
This could be a major opportunity for cigar retailers, says Cory Forrest, spokesman for Napoleon's Lounge in Paris Las Vegas.
Cigar sales are stronger than ever; in 2006, Americans spent more than $3 billion on cigars, according to statistics from the Cigar Association of America. That's double the amount spent in 1996 when cigar sales first reached the $1 billion mark.
Napoleon's also is selling more cigars than in the past, says Forrest, who declined to give figures. The lounge is steps away from the Paris Convention Center, and with dueling pianos playing in the evening and several rare cognacs available, Napoleon's stands as one of few places on the Strip to go for a cigar, a drink and live music.
The beat of Latin pop music along with the aroma of high-quality tobacco floated through the air at Casa Fuente on a recent Thursday evening, and Worman basked in cigar nirvana.
After all, Fairbanks, Alaska, has no cigar lounges, he says, so this was a special treat.
The rich brown colors of the lounge's tile and woodwork create a warm, inviting environment that is at once lively and low-key.
Atlanta natives Bruce Baker and his friend, Kevin Hagy, sat in the patio area of Casa Fuente, their chairs angled so they could watch the shoppers bustle by. Though they were separated from the common area by a hedge of greenery and the invisible line demarcated by the hostess' stand, the atmosphere was palpably different.
"We wanted to relax so we came over to the (Forum) Shops looking for a cigar," Baker says, puffing a white cloud of smoke from his Opus X.
Hagy refilled their glasses from a pitcher of sangria and sat it next to a silver tray that held the remnants of salted peanuts and seasoned chips. Both men said that during future visits, they would seek out lounges such as Casa Fuente, especially since Baker recently discovered that he couldn't smoke a cigar in his favorite steakhouse, Del Frisco's.
Off the Strip, cigar lounge owners Eileen DeVito and her husband, Johnny, are watching how the smoking restrictions play out. They own La Havana Cigar Bar at MonteLago Village at Lake Las Vegas Resort in Henderson as well as Havana Cigar Co. on Paradise Road.
"It will be interesting to see if we're going to get more business in the next year because people can smoke in fewer places," Eileen DeVito says.
The couple got into the business at the height of the cigar trend, 1997. A lot of people jumped on the cigar bandwagon, she says, but once interest leveled off they quickly bailed out.
The DeVitos sold or closed four cigar shops in recent years because customers said they liked the personalized service they received at their cigar lounges, where the owners were often found. As a result, the couple decided to concentrate on their two cigar lounges.
They've been able to carve a niche in the valley by offering personalized customer service, libations and live music, she adds.
For instance, DeVito says, La Havana does a good business because people want a place they can escape to and indulge.