Lone Mountain-area utility boxes to become lively works of art through latest installation of Zap! project
September 27, 2016 - 12:37 pm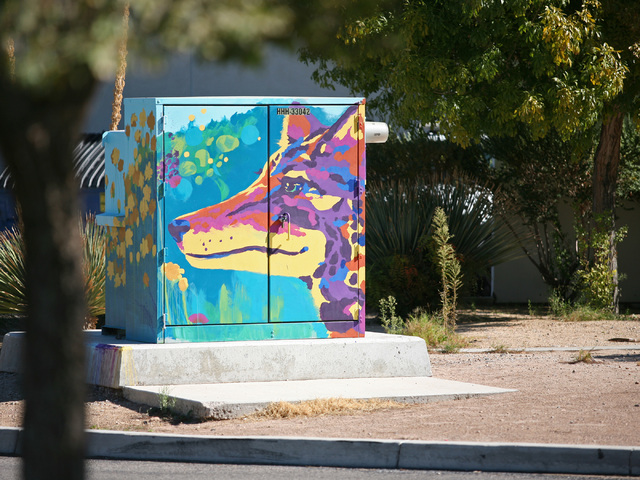 In an effort to help beautify the northwest Las Vegas Valley, Clark County officials are seeking local artists to paint utility boxes.
The latest installation of the county's community arts project, Zap!, is set to turn roughly 60 dull-looking utility boxes into works of art near the Lone Mountain area — bordered to the west by Red Rock Canyon National Conservation Area, south by Cheyenne Avenue, east by U.S. Highway 95 and north by West Lone Mountain Road.
"The goal of this project is really to beautify the neighborhood and bring the community together in a way where they can share dialogue about why is art important and how it makes their lives better," said Michael Ogilvie, a public art cultural specialist overseeing the program.
The project started with 10 artists in the Winchester area in 2005. Now in its ninth year, past projects have featured the Paradise Park neighborhood, West Las Vegas, Desert Breeze Park and the Whitney and Cambridge areas.
The Zap! Project began when the Friends of Winchester replicated a similar program from San Diego. Since then, more than 100 artists have been commissioned.
Officials also hope the project helps to deter graffiti, which the county spends $1.6 million a year cleaning up, according to a 2015 news release from Clark County Commissioner Steve Sisolak.
"We've had a huge response to this project," Ogilvie said. "People generally love it. They're excited to have high-quality art in the neighborhood."
Patty Dominguez, former program director at the Metro Arts Council and the project coordinator of Zap! 4 and 5, believes the project is a great collaboration opportunity for artists and residents.
"People have an opportunity to watch the transformation of a blank canvas into a work of art in front of their eyes," Dominguez said. "It's a really wonderful experience that allows neighbors to take ownership of the artwork because it represents them."
A panel of local residents and art educators is set to review the submissions. Selection criteria will include demonstrated artistic excellence, experience with similar projects and a demonstrated ability to complete the paintings on the boxes within 30 business days, according to Ogilvie. Fifteen local artists are set to be chosen.
The selected artists will be required to attend an open community meeting in the Lone Mountain area to hear residents' input. Once the paintings are complete, artists are required to coat their boxes with UV protection and an anti-graffiti sealant.
"Art is a universal language," Dominguez said. "It's a way to communicate when words are not enough. You don't have to speak the same language as the artist to interpret what they are saying. Art brings people together."
To apply for Zap!, artists must send seven images of past work. Artists will be paid $2,500 for their work and are to provide their own supplies. Funding for the program comes from the Clark County Ad Valorem and Room Tax.
There is no set theme for the artwork, but Ogilvie encourages the subject matters to explore the northwest area and look at the history of the neighborhood.
The deadline to apply is Oct. 28. Contracts are set to be issued by January, and the artwork is set to be completed by spring 2017.
Call Ogilvie at 702-455-8685 or visit clarkcountynv.gov/parks/Pages/zap-homepage.aspx.
To reach North View reporter Sandy Lopez, email slopez@viewnews.com or call 702-383-4686. Find her on Twitter: @JournalismSandy.
Zap! Project
To apply for Zap! 9, artists must send seven images of past work by Oct. 28. Artwork is set to be completed by spring 2017.
Call Michael Ogilvie at 702-455-8685 or visit clarkcountynv.gov/parks/Pages/zap-homepage.aspx.