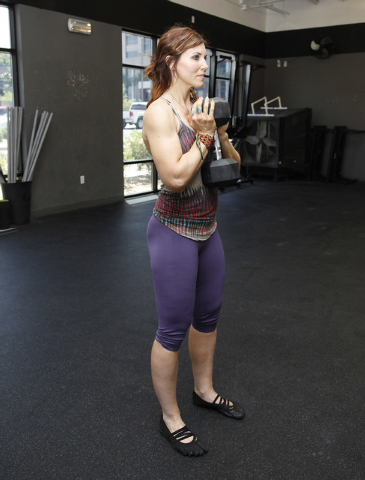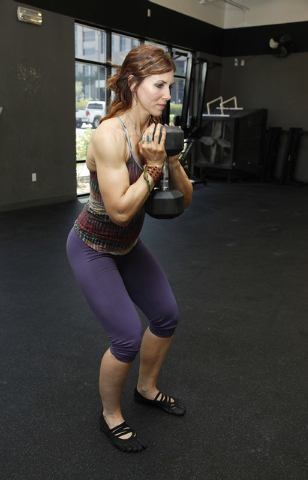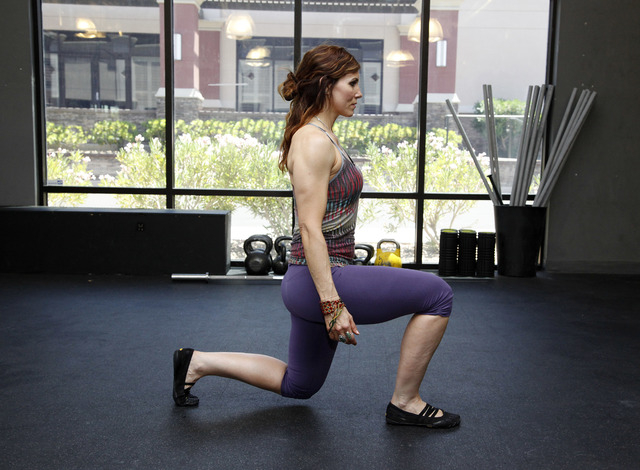 Many of you know Laura Salcedo as the model for the exercises featured here in the Las Vegas Review-Journal.
What you may not know is that Laura has been a trainer for quite some time in Las Vegas. She started as a group instructor and has moved into one-on-one personal training. She also appears as a guest trainer in these columns from time to time.
Her clients absolutely love her. She has the knowledge to work with a range of people from advanced athletes to someone who has never set foot in a gym. Today's exercises come out of her personal toolbox of experience and effectiveness.
Laura enjoys working her legs and does so with the best of them. I remember working out with her once and discovering that I was giving myself a pep talk because Laura was outlasting me. (It's an unspoken rule among trainers that you can't let the other one beat you.) I was suffering inside but Laura smiled throughout her sets.
She likes to superset weighted exercises with bodyweight exercises. Supersets are a macho way of saying that you couple two movements together. By performing a weighted exercise first you can build strength and stability of the muscles involved. Adding a bodyweight movement lets you increase the time your muscles are under tension without the central nervous system shock that heavy weights deliver. This is because bodyweight movements are generally easier to negotiate than weighted ones.
The time under tension principle is important. Laura takes it one step further with the way she prescribes the weighted squat. If you notice, she has the feet under the hips and has the knees track over the toes. From there, the squat is standard: weight in a goblet position in front of the body, hips back, keeping the back straight and core tight.
The time-under-tension part comes when she doesn't let you complete full hip extension by stopping you just before you stand all the way up.
As soon as you complete that stand (or hip extension) the body can rest on its structure and the muscles get a minibreak. Laura takes away the minibreak, taxing the muscles and the central nervous system. This helps build strength, stamina and mental endurance.
Supersetting means you jump right into the next movement. The only rest you get is the transition time to put the weight down and start that first lunge. Water, victory laps and swearing have to wait until the lunges are completed. That is the effectiveness part. If you decide to give up or make a 4-minute transition between exercises you rob yourself of Laura's prescribed stimulus.
But what if an athlete has trouble with heavy weights or a possible knee issue or lacks the endurance to complete sets? The beauty of this setup is that each exercise is highly scalable. Laura can progress or regress the squat movement and the lunge for athletes of all levels by changing the movement, rep ranges or tempo.
Solo gymgoers may need some time to find that perfect stimulus. If you train with Laura, she takes the guesswork out. Her experience and education tell her how to design a workout.
Today's specific coupling of exercises works the legs but with a devious emphasis on the quads, or front of the thighs. It's going to burn.
Spend some time with a foam roller and/or some good quadriceps stretches. Yes, stretching and rolling work. They help to keep the muscles primed and ready to move. This way you can use them to burn calories. They can also help to relax tight muscles to help you get into better positions. Effectively addressing the quads can help the knees.
Chris Huth is a Las Vegas trainer and can be contacted at 702trainer@gmail.com. Before beginning any exercise program, consult your physician.