Low-tech horse race game has loyal following
August 12, 2012 - 1:03 am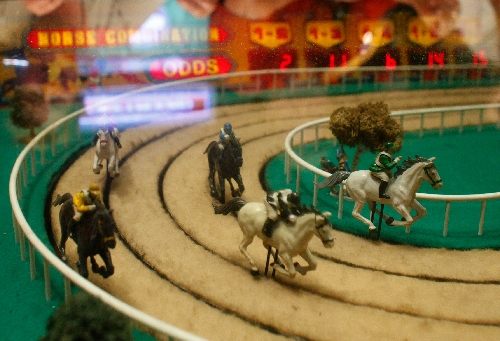 Several times a day, horse fans gather around two race tracks in Las Vegas to play the ponies.
It doesn't matter that these tracks are sealed under glass or that the five horses and their riders are plastic electro-mechanical pieces, all a couple of inches tall.
To fans of Sigma Derby, the old-school, kitschy Vegas version of horse racing, this is almost as thrilling as being at Churchill Downs during the Kentucky Derby.
It must be; how else can you explain the devotion that some fans have to this very low-tech game? "Come on, two! Come on," a woman calls out as a crowd of people huddle around the Sigma Derby game at the D Las Vegas. It's in the middle of a race and some players are urging their riders on almost like they've got big money at stake, if "big money" is a handful of quarters.
The horses jerk forward in a weird fashion that must have been cutting edge at the time the game was introduced more than 20 years ago. Now, it seems painfully slow. Almost childlike, except for the gambling part.
Sigma Derby "is probably one of the most iconic and classic games of Vegas past," says Derek Stephens, co-owner of the D Las Vegas.
Their game, which was installed several weeks ago, anchors the second floor in the downtown casino, serving as the central piece of the Vintage Vegas theme. Stephens played Sigma Derby during his first visit to Las Vegas in the '80s. For years, the experience stayed with him. There's something about Sigma Derby that resonates with fans, he says. When designing the D's vintage slot area, it seemed like a natural fit, he says.
The game's passionate fan base has helped spread the word, Stephens says.
Sigma Derby has a fan club. A Facebook page. Even an online petition signed by hundreds of people to save it from extinction.
"There's not many slot machines out there that have their own fan club," Stephens says.
There are only five playable Sigma Derby games in the United States, according to a map on the Sigma Derby group's Facebook page. Two of those games are here in Las Vegas; the one at the D Las Vegas and the game at MGM Grand.
For years, fans have been chasing their Sigma Derby fix at MGM, says Mike Gatten, vice president for slots operations at MGM. And those fans have proven to be a fervent, dedicated bunch.
When Gatten first came to Las Vegas 17 years ago, the Sigma Derby games were everywhere. Luxor had one with camels. There was one at the Frontier, Excalibur and Sahara. Caesars Palace was rumored to have one with chariots.
But the games are large and bulky, taking up a lot of casino floor space. As technology evolved, the games practically vanished overnight.
Sigma, the maker of the game, went out of business, Gatten says, which may have helped the derby game gain a cultish following. No other game in the casino has the kind of following that Sigma Derby has, he adds.
To play the game, you select the two horses you think will come in first and second and then bet anywhere from one to 200 quarters on winning pairs. The odds pay as much as 200 to 1. Betting occurs on 10 stations around the game; a player has 30 seconds to place a bet. The race itself takes about 30 seconds before the process starts all over again.
It's been a good game for the casino, Gatten says. While it's not the best game on the floor, it is certainly far from the worst. But it comes with some operational challenges. Because the manufacturer closed, there is no support for the games that are still in circulation, Gatten says.
Right now, slot technicians maintain the MGM game with parts cobbled together from out-of-service Sigma Derbys. Gatten foresees a day - hopefully years from now - when those parts will no longer be available.
"I've sort of fallen in love with this. It's going to be a sad day when the goes out of circulation," says Jeff Maxwell, 40. He was visiting from California on a recent Monday and had planted himself at MGM's Sigma Derby game for much of the day.
The game is more of a social event than a gambling one, Maxwell says. On this day, it was relatively quiet, even though a steady stream of people crowded around the game. When players are cheering and shouting for their horses, it's an exciting, fun game, Maxwell says. Though he's not a member of the fan club, he can understand why the game has one.
"I'm sort of a quiet person but when everyone's into it and cheering, that's what I love," he says.
What really hooked him was winning. It was during the 1980s and he found the game for the first time at the Riviera.
"I played it for a while and lost until I was down to my last quarter," Maxwell says.
The 200 to 1 bet came up; it doesn't come up with every race. Maxwell bet his last quarter on 200 to 1. He won.
Contact reporter Sonya Padgett at spadgett@reviewjournal.com or 702-380-4564. Follow @StripSonya on Twitter.