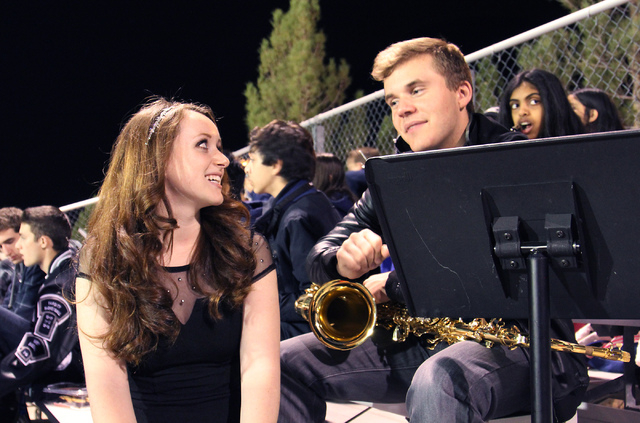 As the clock hit midnight, friends and families gathered around the track at Centennial High School in May as part of the Relay for Life Luminaria Ceremony.
Lit by the dim glow of the candles set around the track's perimeter, the participants slowly and solemnly walked one lap, taking time to honor and remember the survivors, the current fighters and the victims of cancer.
Two participants were Alexis Ross and her mother, Toni Ross. This would be the duo's third year participating in the event.
Alexis Ross, a 17-year-old senior at The Meadows School, is applying to and auditioning for five different arts schools, acting in her school's production of "Cyrano de Bergerac" and balancing a rigorous academic schedule.
She is also busy planning for the next Relay for Life event. An unpredictable incident years earlier — her mother's diagnosis with breast and thyroid cancer — spurred Alexis' involvement in the program.
"I was 13 the first time she was diagnosed with breast cancer," she says. "Then, a week later, I learned that she also had thyroid cancer that was completely unrelated to the breast cancer. What are the odds of that? Two cancers, totally unrelated. I just kind of thought about how this doesn't happen to people like me."
Ross says responding to the situation was confusing.
"I honestly didn't really deal with it," she says. "I just put it off, never told my friends about it, and kept to myself for a really long time. I was completely alone. I didn't understand how to face the emotions I was having. Even today, four years later, I don't know if I really understand how to deal with it."
Ross found solace through Relay for Life, where she co-created a team named "Keeping Hope" with friend Chynna Campbell.
Like Ross, Campbell and her mother had to cope with a cancer diagnosis.
"She and I took Relay and made it personal therapy," Ross says. "We could control something that had controlled us for years.
"Being at Relay is like being surrounded by family," she continues. "Everyone gets you. There's almost a silent understanding amongst each of the team members. Everyone does Relay for their own reasons, so we are all connected through that common experience."
Next year, she will join in the candlelighting during the ceremony. The candles are lined around the track and the participants walk one lap together to remember and support those dealing with cancer.
She will continue with Relay for Life, working with her mother to support those affected by cancer while helping herself cope.
"As much as I do this for my mom, for Chynna's mom, and for everyone affected by cancer, I think I do it for myself."