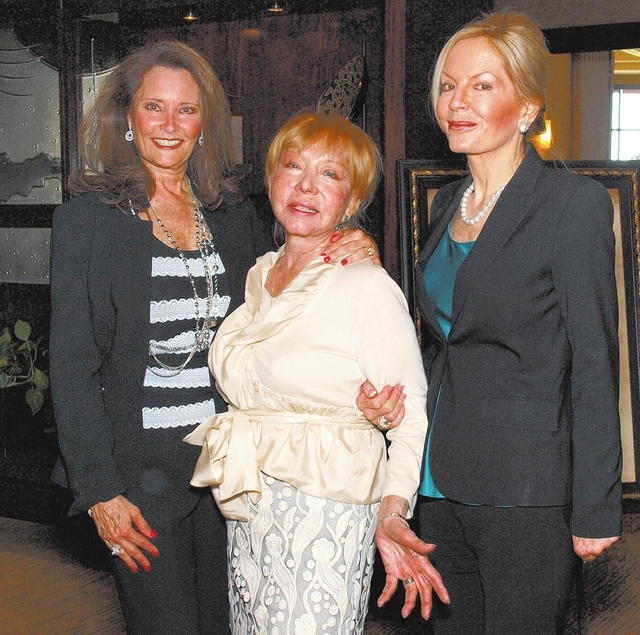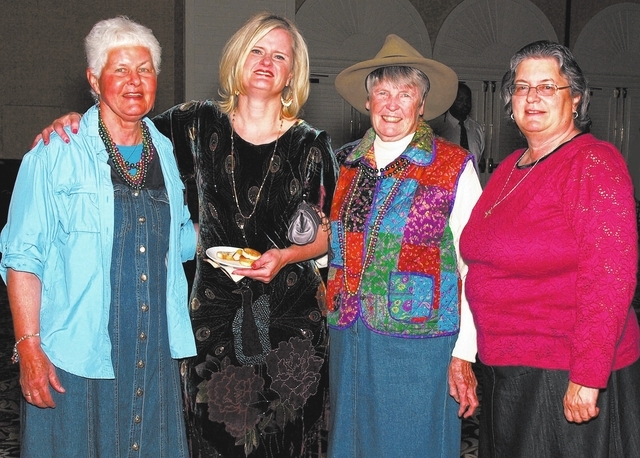 Mesquite Club, the oldest women's club in Nevada, had a benefit luncheon and fashion show Feb. 21 at Spanish Trail Country Club.
The club became a member of the General Federation of Women's Clubs in 1912 and has been involved in community and philanthropic projects ever since.
Nevada's former first lady Dema Guinn and I were honored during the event, which was chaired by Jeanne Greenawalt and co-chaired by Phyllis Hendrickson.
Overseeing the silent auction and lovely dining decor were Betty Ault, Carroll Mueller, Nancy Zangle, Kaye Grey Baxter, Ilene Baker, Linda Baxter, Persia Golden, Yvonne Kelly, Paula Mendenhall, Cathi Poer, Helga Caggiano, Joan Lapan, Betty Miller, Joanne Vaughn and Laurie Hartig.
Saks Fifth Avenue, under the direction of General Manager Mari Landers, presented a fashion show that showcased springwear by designers Eileen Fisher, Lafayette, Les Copains, Akris Punto, David Meister, Monique Lhuillier and St. John.
Pianist Doug Taylor entertained throughout the luncheon.
Among the 200 members and their guests celebrating Mesquite Club's 102nd birthday were Barbara Lacy, June Clark, Ruth Lillis, Dianne Steel, Sue Borns, Sandra Frank, Marilyn Stark, Lois Zellers, Elaine Galatz, Helen Edell, Jewel Brooks, Carolyn Sparks, Joanna Kishner, Betsy Rhodes, Martha Carter, Nancy Heberlee, Wendy Daseler, Cheryl Purdue, Joan McClain, Patricia Price, Laura Fitz, Rosita Karns, Cheryl Moss, Eleanore and Dominique Doumani, Joan Doubrava, Victoria Kilbury, Cherie Lee Williams, Sally McKinney and Pat Baldwin.
Mardi Gras Ball: "Denim &Diamonds" was the theme and dress for the 57th annual Mardi Gras Ball Feb. 22 at The Mirage, a fundraiser for Dignity Health-St. Rose Dominican Hospitals.
The cocktail reception offered an extensive silent auction. The 600 guests were seated for dinner at silver sequined tables with crystal centerpeices.
Entertainment was by Harbor Lights and the Country All Stars.
Masters of ceremonies were KTNV-TV, Channel 13, news anchor Beth Fisher and actor Sean Gribbin, a 19-year-old cancer survivor. Bishop Joseph A. Pepe of the Catholic Diocese of Las Vegas gave the invocation.
Auctioneer Christian Kolberg assisted by John O'Reilly conducted the live auction for 10 packages, raising $56,000. Raise the Paddle brought in $37,115 and more than $47,000 from the silent auction will benefit St. Rose Dominican's oncology/cancer services.
Lloyd Dean of Dignity Health announced that Rod Davis, president and CEO of the hospitals for the past 23 years, will retire in December.
St. Rose patients spoke of the successful treatment they received, and a video was shown. Many thank-yous were given to Tina and Calvin Tyler for being the presenting sponsor of Mardi Gras for eight years.
More supporters attending were Brian Brannman, Vernita and Harry Mays, Pam and Dean Harrold, Ken Misch, Florence and Gard Jamison, Eileen Clark, Carol and Cliff Hanssen, Dawn Gibbons and Jim Hooban, Randy Peoples, Melinda and Bob Brown, Linda and Steve Rickman, Molly and Jeff Burford, Michael Minden, Stephen Jones, Elizabeth Ham, Jackie and Roy Smith, Dean Hoge, George Smith, Harold Robinson, Hugh Anderson, Jerry Schwartz, Gere and Rick Smith, Diane Carlson and William Freyd, Sharon Carelli and Charlie Potter, Kate Grey, the Adrian Dominican Sisters and Henderson Mayor Andy Hafen.