Musician takes dreams of stardom to streets, Las Vegas Strip
November 20, 2011 - 2:00 am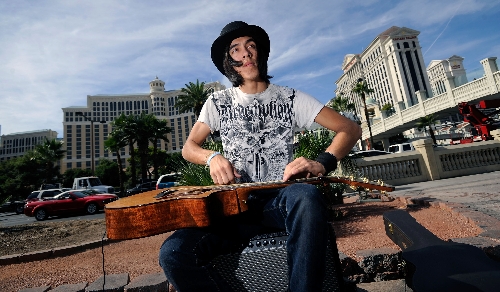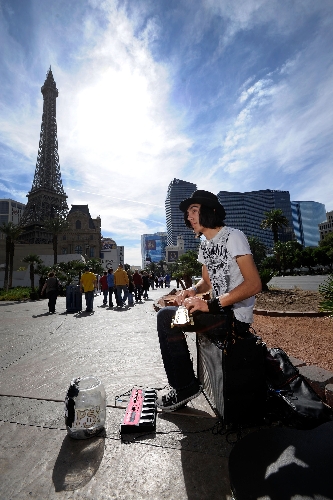 He's wearing a top hat and tuning an acoustic guitar but the street performer draws only mild interest from tourists passing him on the sidewalk in front of Bally's.
As unique as he looks — the hat caps a curtain of black hair that frames his chiseled face and he has set up a sound system rivaling a small casino lounge — the musician is the normal one here in "entertainment alley." There's a one-armed SpongeBob SquarePants to his right and a guy dressed as Chucky, the demonic doll from the "Child's Play" slasher films, on the left. About 100 feet away, a golden statue-man keeps coming to life, scaring people who glance at him. Spider-Man walks by with a coffee can strapped to his waist.
After everything's plugged in, all his equipment tuned and ready, the street performer lays his guitar across his lap and plays it piano-style. His fingers dance like fire across the strings, plucking and strumming so fast, it doesn't seem real.
People stop. They listen. Their jaws drop.
"Unbelievable," says Texan Chad Ellis, who then records the music with his phone. "I love it, man. Very cool. I'll remember him when he's famous. What's his name?"
• • •
Charles Rangel wants to be a rock star.
He wants to be famous and touch people with his music. The 22-year-old from Apple Valley, Calif., got a head start last month when he landed in the pages of Rolling Stone magazine after winning its "Street to Stage" contest. He beat seven other street performers for the honor of playing at South by Southwest, an industry music festival held in Austin, Texas, in March.
It's not a sure thing but the exposure in the magazine and the concert will give him the opportunity to play his music in front of people who can do something for him. Ultimately, Rangel wants to be a performer who writes songs and attracts arena-sized crowds.
"I just want to get to the top," Rangel says. "I know that sounds far-fetched. But I feel I've been given a gift and I just want to share it with others."
Breaking into the music business is about as easy as becoming a professional athlete, says Rangel's producer Tomas Costanza , owner of Killingsworth Recording Co. in Los Angeles. They're now recording an album to be released early next year.
Thousands upon thousands of people want to be a rock star, Costanza says, but only about 0.01 percent ever achieve that level of fame and fortune. And those who do are usually defined by four traits: drive, sacrifice, talent and luck.
Rangel, he says, possesses all four. Now, it's just a matter of time.
• • •
Rangel, a sweet-natured man with a lanky, unassuming presence, is consumed by his music. He's been known to perform on the street for 10 hours, then write songs and practice for several hours more. "I equate him to Michael Jordan, who looks at a brick wall and thinks, 'How am I going to get through it?' " Costanza says. "Nothing's going to stand in Chuck's way."
Kathy Rangel doesn't know where her son gets his single-minded determination. She wishes she had just a sliver of it herself. But he's been like this as long as she can remember.
"Ever since he was little, if he picked something up, he would get into it and take it to the extreme," Kathy Rangel says.
Before music, it was Razor scooters. He was a daredevil and convinced he could do anything on them, she says. And he tried. Once, he broke his ankle and cracked his growth plate doing a stunt.
But the scooters fell by the wayside in the fourth grade when Rangel got his first guitar.
To reward good behavior, his fourth-grade teacher, Mr. Negy, gave out "Negy bucks" throughout the school year. At the end of the year, he held an auction where his kids could buy what they could afford with their fake money. Rangel fixated on an acoustic guitar, but so did a classmate. In a last-ditch bid to win the prize, Rangel sold off a plate of his mother's cookies for an additional $20 in "Negy bucks." He got the guitar.
"You cannot tell him no," Kathy Rangel says. "He just laughs and considers that a challenge."
Rangel, who collects tips in a bucket labeled the "karma jar," doesn't believe in karma himself. He believes in passion and hard work. He believes in tackling obstacles in life so they no longer block his way.
"Financial worries," he says, "cause a lot of stress. So why not make a pile of money and do away with those worries?"
If he makes it, or rather, when he makes it, Rangel will take care of his family and friends. He doesn't want his three younger siblings to do without.
Not that Rangel wanted for much while growing up. He sometimes butted heads with his stepfather, but his parents did the unthinkable by letting him keep a drum set in his bedroom. They hung sleeping bags on the walls to buffer the noise.
Still, Rangel wants his two sisters and one brother to have a better life than he has had. No sleeping in the car for them while they chase their improbable dreams.
"I feel like the three of them have a lot to do with why I'm so driven," Rangel says of his siblings. He also has an older sister. "The moment they came into my life was a defining moment. I feel like they're my own kids and I want them to have someone to look up to."
• • •
Sometimes, Rangel's parents wish he would get a regular job.
They worry about him, Kathy Rangel says. To save money in Las Vegas, he sometimes sleeps in his car. Once, Rangel woke up from a nap to find a stranger sitting in his passenger seat.
But his parents know he has hopes and dreams and a strong mind of his own, so they support Rangel's efforts to make it in the music business.
They respect the sacrifices he's made.
After graduating from high school, Rangel attended college for a couple of years. He wanted to make his parents happy so he signed up for a phlebotomy program with the intention of drawing blood for a living. He also thought it would be "rad" to be an X-ray tech.
"But I just kept thinking that it would give me the money I needed to do my music," Rangel says. "So I decided I might as well focus on music."
He dropped out of college nearly two years ago and started working as a street musician throughout Southern California. During a vacation in Las Vegas nine months ago, he got the idea to play on the Strip.
"I saw all the characters on the Strip but I didn't see a whole lot of musicians," Rangel recalls. "So I thought I would give it a try."
This is the kind of sacrifice it takes to make it in music, Costanza says. The guy who drops out of college and drives around the Southwest, sleeping in his car, just may be the guy who breaks through to hit the big time.
Rangel took to street performing with a goal in mind: He would earn money to buy his band, The Dimestore Novelist, studio time. He would pay for equipment and travel and marketing. All of his time is spent writing, playing or marketing his music.
There are no dates and no girlfriends; they take up too much time. Rangel has many friends but rarely sees them. He's too busy. Right now, there is only music and striving for success.
"He's not one to just sit around. I think he'll find success even though he's doing this unconventionally," Kathy Rangel says. "He's never been one to take no for an answer."
• • •
Rangel's music draws people in.
His producer, Costanza, calls his style indie rock but even he can't quite put his finger on Rangel's sound. All he knows is that he likes it. The sound, combined with Rangel's look — sort of like Johnny Depp's character in "Benny and Joon" — and his marketing approach is the right formula for success, Costanza says.
And his air-tapping, or playing the guitar on his lap like a keyboard, resonates with audiences. The level of skill he displays leaves people in awe.
"It's the same thing that happened to me," says Robert M. Doyle, CEO of iPlaytones, a company that provides ringtones for cellphones. "There's a lot of great music out there, but so few musicians who touch you emotionally. He will physically draw you in whether you want him to or not."
Doyle, from Los Angeles, was walking down the Strip in March when he saw a crowd on the sidewalk. They were surrounding Rangel. Doyle stopped to listen.
"I said, 'Wow, this is pretty good,' " Doyle recalls.
He offered Rangel some work recording ringtones. At the time, street performing was Rangel's only source of income, so he took the offer.
It was during a break in recording those ringtones that Rangel found luck. He went down to the Santa Monica Pier to listen to street performers and saw representatives from Rolling Stone filming them for a contest. Rangel ran over and said, "I'm a street performer," and they told him to send in some videos.
Now, Rangel doesn't think karma exists, but he's a strong believer in fate. Had it not been for his street performing, he would not have been in California on that day, recording music for Doyle. He wouldn't have been at the pier to see the Rolling Stone people and who knows if he would have heard about the contest, otherwise?
The whole reason for street performing was to get exposure for his music, Rangel says, because "you never know who's walking by."
Contact reporter Sonya Padgett at spadgett@reviewjournal.com or 702-380-4564. Follow @StripSonya on Twitter.