April 17, 2010 - 11:00 pm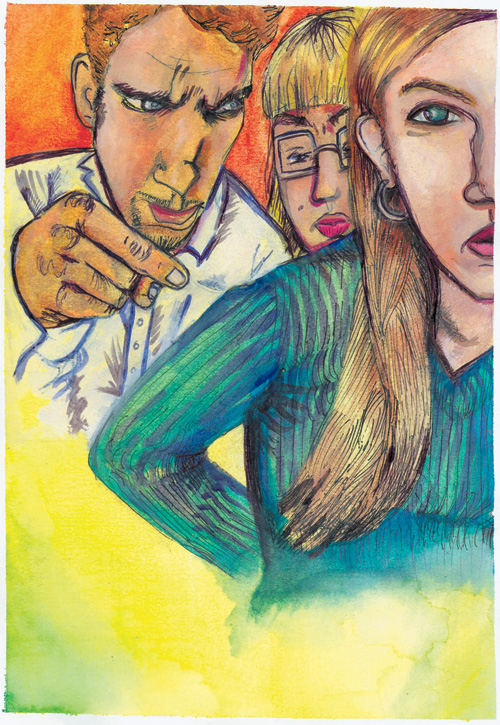 For former Green Valley High School student Kimberly Refeen life was as normal as it could be.
The dinner table was always occupied, filled with food and family members chatting.
But then one day, a little argument came up, the orange juice got toppled in the heat of the moment and everybody left the table.
The next night, it was dinner as usual; however, one chair was empty.
Kimberly was gone.
She'd run away.
According to the National Runaway Switchboard, an organization that takes calls and helps kids who have run away or are thinking of running away, one in seven kids between the ages of 10 and 18 will abandon their home at some point.
Refeen says she ran away because of the house rules set by her mother that she didn't agree with.
"She always wanted me to stay home and wanted me to be home on weekends," she says. "She wouldn't negotiate anything with me and all she did was yell at me."
Psychotherapist and local counselor Tracy Sexton believes many students run away because of rigid boundaries set by their parents.
"Students who don't find the support they need at home often run away and try to find it somewhere else," she says. "If students and parents have clear expectations of each other, they would achieve a better relationship."
Since she was turning 18, Refeen says, the rules her mother set were too strict for her.
Refeen, who worked in the school cafeteria, wanted more privileges and better treatment from her mother at the time.
"She favored my older siblings a lot and it made me feel left out," she says. "I ran away to make and prove a point to my mom that I was mature and I could be responsible and that I could make it on my own."
Refeen stayed at her boyfriend's house during the time she ran away and recalls having more freedom until she was caught.
"I ran away a month and a half before my birthday and I was caught 11 days before when my mom called the cops," she says. "I just felt really bad after."
According to Sexton, parents need to learn what expectations to establish for kids to grow up according to their rules.
"Parents need to pick and choose their battles. Sometimes, when kids get older, they need to loosen up," Sexton says. "If kids are taught what their beliefs are early, kids will still rebel, but they will come back. Have faith and your kids will come back to you."
Local parent Randy Burridge, who has three kids, says values need to be taught to kids early on in their lives in order for them to grow up with discipline.
"Parents used to hit their kids with rods," Burridge says. "Parents in this generation don't, but they need to be stricter so they can teach their kids values, respect and discipline."
Coronado High School senior Raven Chavez says she would never run away, but believes that her parents are strict and that they restrain her from doing things she would like to do.
"I constantly butt heads with my parents when it come to their rules, and it gets frustrating real quickly for me when all of my friends are hanging out and I'm missing out on the fun," she says. "I wish my parents would let me grow up a little bit more so I can have more freedom."
Chavez, who has a strict curfew of 9 p.m. on weekdays and 11 p.m. on weekends, believes her parents only have the best intentions for her while she lives under their roof.
"It does get annoying not being able to always do what your friends are doing, but if I was able to do whatever I wanted I might be doing things that I would regret in the future," she says.
Sexton says students want to have some kind of boundaries and restrictions at home.
"Kids want to have some kind of structure wherever they may be," she says. "Kids want to know that there are expectations for them at home so they can feel good. They don't want complete chaos in their lives."
Green Valley junior Haley Peterson agrees with Sexton and says parents need to have a combination of leniency and strictness.
"Parents are strict because they have to be," she says. "They can't let their kids do whatever they want all the time. They have to set some ground rules and be firm with their kids. Parents only want what's best for us and they want us to be safe, but being a teenager, sometimes we forget that."
According to Sexton, family members who do not focus on the negative aspects of their lives usually achieve a happier relationship.
"Kids who don't have an identity with their family and don't feel appreciated run away and find a group that will appreciate them and will identify with that group," she says. "If they find the good things and praise each other, and create positive reinforcement, kids will identify with the family."
Ultimately, Refeen believes that after running away, she was able to turn a negative into a positive.
"It was triggered last minute when I was with my friends," Refeen says. "Now my mom and I have a better relationship and get along great."
R-Jeneration