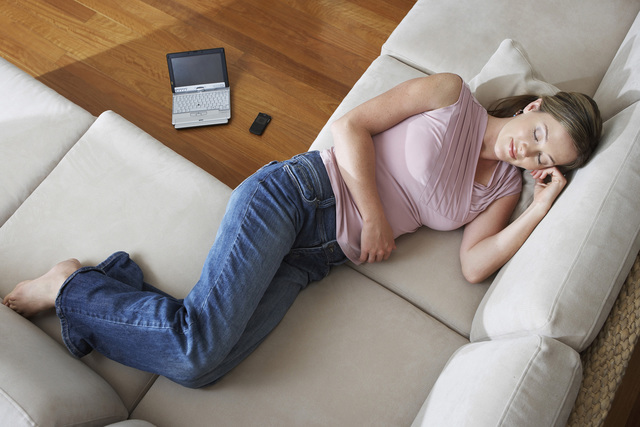 A quiz: What daily activity did you hate doing as a kid but would love to do more of as an adult?
Answer: Napping (although soaking in warm baths is another good choice).
Luckily, getting in touch with your nap-loving inner child is nothing to be embarrassed about. In fact, some medical studies indicate there are health benefits to taking an occasional midday nap.
The trick, experts say, is to nap correctly.
NAPS ARE FOR EVERYONE
"I'm a big fan of naps," says Dr. Daliah Wachs, a family medicine physician, host of a national radio show and an assistant professor at Touro University Nevada College of Osteopathic Medicine. Wachs says that, in her practice, she has discussed the benefits of napping with shift workers whose schedules otherwise prevent them from getting the proper amount of sleep each day.
"Everyone is different, and everyone has a different experience," says Holly Godden, a wellness educator at the University of Nevada, Las Vegas Student Recreation and Wellness Center. "But napping is certainly not only for older people or very young children. It really can provide benefits for people of all ages."
For instance, Wachs says there are studies indicating that sleeping can help to improve memory and help newly learned information "stick to memory better," while Godden says napping can help some people to improve alertness and cognitive performance during the day.
There's even evidence, Godden notes, that taking a 20-minute nap before driving can help to decrease driving mistakes and accidents.
NOT EVERYONE GETS THE SAME BENEFITS
However, naps aren't equally effective for everyone, says Donna Wilburn, a Las Vegas licensed marriage and family therapist. "It really depends on your brain function. Some people's brains take a while to slow down to the sleep state.
"If you have a brain that takes longer to get into the sleep state, you're not going to get to that resting stage within that half-hour (nap). You're not going to get quality sleep. If you have to wake up, you'll be groggy."
Conversely, Wilburn says, people who tend to fall asleep quickly may find themselves refreshed by even a short 10-minute nap.
In Las Vegas' 24/7 economy, napping can be an essential way for shift workers to get adequate amounts of daily sleep. "Some shift workers may not like it, but research does show naps can be particularly beneficial for those folks and folks who work during the night," Godden says.
But wresting the greatest benefit out of a nap takes, oddly enough, a bit of planning. First, limit the duration of your nap.
According to the National Sleep Foundation, a nap of 20 to 30 minutes can improve alertness, mood and performance without causing grogginess or interfering with nighttime sleep. Wachs, meanwhile, recommends limiting naps to 10 to 20 minutes.
While the optimum nap time will vary from person to person, a too-long nap may bring on sleep inertia, that sense of disconnection and grogginess.
Avoid napping late in the day or within a few hours of your normal bedtime. Otherwise, Godden says, "you may have trouble falling asleep at night."
Also understand your own body's reaction to napping to see if you're someone for whom napping produces beneficial results.
Choose a comfortable temperature for your nap room, Godden says. Use blackout curtains to create a favorable environment for sleep, and try to make your surroundings as quiet as possible.
Then, be consistent in your napping routine.
"When I was in practice, a lot of shift workers' shifts would be 11 p.m. to 6 a.m.," Wachs says. "Then, they'd fall asleep a little bit, take their kids to school, do some work, then take a power nap and then go back to work. That was just part of their normal sleep routine."
However, treat naps as an adjunct to, and not as a replacement for, normal sleep.
"Some people cut out nighttime sleep and make it up during the day with a nap, but that doesn't work," Wilburn says. "Nighttime sleep is a certain amount of hours, and that's to heal, to recover, from the stress of the day."
DON'T OVERDO IT
Finally, if you find yourself napping or sleeping more than usual, be aware that something else might be going on.
"There's napping as a drug to escape reality and then there's napping just to recharge your batteries," Wilburn says. "So if you're having a really long day or going out clubbing or whatever that night, it's probably a good idea to take a nap in the day to recharge your battery.
"But if you're napping to escape reality, if you're just going to sleep so you don't have to think about things or are sleeping to forget about what's going on in your life, it's probably more of a depression-type thing that's happening and you probably should seek professional help."
Read more from John Przybys at reviewjournal.com. Contact him at jprzybys@reviewjournal.com and follow @JJPrzybys on Twitter.