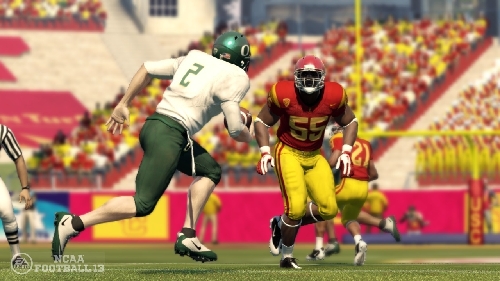 Electronic Arts should lobby the NCAA to institute a full playoff season for college football games. That's what EA's "NCAA Football" games lack: the excitement of a realistic NFL-type playoff system.
I'm not saying EA's new "NCAA Football '13" is bad without playoffs. To the contrary, I love "NCAA Football '13." It's a slick behemoth, offering more than 120 teams in their native stadiums, and great gameplay.
But the absence of NFL-esque playoffs is exquisitely dumb. In real life, the NCAA is moving to a meager four-team playoffs in a few years, so EA will presumably do the same in the future.
But those four NCAA teams will be voted into the playoffs by a committee. That's patently absurd. If the NFL used voting-playoffs, and if your pro team then missed the playoffs as a result, you would throw a massive hissy fit and stop watching NFL football. I know I would.
I have to say, I'm amusing myself by harping on "NCAA Football '13" for this personal quibble, because that's what we critics are doing with this game this year. Quibbling.
Let me explain.
EA didn't mail me a review's copy before "13" came out. So I assumed it stank, just as movie critics presume a film is terrible when a distributor doesn't screen one for reviewers.
So, for once, I read many reviews of a game before I played it. I now realize these critics were projecting their own perceived slights in "NCAA Football '13."
Some complained computer animations get choppy. I see their point. Some complained new twists are unrealistic, as is the ability to slow time on occasion to make better running choices. I see their point.
So I went and shelled out $65, expecting "13" to disappoint, but it doesn't.
My reason: It's so much fun to run and pass. It's fun to change receiver routes before the snap. It's ever so satisfying to play defense and sack quarterbacks.
Personally, I'm happiest when sticking to the seasonal format, so I can helm the same team forever. But if that's not your thing, the game comes with other tantalizing modes.
You can compete online. You can take the Heisman challenge, which lets you portray Herschel Walker and other trophy winners. You can create a player from scratch and build him up over time.
Options, options. This game's got options.
I even enjoy the more realistic interception process. There are more interceptions than before. A few years ago, EA put too many turnovers in a "Madden" game, killing all fun. This game finds a perfect balance.
I should note I'm a sucker for a great football game. That's why I don't care if "13" isn't seismically different from "12," as some critics understandably found fault. I loved "12." I love "13."
Now, if we can just get a real playoff system someday, and do away with voting colleges into championships, "NCAA" will feel even more like gladiator combat and less like a popularity contest.
("NCAA Football '13" by Electronic Arts retails for $60 for Xbox 360 and PS 3 – Plays very fun. Looks great. Challenging. Rated "E." Four out of four stars.)
Contact Doug Elfman at delfman@reviewjournal.com. He blogs at reviewjournal.com/elfman.