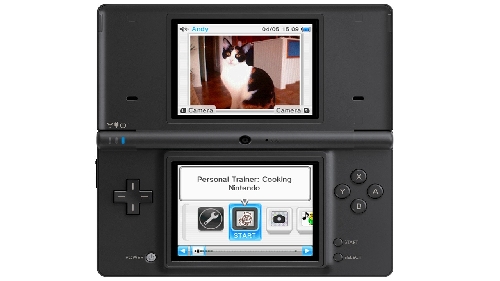 There's a new hand-held Nintendo DS on the market. The DSi XL is almost exactly like other hand-held Nintendo DS machines. It plays DS games. It does a bit of Web surfing. But this one is bigger and heavier.
The DSi XL is a fine gaming system for kids and, well, women new to gaming. I'll tell you why in a minute. But let me say this first: It's getting harder to take the DS seriously, because of the following:
A. No DS game comes close to rivaling any great game for the PS 3 and Xbox 360. To wit: Lately, I've been playing two instant classics, "God of War III" and "Just Cause 2," on PS 3 and Xbox 360. I dare you to name a single DS game that's 20 percent as brilliant or addictive.
B. As you may know, though, the Nintendo DS is the best-selling game system in America. Why? Because kids and casual gamers play it.
But casual gamers now have a viable alternative. You can spend $200 on a DSi XL — or you can spend $200 on an Apple iTouch, which plays tons of casual games, plays music, video, Web video and surfs.
OK, so Apple games are even more horrible than most DS games. But if you're a casual player, what do you care? You're just trying to play a light little nothing now and then.
So, here comes the Nintendo DSi XL. The screen is 4.2 inches, larger than the DS Lite (3 inches) and the DSi (3.25 inches). It comes with two nice puzzle games, "Brain Age Express: Arts & Letters" and "Brain Age Express: Math."
Two built-in cameras let you take photos. But my mobile phone already does that, and my phone fits in my man-pants pockets. The DSi XL does not.
Plus, there's a WiFi Opera Web browser, although it is not possible to download video and music software, so you can't surf YouTube, Pandora or Slacker. I couldn't download books from Gutenberg, either.
You can download DS games, such as "Scrabble" for "800 points," which means you use your credit card to buy points ($10 for 1,000 points at a time). Points remain a dumb turnoff that plagues both Nintendo and Xbox 360.
You can transfer songs onto an SD memory card, then listen on headphones. But I can do that on my BlackBerry and iTouch much easier.
Do you see where I'm going?
Essentially, if you're not old enough for an iTouch or iPhone (or if you want to play Nintendo-specific games, such as "Mario" titles), then DSi XL makes sense for you.
Personally, I play the DS's "Civilization Revolution" on every plane trip. But I prefer my regular DS, because it weighs less and is easier to hold.
By the way, Nintendo is reportedly releasing another DS within the next year or so: a 3-D DS that doesn't use glasses. It relies on optical illusions. We'll see if that DS is the real game-changer.
(Nintendo DSi XL by Nintendo retails for $190 — Plays fun for kids and casual gamers. Looks adequate. Easy to challenging, depending on the game. Most games rated "E." Four stars out of four.)
Contact Doug Elfman at delfman@review journal.com. He blogs at reviewjournal.com/elfman.
NEW IN STORES
"Tom Clancy's Splinter Cell Conviction" (Ubisoft) is a stealth-action game, as were previous "Splinter Cell" titles. But (this was bound to happen in this series), a game creator says of the plot: "This time, it's personal!"
Yes, this time, hero Sam Fisher goes on the hunt for the person who has killed his daughter. He goes rogue from his secret killing agency. And he has to stop a terrorist, in the end, as well.
This "Splinter Cell" moves and looks slightly different from its predecessors, a little more like a "Hitman" game. You seem to move quicker, and you have an improved ability to peek under doors, mark targeted villains, rush in and take them down.
So, for instance, you might peek under a door, mark a few baddies for killing, open the door, take them out, then climb a nearby pipe, shinny along that pipe on a ceiling, and take out more baddies from above.
That solo adventure supposedly lasts just less than 10 hours, which seems short. But the game comes with cooperative modes, where you and a buddy can hide-and-kill together. One of you can even get kidnapped if you get sloppy, then the other must go on a rescue mission.
The online multiplayer is going to surprise many gamers. It's not the usual 16-person team versus 16-person team. It's one on one. So you track down just one other gamer, while also avoiding virtual villains.
The Tuesday release retails for $60 for Xbox 360. The PC version retails for $60 when released April 27. It's rated "M" for blood, drug reference, intense violence, sexual themes and strong language.
"Again" (Koei) is an interactive crime novel for the Nintendo DS, where you portray an FBI guy (working with an FBI woman) while trying to track a serial killer with a 19-year history of leaving parts of dollar bills at crime scenes.
This is not a game for fans of shooters but for gamers who enjoy puzzlers and crime fiction with lots of dialogue to read. It's a straight-up detective adventure, where you search a lot of grungy hotel rooms and dilapidated bathtubs and such, while interviewing potential witnesses.
The game retails for $30 for DS. It's rated "T" for blood, mild language, use of tobacco and/or use of alcohol, and violence.
— By DOUG ELFMAN