Nonprofit gives kids with special needs artistic experiences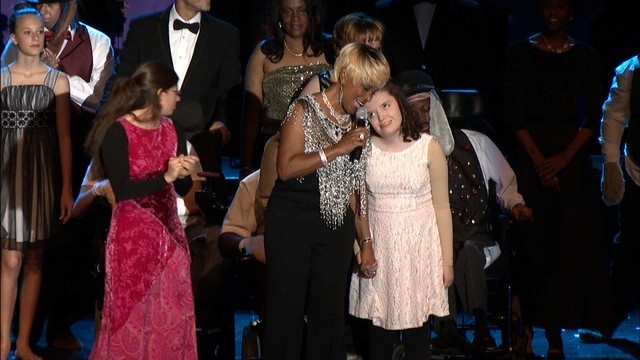 Life Long Dreams started simply enough: with one child and one mother. Today, the nonprofit hosts scores of children and brings kids with special needs together to express themselves artistically and find the confidence to share that expression.
Cathy Warriner knew her child, Zach, was having a hard time in school and that he tried to keep a low profile for fear of being picked on or bullied. It was a strategy that wasn't always successful. He had always liked singing and had a talent for it, so she gave him a toy microphone and soon discovered it was a transformative tool. Gone was the shy, retiring child, and in his place was a confident entertainer.
The nonprofit Life Long Dreams sprang from that seed with weekly classes for children and young adults with special needs in a variety of artistic endeavors, including performance and visual art.
Andelyn Olsen brought her son, Dallin, to Life Long Dreams, 1785 E. Sahara Ave., on the recommendation of a caseworker at the Desert Regional Center, 1391 S. Jones Blvd., a state agency that Olsen describes as a clearinghouse for people with disabilities.
"My son Dallin has always loved music," Olsen said. "Before he could talk, he could hum. He has perfect pitch."
Dallin has autism spectrum disorder and has been taking drum lessons at Sport-Social, 7055 Windy St. He has been drumming for a year and a half at the east valley business designed to build self-confidence, social skills, and positive behaviors among kids of all ages and abilities. Life Long Dreams seemed like the logical extension to that study.
"Dallin has really poor motor skills, but he loves playing the drums," Olsen said. "I wondered if he'd like to do some other things that were music related."
She and Dallin came to Life Long Dreams six months ago, just in time to be part of the nonprofit's annual showcase in November at Sam's Town, 5111 Boulder Highway.
"I didn't get to watch it because I was backstage taking care of some things for the production," Olsen said. "My mother came and watched along with my other children and Dallin's father. They all loved it."
Genevieve (last name withheld), a singer who often performs with her friend Mark Giovi, has been involved with the charity and the show from the beginning.
"Eight years ago, one of the founders asked me to help out putting on the show, and I've been there ever since," she said. "I helped get some other performers involved, and I give vocal instruction every Saturday."
The school is staffed with volunteers, many of them working professionals such as Genevieve and Giovi, who donate their time because they feel the non-financial rewards are so great.
"The students really enjoy it," Genevieve said. "They work hard. There are no disabilities in our classes. It's all special abilities because all of us have a special ability. Anything they do, they do because they love it, and they really want to do it. They're all dedicated students."
The annual performances allow any student who wants to be a part of it to perform on the stage in front of an audience of hundreds. The nonprofit has extra sessions before the performance to give the students more time to rehearse. Genevieve said the program is looking for another venue this year to give the kids another opportunity to perform because that's what they love.
"With Life Long Dreams, they all have the opportunity to be the stars," she said. "They learn their dance steps. They learn their music. We have professionals to support only."
She said that she's found the students to be dedicated and diligent and added that they work harder than other students she's worked with, and they never complain that the work is too hard.
"My friend Mark has written a song called 'A Different Kind of Normal,' and we've adopted it," she said. "People say, 'It's normal to do this,' and I say 'What's normal?' We all have our own normal."
Danny Titus, president of the board of directors for Life Long Dreams, has been involved with the program for several years, originally coming in to help them with technical aspects not directly related to the children.
"They need some photography, video and some design work and a website," Titus said. "Those are all things I do, and for the first three years, when they called, I did what they needed and made sure everything looked good."
About a year ago, the nonprofit was undergoing some organizational challenges, and once again, Titus answered the call and came in to do what needed to be done.
"They asked me to come in and help," he said. "I had no idea I'd end up running the organization."
He wasn't sure about taking the position, but it was the kids who finally convinced him.
"I came in, and the kids all remembered me and greeted me and gave me hugs," Titus said. "I was blown away. I had no idea they would even remember me."
Olsen was very impressed with Life Long Dreams the minute she walked in the door, she said, as was Dallin.
"The feeling there of love and acceptance and family was something that I'd been looking for ever since I moved to Las Vegas five years ago," she said. "I felt like I was coming home."
Visit lifelongdreams.org or call 702-415-8184.
To reach East Valley View reporter F. Andrew Taylor, email ataylor@viewnews.com or call 702-380-4532.
Life Long Dreams
Visit lifelongdreams.org or call 702-415-8184.