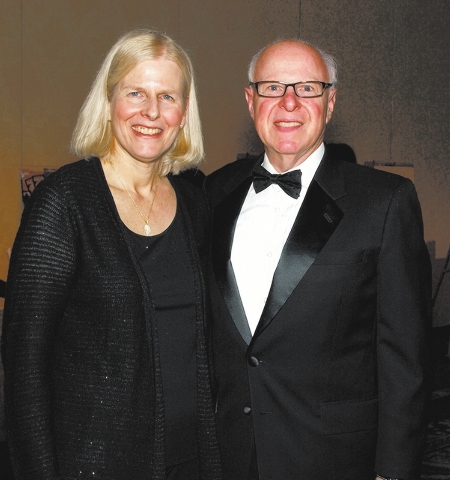 Nobel Prize-winning Israeli biologist Aaron Ciechanover was honored during the ninth annual Pursuit of Excellence gala Feb. 8 at The Venetian.
The event, which attracted 630 black-tie guests, is a fundraiser for the Adelson Educational Campus Scholarship Fund.
Dr. Ciechanover received the Nobel Prize for chemistry in 2004 for his work in slowing the progression of diseases such as cancer, muscular and neurological diseases, immune disorders and inflammatory responses.
Pianist Thom Culcasi and Adelson Campus students entertained during the reception for guests including Toni and Victor Chaltiel, Florence and Gard Jameson, Mark Fine, Jerry Engel, Paula Engel and Harold Miller.
Parvin Modaber Jacobs, Susan Molasky, Sheryl and Rob Goldstein socialized while participating in the extensive silent auction.
The ballroom's table decor was taupe silk coverings with black fishbowls filled with white hydrangeas and purple orchids.
The dinner began with the Pledge of Allegiance, followed by students singing Israel's national anthem. The head of the school, Paul Schiffman, performed the traditional breaking of the bread.
Mistress of ceremonies Lynn Wexler introduced Victor Chaltiel, trustee board chair and gala co-chair, who spoke about the Adelson Campus students' achievements and mentioned that the honoree had greatly inspired the students.
Dr. Miriam Adelson and Sheldon Adelson introduced the gala's honored speaker. Ciechanover was born in 1947 in Haifa, Israel, to parents who believed in a strong education for their children.
In 1971, Ciechanover earned a master's degree in science followed by a medical doctorate in 1974 from the Hebrew University Hadassah Medical School in Jerusalem.
He became a military physician and later joined the faculty at the Technion (the Israel Institute of Technology) in Haifa. In 1981, he received his doctorate in biochemistry. From 1981 to 1984 he conducted postdoctoral research at Whitehead Institute at the Massachusetts Institute of Technology.
Ciechanover holds many awards and honors. In 2005, a public poll voted Ciechanover the 31st-greatest Israeli of all time.
The evening's business concluded with a live auction for 10 items that raised more than $35,000. NV Energy presented a check for $941,970 for solar panels.
Harbor Lights played for dancing.
More guests attending were Lieuchi and Jeffery Fine, Andrea Smith, Sandy Schiffman, Andrea Bennett and Reid Gardner, Jennifer Noveras and Mario Leon Guerrero, Diane and Kim Metcalf, the honoree's wife, Menucha Ciechanover, and 2012's Pursuit of Excellence honoree, Elie Wiesel, a Nobel Peace Prize recipient.