September 21, 2008 - 9:00 pm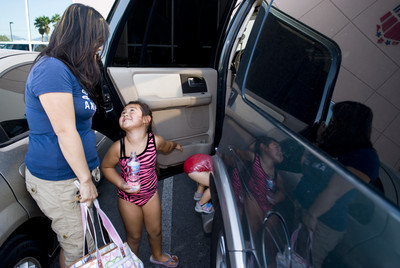 Though Theresa Brown's budding gymnast daughters dedicate hours every week to their training, it's their mother who's known for a breath-taking balancing act.
It involves three daughters, one husband, two jobs and seven separate activities. Then there's school.
"There's something every day. Isn't that terrible?" she laughs, alternately proud of her go-getter kids and horrified by their nonstop schedules.
But this is the age of hockey moms juggling vice presidential campaigns, governorships, pregnant daughters and young families, so what's a few piano lessons and tumbling routines after school?
Nothing, according to local parents. As kids, they had to barter with their parents to get where they needed to go, making after-school activities hard to pursue. Their kids would have more opportunities for fun, they say.
Enter parents as live-in chauffeurs. Never mind that pursuing a child's after-school activities leaves them little time for their own interests. They embrace their role.
"I think it's all about planning and knowing where you've got to be and when," says Brown, a local real estate agent. "Another mom was asking how I did it all and what we ate. But there's no secret. I think it's all about planning."
Brown's three daughters — Riley, 8, Hunter, 5, and Addison, 2 — have the kinds of schedules that scream "personal assistant."
Riley takes gymnastics three days a week, four hours a day; golf lessons on Wednesdays; violin and piano lessons when they can be squeezed in. Hunter has ice skating, gymnastics, guitar lessons and hula lessons, while Addison has gymnastics one day a week and violin lessons, mainly because she wants to be like her big sister.
Every day, Brown picks them up after school and manages to get them where they need to be; she used to worry about being late but now knows, if it happens, it happens. This is supposed to be fun, after all.
After-school transportation is a science, says Heather Hall, mother of Jordan, 10, and Madison, 8. She waits for her kids in a predesignated meeting spot when they get out of school at 2:45 p.m. Jordan has to be at Gymcats by 3:30 p.m. on most days while Madison takes dance at Fern Adair. At the same time.
She, too, used to get frazzled with the schedule: school, gymnastics, jazz, tap, tennis, homework, meals and sleep.
But she realized it's the perfect time to bond with her kids. She takes them for a quick bite to eat or packs a snack that they eat at the gym, talking to them about their days.
"It is hectic, but it's also fun. It's however you want to look at it," Hall says. "I don't know if I could pull it off without a good sense of humor."
Pairing up with other parents and enlisting friends and family is the only way Emily Smith gets her two children to their after-school activities. On Fridays, daughter Ashley, 11, takes dance lessons at a studio in the southeast while at the same time, son Micah, 7, plays hockey in the southwest valley.
In her job with the Girl Scouts of Frontier Council, Smith hears the woes of other parents whose kids have taken on too much, but that didn't stop her from doing the same.
Parents say it's hard for them to say no to their children, especially when they want to pursue an activity that presents opportunities to learn and grow. Despite the heavy schedules, parents say they try to balance the activities with plenty of down time and lots of humor.
Hall likens the after-school drive to an amusement park ride, something her daughters appreciate.
"There's a ride at Disneyland where they say 'We hope you had a nice time. Now get out.' When I pull up at the gym, I say 'OK, Jordan, I hope you had a nice time. Now get out,' " Hall says.
Contact reporter Sonya Padgett at spadgett@reviewjournal.com or 702-380-4564.
ON THE WEB View the slideshow