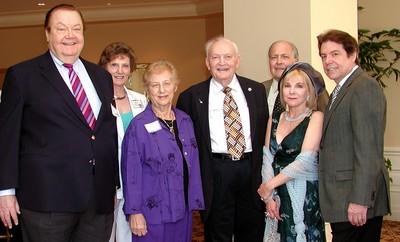 The Impresario Society and the Opera Las Vegas board of directors presented "Melodies in May" Sunday in the Acacia Ballroom at the Four Seasons.
During lunch, the Opera Las Vegas Chorus performed. Douglas Carpenter sang well-known arias, as did Rachel Von Hoffman. Carpenter also offered "On the Street Where You Live" from the musical "My Fair Lady." The duet of Carpenter and Von Hoffman closed with the "Drinking Song" from "La Traviata" by Giuseppe Verdi. The piano accompanist was Marek Rachelski.
The Impresario Society is a group of opera enthusiasts focused on raising funds for Opera Las Vegas.
The luncheon benefit and musical program was a success. More than 64 guests attended to lend their support by bidding on items in the silent auction and buying drawing tickets.
The event also provided a venue to introduce Opera Las Vegas' new board of directors. James Frank is the 2007-08 president of Opera Las Vegas and he introduced board members Hal West, vice president of marketing and public relations; Elenore Koch and Judy Moore, vice presidents for planning; Gayle Rogers, treasurer; Gloria Allen, artistic director; Sandra Frank, impresario director; Stacie Rachelski, guild director; Sheldon Trubatch, adviser; and Alvida Lane, secretary.
Guests included Terri Eden, Julie Pilkington, Persia Golden, Barbara Lee Woollen and Bruce Woollen, Beverly and Mike Mykisen, Phyllis Haley, Bud Pattengale, Toni Carpenter and William Freyd.
Also among the guests were Floss Schumacher, Dorothy Kemp, Carolyn Boes, Susan Houston, Lucricia Sparks, Mark Rainhordt, Gwen Den Dooven, Vera Knox, Celia Dobbins, Sandy Faucette, Bill McCarty, Sondra Lynch, Peggy and Janna Broxterman, Billie West, and Maxine and Earnie Clark.
Other guests included Annee Nounna, Margie Conway, Joan Berry, Annie Alenik, Madeline Von der linden, Patricia Martinelli, Leonard Gross, Gay Goldstein, Juliana Rae, Jennifer Wallace, Kathleen and Ron Slaughter, Frances Silvja, Michele and Evelyn Rizza, and Michael LaRocca.
Glow of success: The Junior League of Las Vegas celebrated a year of accomplishments during its annual May luncheon on May 19 in the Pavilion Ballroom at Red Rock Resort.
The popular event looked at such achievements as the debut of the Morelli House as the group's headquarters.
The luncheon also acknowledged outgoing leaders and welcomed the new board of directors and committee chairs. Presentations were made of Volunteer Service Awards.
Vocalist Allison Alexander sang Frank Sinatra hits during the luncheon of salad, lemon-glazed chicken, and molten chocolate cake with berries and vanilla ice cream.
Outgoing Junior League President Kellie Guild thanked her board and announced the names of 46 new active members.
Officers installed for 2007-08 were: Stephanie Vogel, president; Patti Wippel, president-elect; Charity Johnson, administrative vice president; Jennifer Schmidt, community vice president; Vanessa Kissel, finance vice president; Laura Schmitt, fund development vice president; Bonnie Winkleman, membership vice president; Sharon Miller, recording secretary; Megan Schmick, treasurer; Tara Faber-Weinberg, administrative member at large; Liz Sherley, community member at large; Jodi Disken, fund development member at large; and Judy Beal, sustaining board adviser.
The 2007-08 officers for the sustainers include: Deni Conrad, president; Carolyn Sparks, vice president; Sandra Windom, secretary; LuAnn Kutch, treasurer; Rebecca Roman, membership; Lois Zellers and Judy Beal, Bear Committee chairwomen; and Sherry Colquitt, endowment chairwoman.
A highlight of the luncheon was the announcement of the Sustainer of the Year Award, which was presented to Betsy Rhodes in recognition of her 45 years in Service League/Junior League.
Rhodes served as president of Service League in 1969-70 just before the group was invited to become a member of the Association of Junior Leagues in 1971. Rhodes has given hundreds of volunteer hours to the organization over the years, and currently serves on the Bear Committee and Endowment Committee.
DOROTHY HUFFEYMORE COLUMNS