Opportunity Village clients' paintings for sale decorate Downtown Summerlin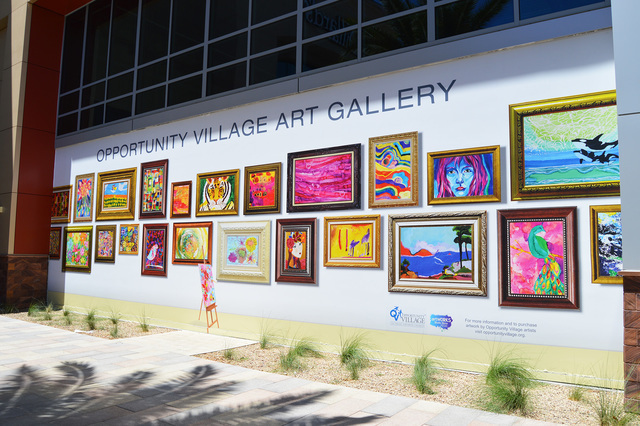 In Downtown Summerlin, a wall is capturing the eyes of passersby.
Near one of the entrances of Dillard's, 23 paintings — ranging from a stunning portrait of a woman to an abstract of colorful swirls — decorate the wall. The artwork, done by clients of Opportunity Village, is part of a partnership between the nonprofit and Downtown Summerlin, 1980 Festival Plaza Drive.
Opportunity Village, 6300 W. Oakey Blvd., serves children and adults with intellectual disabilities.
"For our artists, it offers them exposure and for people to understand that people with disabilities have so many talents," said Sarah Quinn, fine and performing arts manager at Opportunity Village.
She said people from Downtown Summerlin visited the campus and wanted to partner with the organization for a summerlong series of projects, beginning with the mural.
Lynnel Reyes and Jason J. Zummo were on their way to Dillard's when they paused, looking at the images on the wall.
"When I walked up to it, it looked three-dimensional," said Reyes, 31. As she got closer, she realized the images were painted.
"It's eye-catching," said Zummo, 30, his eyes on the paintings as he stepped closer. "I think this is beautiful."
Zummo, an attorney at Fox Rothschild LLP, said the paintings were something he'd buy and hang in his apartment.
To them, the portrait of the woman with striking green eyes and pink hair caught their attention.
"I wouldn't be able to do anything like this," Reyes said.
Near the bottom of the wall, shoppers can pose with a painted easel.
Opportunity Village client Amanda D. — the nonprofit's clients do not use their last names — beams with happiness when she talks about her artwork.
"It makes me feel good that I get to paint. It's very fun," she said. Amanda also paints scarves in the art studio.
On the wall, her painting has different shades of pink and purple snaking across the canvas. Watermarkings decorate the painting in circles.
She likes using pink — her favorite color — and purple, gold and orange, colors that make her happy.
"Hopefully, I can inspire people to come join the art program at O.V. and just give it a try," she said.
Quinn said the paintings are available for purchase, and many have already sold.
"These are working artists," she said. "If we can get someone who sees and appreciates the artwork, wants to buy some or commission their own pieces, then that's an opportunity for our guys to have a job and earn a paycheck and be proud of what they're creating in the studio."
She said the artists are their own best advocates; they tell family and friends to check out their artwork all the time.
Alyssa T., another Opportunity Village client, painted the tiger. For her, painting is a way to express herself. She prefers to use rainbow colors and vibrant bright colors.
"You can express who you are, and you can express the colors that you feel every day," she said, adding that painting with vibrant colors allows her to show off the happiness and joy she feels.
Her inspiration comes from looking online and combining two pictures, she said.
Alyssa also does woodwork and scarves at the art studio. Another painting of hers is featured in a window display in Downtown Summerlin.
She said the best thing to do when painting or drawing is to think positively about the artwork and never give up.
"Don't give up because that's not the right thing to do," she said. "The right thing is to always look at your art and focus and say, 'Hey, look, this is how it expresses me. This is how I feel.' "
The paintings will be on the wall for a few months, Quinn said. Visit opportunityvillage.org/collections/artwork.
Contact View intern reporter Melissa Gomez at mgomez@reviewjournal.com or 702-383-0278. Follow her on Twitter: @melissagomez004.