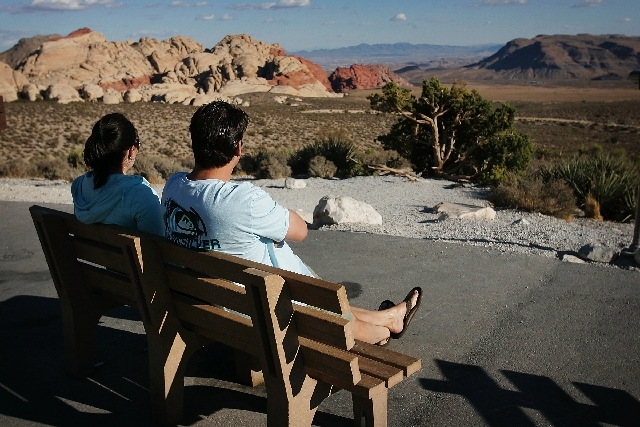 HIKES
Red Rock Canyon: On Monday, see petrified wood and a mysterious geological feature on a moderately strenuous, 4-mile in Oak Creek Canyon; for ages 10 and older. On Saturday, go for an easy, half-mile walk at Corn Creek Spring, a major bird-watching area and prime habitat for aquatic plants and animals. On June 9, search for the elusive Gila monster on a moderate, 3-mile hike at Calico Basin; for ages 12 and older.
For more information or to sign up for hikes, call 702-515-5367.
Around the Bend Friends: This group of people 50 and older who are involved in hiking and related social activities plans several hikes each week of various difficulty levels, including an easy-to-moderate social hike on Saturdays. To learn more about the group and the hikes that are offered, call 702-823-2355 or visit the club's website, www.aroundthebendfriends.com.
OTHER PROGRAMS
Red Rock Canyon: On Monday, learn about the birds of the Mojave Desert in a tabletop presentation at the visitor center. On Tuesday, view some of the venomous animals found in Red Rock. On Wednesday, create a beaded necklace, bracelet or earrings in a jewelry-making class for ages 12 and older. On Thursday, a tabletop presentation will teach visitors how to identify some common lizards and snakes as well as which ones to avoid.
For more information, call 702-515-5367.
Archaeo-Nevada Society, along with the Bureau of Land Management, seeks volunteers to help with Red Rock Canyon conservation projects. Visit www.archaeonevada.org.
Free fly-fishing class: The Nevada Department of Wildlife will conduct an introduction to fly-fishing class June 15 at Floyd Lamb Park at Tule Springs. The free class will cover fly-fishing terminology, knots, equipment selection and casting techniques. It will begin at 9 a.m. in the old ranch house and end at 1 p.m. To register for the class, visit the NDOW website at www.ndow.org/Fish/Classes/. For more information, call Ivy Santee at 702-486-5127, ext. 3503.