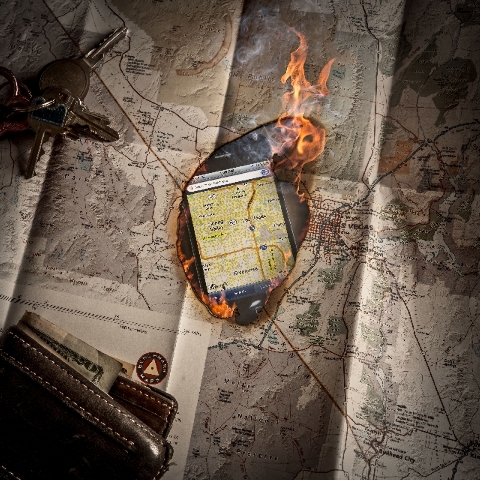 Look only at the numbers and the road map seems to be traveling down Interstate Neglect, puttering somewhere between the exits for Outmoded and Who Cares?
But it ain't there yet. In fact, although the number of road maps now being printed and used is shrinking like the view of a skyline in the rearview mirror, road map fans think — or, at least, hope — there will always be a place for the classic paper guide to destinations unknown.
When Southern Nevadans pack the car and head out on vacation this summer, odds are that many of them will travel sans map, relying instead on GPS devices or smartphone map applications to get them where they're going.
"Technology has had a profound impact on the way people get around and find their way in the world. It's almost undeniable," said Jeff Holman, membership strategy analyst for AAA of Northern California, Nevada and Utah.
Holman said Nevada's AAA affiliate distributed about 9 million road maps in 2004. In 2012, that number fell to about 3 million.
Contributing to the drop was a consolidation of the map titles AAA stocks, "just because of declining usage," Holman said. According to Holman, Nevada AAA members could choose from among about 250 AAA maps eight years ago while, today, the club offers "about 150 titles, give or take."
But before you crumple the road map and trash it , consider that nobody expects technology to replace paper maps anytime soon.
"On the bright side, I would say there is a place in the world for both technology and traditional maps," Holman said. "I think what you need to keep in mind is, people use maps for different purposes."
For finding the fastest way from Point A to Point B, GPS or map apps are more convenient than looking up streets in a city directory and then matching index numbers to map pages, Holman said.
But, he continued, "for getting an overview — for seeing the big picture when planning a trip — there's still no substitute for a paper map."
Spreading out a paper map — or several paper maps — on the floor will reveal at a glance how much ground must be covered between origin and destination, attractions or landmarks that lie along the way, the names of geographical and man-made features the traveler will see along the route, and even tip off the traveler to alternate routes to bypass traffic tie-ups or populated areas.
Offering such a wealth of additional travel information in a low-cost (or free), portable package can help the road map to remain competitive with electronic navigational aids.
"We find that maps are still really popular," said Bethany Drysdale, public relations director for the Nevada Commission on Tourism. "We take them to just about every trade show and conference we go to and hand them out, and people still want to hold them in their hands and see where the roads are and where they connect."
Printed maps also remain popular among Nevadans, Drysdale said, particularly those who live in or travel through large portions of the state "where GPS and cell signals aren't great."
Maps also can offer a traveler context that a stream of GPS directions can't. For example, Drysdale said, a printed map is "a great visual when talking to visitors from out of the state, because they don't realize how big Nevada really is and where it is in relationship with other Western states."
Holman agreed that, with GPS and map apps, "what gets lost is the geographical relationship in the world you're in. You lose the big picture."
Printed maps also can serve as low-tech backups to high-tech navigational aids. "You always hear stories about people taking GPS (directions) and ending up lost," Drysdale said. "It's good to have that backup."
And, for the aesthetically inclined, paper maps look way cooler — much more artistically inspiring — than their electronic brethren.
GPS and map app cartography tends to be much poorer than what you'd use on paper, said Holman, who began his AAA career as a cartographer.
"I think that's changing now," Holman said. "But I think a well-made, well-thought-out paper map is far more appealing than anything you'll ever see online."
Some even consider road maps artistic enough to collect, whether for reasons of art, nostalgia or history. Count among those collectors Judy Aulik, webmaster for the Road Map Collectors Association (www.roadmaps.org), which, Aulik said, now has about 250 members.
Why collect maps? "I think a fair amount of people are really interested in oil companies and their history," Aulik said. "Prices have gone up (among) oil collectibles, and maps are more affordable than signs or gas pump globes. That has a little to do with it."
Others, she said, simply appreciate road map design, cartography and art.
"We have members who just want each cover style," she said. "There are people like me who are collecting the old state officials and some of the ones that have more historical data on them."
Some road maps are "just absolutely gorgeous, especially the ones from the mid-'30s and the '40s, like the Sinclairs and all of those companies," Aulik said. "And there are ones that are fold-outs, that have five panels of a picture or a painting. It's just amazing."
It'll be hard to impress anybody a few decades from now with a collection of printouts from a GPS device and unlikely that anybody will admire Web-generated maps as much as they do the antique maps found in volumes on display at the Las Vegas gallery of Bauman Rare Books at the Palazzo.
Manager Rebecca Romney said maps often have served as more than a means of merely recording or conveying directions. Throughout much of history, she said, maps were works of art that might feature elaborate cartography and symbolic or anthropomorphic illustrated figures.
Aesthetics were important, even if the maps weren't always, necessarily, accurate, Romney said, and maps of the time reflected not just what was known of the world but what people wanted the world to look like.
What might our modern-day exodus from printed maps to electronic navigational aids reflect about us?
"I think in some way it reveals the polarization of what is, in the end, the original purpose of a map over the aesthetics of a map, the beauty," Romney said. "With printed maps you can do both — they can be beautiful and they can be useful. With a GPS, it's pretty much just going for use. I don't say that as a good or a bad thing. I just say it as a notable thing."
Satellite and online navigation tools "allow us to be more efficient than we ever have been," Romney said. "That can be a great thing. But, of course, there are pros and cons to any piece of technology."
Holman isn't convinced that printed maps are going anywhere anytime soon. AAA of Northern California, Nevada and Utah represents only about 10 percent of AAA members nationwide, he said, and multiplying the 3 million maps distributed here by the rest of AAA's affiliates equals lots of maps still finding homes in American motorists' cars.
It could be that the printed road map is just evolving into a different role, from primary navigational aid to backup, or from daily necessity to once- or twice-a-year vacation planning tool. Maybe, Holman said, maps are turning from "a glove box item" into "a trunk item, if you will."
Holman noted that AAA now offers electronic versions of its most popular travel planning products — an AAA Mobile app, an online TripTik Travel Planner, eTourbook guides — to complement the classic versions.
But, Holman said, the classic paper versions of its maps, Tourbooks and TripTiks "continue to be a highly valued member benefit."
Will road maps ever completely disappear?
"I hope not," Holman said, "but I can't truthfully say it will never happen because there is such a generational shift in the way people find their way around. As generations change and we have people who come into middle age and old age who never really used paper maps, it's hard to say."
But, Holman said, "I certainly think it's not going to happen anytime soon."
Contact reporter John Przybys at
jprzybys@reviewjournal.com or 702-383-0280.