Partygoers check out trees along Library Lane
December 14, 2014 - 12:11 am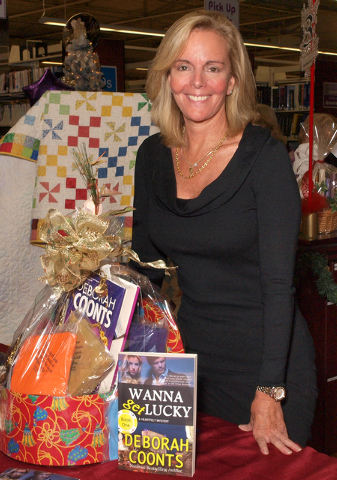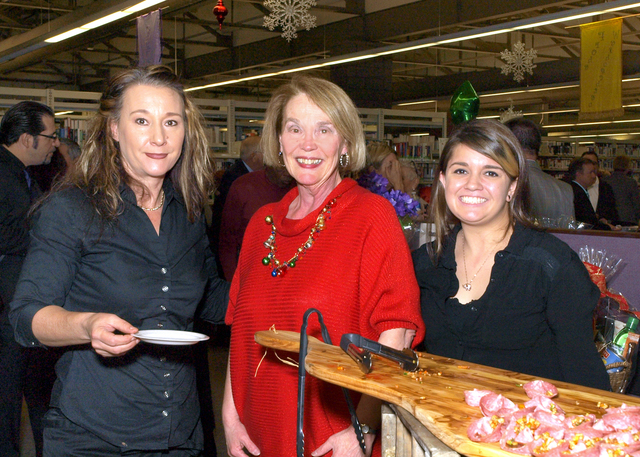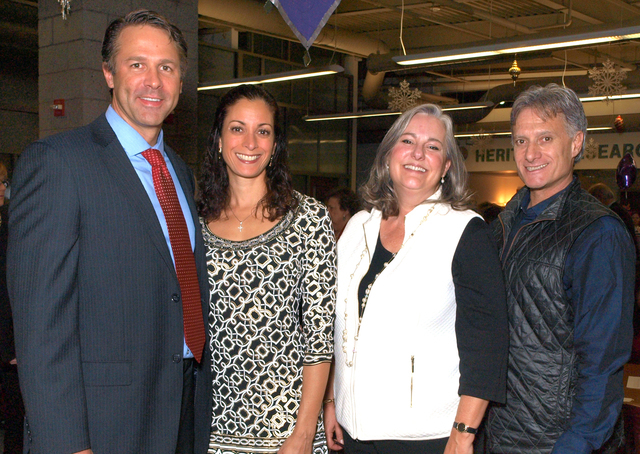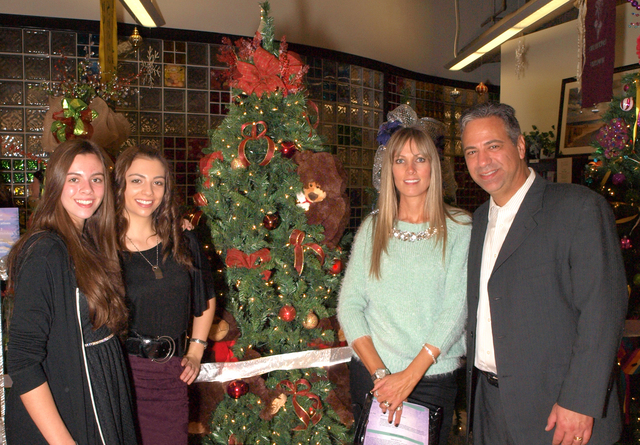 Library Tree Lane, a popular holiday event that sells out every year, took place Dec. 5 at the Paseo Verde Library in Henderson.
The event supports the outreach program, which helped establish the preschool book collection in the Green Valley Library, and buys books for beginning readers throughout the library branches.
Proceeds from the 2014 gala will also benefit Toys to Teens Youth Services.
This year's honorary chairmen of Library Tree Lane were Robyn and Jim Carr. Julie Buckley chaired the event with help from Henderson Libraries President Marian Brown and Henderson Libraries Executive Director Angela Thornton.
Guests including Donna Wilson, Leslie Finzer, Eileen and Eric Horn, former U.S. Sen. Richard Bryan, D-Nev., Jane and Bob Fielden, Dorothy and Danny Lee, and Laura Jane and Lane Spina with sons Trevor and Kyle strolled through the venue socializing and bidding on myriad items.
Different sections of the library offered bundles of books on different subjects for bid, and opportunity tickets offered a chance to win a wreath, tabletop trees and gift boxes.
Most popular was the silent auction for the 234 beautifully decorated baskets that carried out a theme, such as trip tickets with hotel and dining, a selection of wines, tea sets, a Disney Dream Vacation, gift cards and golf foursomes.
Master of ceremonies Mark Hall-Patton announced the bidding time allowed for each section throughout the library.
Among the special decorated Christmas trees:
■ "Gifts of the Magi," designed by Lala Confreres, sponsored by the Henderson Chamber of Commerce and purchased by the chamber. This tree won Best Use of Theme.
■ "Handcrafted Holidays," given by Imagine Communications and designed by Jay Gunn and Tanya Shaw, went to Best Buddies.
■ "Teddy Does Christmas," from Charles Schwab and designed by Carla Snoop, went to Adam's Place.
■ "Blue on Blue," sponsored by the Green Valley Rotary and designed by Tina Guthrie, went to St. Theresa Center. It won Most Elegant Tree.
■ "Carnival Celebrations," sponsored by Chloe Ducharme and designed by RAFI Architecture &Design and Jane Fielden, went to the Barbara Greenspun Women's Care Center. This tree won Most Creative and the Patron's Choice Award.
Capital North America delivered the trees to the designated recipients.
This year's guest author was Deborah Coonts, who is also a lawyer, licensed commercial pilot and instrument flight instructor. She is the author of the "Lucky O'Toole Las Vegas Adventures," a series of romantic, humorous mystery novels. She also autographed her books.
Emery's La Barrista provided the extensive buffets of hors d'oeuvres and made-to-order bananas Foster. Wine was compliments of Southern Wine &Spirits; music was by DJ Johnny Randall.
More guests attending were Elaine and Joe Bruzzese; Carol and Jim Frey; Juliana McRae; Monica Fuller; Sondra Lynch; Marcia D. Brown; Sandy and Bobby Ellis; Rebecca and Tom Fay; Laura Alcaraz; Adam Bishop; Joan LeMere; U.S. Rep. Dina Titus, D-Nev.; U.S. Rep. Joe Heck, R-Nev.; state Sen. Mark Manendo, D-Las Vegas, with Robin Reddle; Henderson Mayor Andy Hafen; and Santa Claus.