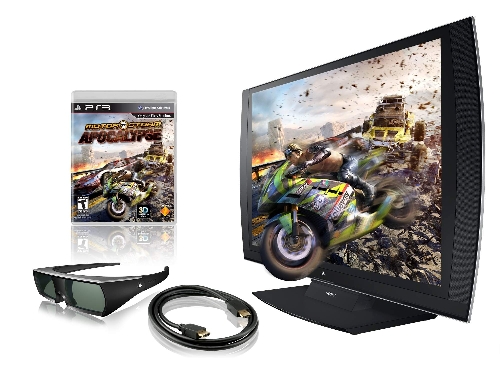 I rarely review expensive video game peripherals, because doing so makes companies think I'm a tech critic, and then they mail me gear, unsolicited.
Maybe receiving such free stuff sounds awesome to you. But it's seldom useful. So dear game companies: Don't mail me luxury peripherals. Thanks.
Now that I have that out of the way, let's take a look at the extraordinary, yet imperfect, $400 PlayStation 3D Display. This is a video monitor designed for the PS 3.
There's only one reason I'm reviewing it: The monitor comes with a technology called SimulView. It lets two people (wearing 3-D glasses) view two different, full-screen images while gaming at the same time.
So let's say you and a friend are playing the racing game "MotorStorm: Apocalypse." You will see a full screen of the game as it progresses for your motorcycle. Your friend will see a full screen of the game as it progresses for his motorcycle. You won't see each other's race.
This is incredible — sidestepping crappy split-screen gaming.
But here's the catch: As of now, only four games on the market work in SimulView: "MotorStorm: Apocalypse," "Gran Turismo 5," "Killzone 3" and "Super Stardust HD."
You can play 2-D games, plus 3-D games, such as "Uncharted 3: Drake's Deception," "Killzone 3" and "NBA 2K12."
You can watch 3-D and 2-D Blu-ray movies and DVDs, plus stream Netflix via PlayStation Network.
And two high-definition multimedia interface slots let you connect a PC or cable/satellite box, but there's no coaxial hookup.
This PS 3D Display is high tech, featuring a resolution of 1080p/240Hz.
It comes bundled with an HDMI cable, a pair of 3-D glasses (rechargeable batteries clock in at 30 hours) and a copy of "MotorStorm: Apocalypse."
Extra glasses fetch $70 each (ouch).
The screen is just 24 inches. Pro: It takes up little space, and it's easy to move around. Con: You sit close to the screen to make it worth viewing.
The sound system is fine, though I plugged my Logitech speakers and subwoofer ($100) into the sole earplug hole to make the sound bigger.
It took me about 15 minutes to hook it all up — the monitor, glasses and my Logitech speakers.
It doesn't come with a remote control, just a few buttons. But if you own a PS 3 TV remote ($25), it will be compatible.
Biggest drawback: If you hate screen glare, beware. Even in an almost lightless room, the screen of my PS 3D Display reflects the slightest light source.
Bottom line: This is an interesting secondary video monitor if you're a serious gamer with $470 to burn for a 24-inch, glare-y screen that plays just four games in SimulView, but has awesome 2-D and 3-D resolution for games, movies and TV.
That would not have enticed me to drop $400 on it, but Sony mailed it to me unsolicited, and I like it, except for the glare, so there you go.
(PlayStation 3D Display by Sony retails for $400 — Plays intuitively. Looks great, except for screen glare. Three and one-half out of four stars.)
Contact Doug Elfman at delfman@ reviewjournal.com. He blogs at reviewjournal.com/elfman.
TOP GAMES
Here are the Top 10 best-selling video games at full retail price, according to GameStop.com.
1. "Mass Effect 3 N7 Collector's Edition" (EA) pre-order for March 6 release for Xbox 360; will be also available for PS 3, PC; rating pending
2. "Diablo III: Collector's Edition" (Blizzard Entertainment) pre-order for upcoming release for PC; rating pending
3. "Final Fantasy XIII-2" (Square Enix) pre-order for Jan. 31 release for PS 3; will be also available for Xbox 360; rated "T" (drug reference, mild language, mild suggestive themes, simulated gambling, violence)
4. "Mass Effect 3 N7 Collector's Edition" pre-order for March 6 release for PC
5. "Final Fantasy XIII-2 Collector's Edition" for PS 3
6. "Mass Effect 3" (EA) pre-order for March 6 release for Xbox 360
7. "Final Fantasy XIII-2" for Xbox 360
8. "Super Mario 3D Land" (Nintendo) for 3DS; rated "E"
9. "Diablo III" for PC
10. "The Elder Scrolls V: Skyrim" (Bethesda Softworks) for Xbox 360; also available for PS 3, PC; rated "M" (blood, gore, intense violence, sexual themes, use of alcohol)
(Ratings: "E" for "Everyone"; "T" for "Teen"; "M" for "Mature 17+")