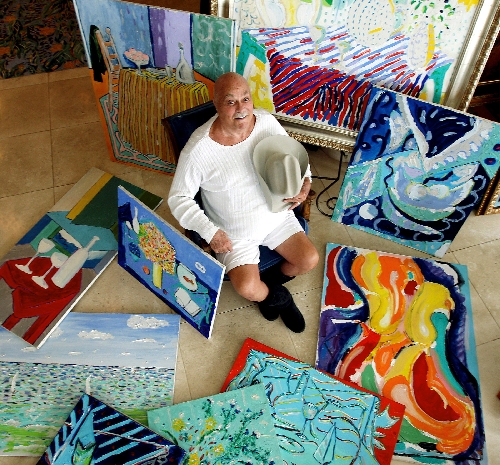 The movie star was my friend.
That I didn't know him until nearly his 80s, that it was only briefly, that I didn't really figure in his life, didn't matter. Once you were welcomed into his orbit, that is where you remained. As if you had always been there.
That was the magic of Tony Curtis, off-screen, in person. He never stopped being Bernie Schwartz.
"Hey, it's Tony! It's Tony!" he said when I picked up the phone at my desk a few months back, that fabled foghorn of a voice, though slower and gravelly with age, still as New York as a pushcart pretzel, extra salt. (Had he been an abandoned baby, I'm convinced he wouldn't have been left on a doorstep, but a subway platform.)
"How are you? Do you know I'm going to be doing a play soon? I am. I'm doing a play."
He wasn't. He checked with his assistant. It was an understandable mistake. Tony was 84. Facts got jumbled. What was so joyous about him was that, factual or not, the very idea of working, of still being a presence before an audience, excited him as if he were six decades younger, dashing, driven and dynamic.
But more than that to this reporter, it was, on a certain level, a call between friends. He considered me one. We related: one New York Jew from the Bronx to another, to hell with the age, status, talent, wealth, enormous fame and glorious experiences (and dalliance with Marilyn Monroe) that separated us.
Days before, we'd had our last interview at his Anthem home for an R-J feature story, as he prepared to discuss his artwork, his memoir and his life during a Clark County Library program. He was no longer the Tony of 2003, whom I had met while profiling him for another publication.
Seven years earlier, hanging out at his home, dining with His Regal Tonyness in Picasso at Bellagio, was a lesson in how to simultaneously be a giant, a gentleman and a gentle man. Given the many celebrities practiced in the art of guarded conversation and polite reserve I had interviewed over the years, his utter lack of emotional armor was remarkable. Hollywood had given him lasting stature, but never intruded on his open nature.
And he was a riot. "I get the best of everybody I meet!" he fairly shouted back then as we waited for his wife near the entrance to the elegant restaurant. "They become more open, more suggestive in their thoughts and thinking and feeling. 'How's it going, Jason?' Jason is someone I find most interesting. Works in a bar mixing drinks. It's a profession. The guys who park the cars. I love 'em! I'm just curious about everything!"
Jason the bartender was briefly flummoxed, suddenly caught in Tony's roving searchlight, then fell into easy conversation with Hollywood royalty. A wondrous dinner followed, brimming with an animated Tony discoursing on everything from politics to jabbing co-star Kirk Douglas for his "beautiful butch haircut" in "Spartacus" to warmly complimenting the waiter to admiring his wife ("You look like peaches and cream tonight," he cooed.) This life-embracing legend stirred my affection that night in a way that has never waned.
Fast-forward to 2010. Returning to his home jammed with memorabilia of a fabulous career, he entered in a wheelchair, frail, hairpiece gone, finally tamed by time, nowhere near the raconteur I had so enjoyed. Yet the movie-star razzmatazz had been overtaken by an even more touching sweetness.
We reconnected, not as movie star to reporter but Bronx boy to Bronx boy. Through the elderly man's still childlike eyes, that day I was transported 2,500 miles east and five decades back, our conversation peppered with the Yiddish words we both heard in our childhood homes, the ones crisscrossed by fire escapes near the rumble of the "El" (elevated) subway, as if we truly were extended "mishpochah" (family). As this encounter came to a close, he kissed my hand. I held his. I knelt by his wheelchair. He hugged me from it.
Sometime later, a copy of his memoir arrived in my mailbox, inscribed: "Steve, your words to me was what a buddy does to be a friend." Tony, right down to the Bronx-like grammar.
Hollywood mourns your death, my friend. So does Las Vegas. But roots give you your essence. They form the core of the person who lives on in memory. They are, in that sense, eternal. I was lucky to share mine with you.
So, Mr. C, speaking on behalf of the borough that gave the world Tony Curtis but nurtured Bernie Schwartz:
The Bronx welcomes you home.
Contact reporter Steve Bornfeld at sbornfeld@reviewjournal.com or 702-383-0256.
RELATED STORIES
• TONY CURTIS 1925-2010: Hollywood legend remembered
• NORM: Tony Curtis made himself at home
• Film legend Tony Curtis reveals his painter's soul – 4/1/10
• Tony Curtis recalls bleak childhood, Hollywood adventures in candid memoir – 1/22/09
MULTIMEDIA
Norm Clarke reminisces about Tony Curtis
Norm Clarke talks to film icon Tony Curtis
– 7/19/09
Tony Curtis photos
Tony Curtis timeline