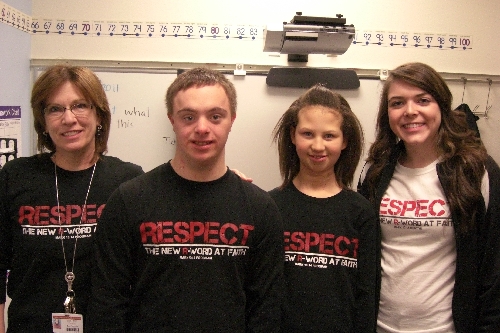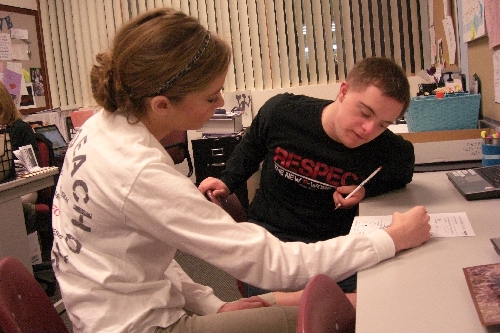 It hurts, and most people do not even know the pain they cause by using it. Many believe this word shows ignorance and a lack of empathy for people unable to defend themselves and who cannot help the situation into which they were born.
The R-word hurts, and the Spread the Word to End the Word campaign is striving to do away with the word "retard." When people use the R-word negatively, "it implies that being retarded is something bad," says David Clark, development coordinator for Best Buddies Nevada.
The R-word as a noun, as defined by Merriam-Webster, means a holding back or slowing down or a person held to resemble a retarded person in behavior.
Specialolympics.org calls this campaign "a movement of mutual respect and human dignity," adding that the goal is to "get people to stop and think about their hurtful and disparaging use of the word 'retard' and pledge to stop using it."
Clark says Spread the Word to End the Word was started by a group of youths attending the 2009 Special Olympics Global Youth Activation Summit at the Special Olympics World Winter Games. They saw how people with physical and intellectual disabilities were affected by the R-word.
The Special Olympics and Best Buddies International have championed this campaign. In less than three years the movement has 147,603 pledges, according to r-word.org.
In December, this initiative arrived at Faith Lutheran Junior/Senior High School through the Mark 10:14 program. Mark 10:14 is designed for mentally disabled students in high school and middle school and currently has six students, three of whom are freshmen, according to Lee Segalla, a teacher in Mark 10:14.
Kate Sullivan, a junior at Faith Lutheran, is a mentor in Mark 10:14. Mentors shadow the students in their various classes in order to provide help when needed.
Sullivan became a mentor because she wanted to help. She understands the difficulties the mentally disabled students have every day.
Spread the Word to End the Word also has arrived at high schools across Las Vegas through Best Buddies High School, a program of Best Buddies International.
Best Buddies International creates opportunities for one-on-one friendships, integrated employment and leadership development for people with intellectual and developmental disabilities, according to bestbuddies.org.
Best Buddies High School is a club that creates friendships with those who have intellectual and physical disabilities and provides a real high school experience, including taking them to movies, according to senior Amanda Garrison, the president of Best Buddies High School at Coronado High School.
Fourteen Las Vegas Valley high schools have the club.
Garrison says Best Buddies High School is important because it shows that "people with disabilities are no different than everyone else."
Clark says Spread the Word to End the Word is mainly an awareness campaign for high-schoolers and everyone else to tell the world that being mentally disabled is not a joke, the R-word hurts, and when used callously, it makes those mentally disabled feel devalued by society.
"A lot of high-schoolers don't know what (the R-word) actually means," Sullivan says. "They use it as a filler word because they can't think of anything else."
At Faith Lutheran, people almost never use this word in reference to someone with a disability, Segalla says. "They just used it in a joking way, so it may never have occurred to them that it might be offensive."
Garrison, whose sister is autistic, understands the hurt caused by the word.
"I think people don't really understand what it means. It's offensive," she says.
The most recent R-word Awareness Day was March 2. Last year, Garrison and Best Buddies at Coronado High School received nearly 1,000 pledges from students. This year, Garrison planned to have a spiritlike week dedicated to Spread the Word to End the Word.
In addition to getting rid of the casual use of the R-word, the awareness campaign at Faith Lutheran is aiming to create a new R-word: respect.
Segalla says, "We combined the 'Spread the Word to End the Word' slogan with the slogan 'RESPECT — the new R-word at Faith,' because we wanted to go beyond just ending the use of a derogatory word, to create a higher level of understanding that individuals with special needs generally want the same things we all want, to be loved and accepted for who we are and to be respected and included."
The Spread the Word to End the Word campaign has ended at Faith Lutheran, but "the campaign is eternal," according to Sullivan.
R-Jeneration