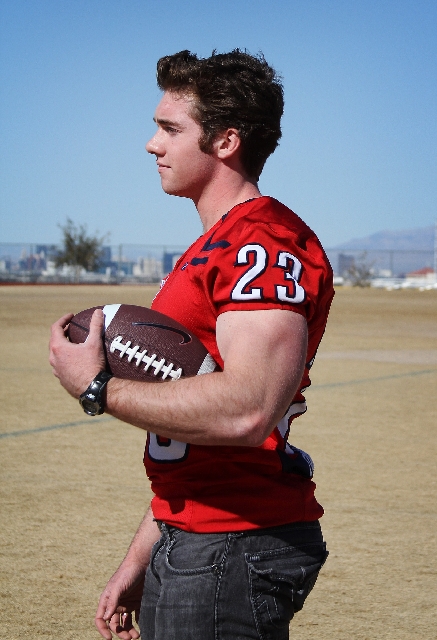 The clash and crunch of pads is audible. Players grunt as sweat drips down their faces. They take hit after hit.
Beneath the mundane facade of practice, there is a lurking danger worse than the simple breaking of an arm or leg. Concussions, long known about and often ignored, are taking center stage when it comes to contact sports injuries.
"It is a trickle-down from the media linking concussions to high-profile athletes. They haven't really been taken seriously until the past four years or so," said Russ Leet, Chaparral High School's assistant principal of athletics.
Plus, there's been more research available on the topic in recent years that suggests multiple concussions can cause serious health problems later in life. Harvard Medical School, for instance, found that concussions can lead to neurological disease and clinical depression.
Closer to home, the Clark County School District implements IMPACT, Immediate Post-Concussion Assessment and Cognitive Testing. This is an online test that establishes a baseline for athletes in the eventuality of a concussion.
"This is a big step in the right direction as far as what is being done for athletes when it comes to concussions. In the past, a lot of concussions and head injuries were overlooked," said Joe Moyes, Coronado High School's athletic director.
The school tests athletes in sports such as football, basketball, volleyball, cheerleading, soccer and wrestling. The exam is administered by a trainer, and is processed by Sports Concussions Specialists of Nevada.
On suspicion of a concussion, the company compares the first test taken with a new one. The comparison determines whether a concussion was sustained and assigns an appropriate recovery period.
Thus far, the test has been proved effective.
"At first I thought that you could trick the test," Leet said, "but if you have a concussion you just can't trick it."
Aside from the testing, high school athletes also are given information about concussions in an effort to increase awareness.
Bill Keairnes, Palo Verde High School's assistant principal of athletics, said a trainer talks to players and coaches about concussions and their possible consequences. The players also receive handouts and articles to support the information.
Although sustaining a concussion does not always dissuade athletes from playing a sport they love, it can be a harrowing experience. Marcus Hunt, a defensive lineman for the Coronado High School varsity football team, found that out during summer training.
"I couldn't remember my middle name, what my locker combination was and even where my house was. I was supersensitive to light and sound, and I just couldn't remember anything," he said.
After visiting his trainer the next day, Hunt was told he had a concussion and had to sit out for two weeks — on the grounds that he not engage in any mental stimulation. Hunt couldn't watch television, listen to music, exercise or do any work. Though he was annoyed at the boredom he faced, nothing scared him more than academic repercussions.
"The thing that most worried me was schoolwork, SATs and college admissions," Hunt said. "I was afraid that my concussion would make me dumber."
Although a single concussion may not have that effect, several might.
"Concussions definitely have a long-term, cognitive effect for student athletes," said Jenna Levy, head athletic trainer for Coronado High School. "Multiple concussions can affect the way a student's brain develops."