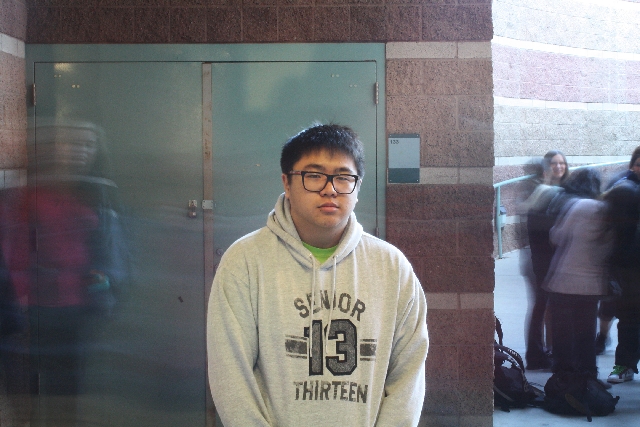 The room full of students at a Key Club meeting in Centennial High School bursts with life.
Everyone is talking among themselves, until Janmark Camins walks in the door, glasses resting on his face. Camins is the president of Key Club.
The group quiets down as members stand and recite the Pledge of Allegiance before saying the Key Club Pledge, showing unity.
"Not a lot of people know what Key Club is," Camins says. "Key Club is composed of many amazing students who help the community in many ways. We do community service, provide leadership and do good things for people."
Camins strives to lead the Key Club to victory in various competitions.
In November, members won the spirit stick at the Fall Rally South at Six Flags Magic Mountain in Valencia, Calif., which meant that they showed excellent leadership and spirit skills.
Andrew Aldrich, a sophomore at Centennial, says of Camins: "He's the most spirited in the club and takes control of any situation."
Camins takes the time to prepare and lead every Key Club meeting, talking about the plans and events for the day. Every member needs to accomplish good deeds throughout the year.
"He keeps us informed in what we have to do as a club," says Nikki McGrath, a sophomore at Centennial. "He really loves Key Club."
Camins could stand in the front of the classroom lecturing for 45 minutes, but he doesn't. He tries to make every meeting as fun for everybody as he possibly can.
"He really strives to bring the members of Key Club together," says David Quitoriano, vice president of Key Club and a junior at Centennial. "He also expresses inclusiveness, which is one of the main pillars of Key Club."
Even though being in charge of a group of people can be stressful and demanding, there are also perks for being the president of Key Club.
Camins oversees the Kettle Ringers, which involves the members of Key Club raising money for The Salvation Army. He will also be in charge of Key Club raising money for Relay for Life, which helps raise money to find a cure for cancer.
When Camins isn't leading the Key Club gatherings, he attends the meetings for the National Honor Society, baby-sits his niece, listens to music and plays the guitar, ukulele and other instruments.
Still, one gets the sense that Key Club is high among his passions.
"There are many benefits in joining Key Club," Camins says, sounding like a true believer. "It looks good on college applications, resumes, and it's a great way to meet and bond with new people."