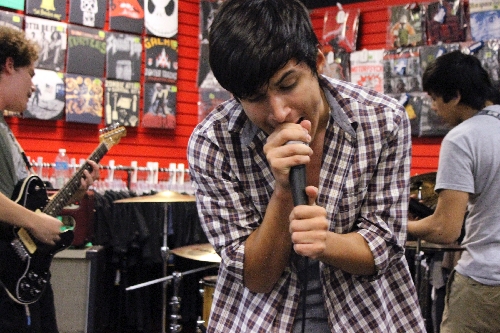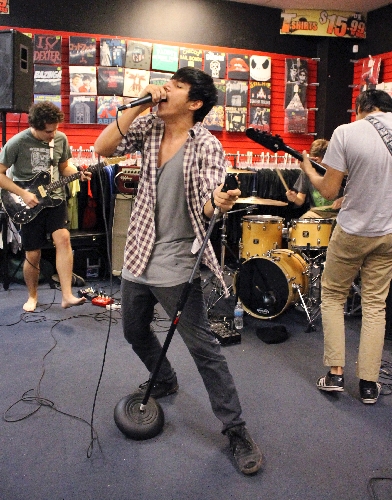 Playing music for crowds and touring the country is something many aspiring artists never get to do. Members of local indie emotional hard-core band Alaska began doing just that while still in high school and have already gained recognition outside Las Vegas.
Tyler Kawada, 16, a junior at Foothill High School, is the bassist and youngest member of the band, which has evolved over the past several years. Guitarists Joel Kirschenbaum and Cody Furin and drummer Nick Strader all graduated in Foothill's class of 2012, while Elliot Rivera, vocalist and lyricist, is 20 and the newest addition to the quintet.
"We were all friends from school originally," Kirschenbaum says, "so we decided that hanging out every day playing music would be a blast."
Despite jobs, school and family, practice is a priority. Kawada's parents designate room in their house for it. Practice happens as little as once a week or as often as every day, depending on each member's availability.
"Tyler's parents let us borrow their truck to tour and let us bang loud drums and yell in their house every day," Kirschenbaum says.
"All of our parents are very supportive of what we do," Furin adds.
Alaska has gained recognition locally, playing a majority of shows at taco shop Yayo Taco on Maryland Parkway across from UNLV. The shop hosts shows frequently for local and touring bands.
"Yayo's is an awesome venue because the atmosphere is really different from most others. Plus the tacos are really good," says Samantha Tellez, a Foothill senior and Rivera's girlfriend.
Typically, the turnouts for Alaska's shows comfortably fill the shop.
T.J. Mertikas, a Coronado High School senior, saw Alaska for the first time at Yayo in August.
"Comparing their sound to bands that are more famous on a national level, they definitely hold their own. Their music sounds like it's definitely influenced by a lot of bands that I like, but they're able to put their own unique spin on it," Mertikas says. "It also seems like they're having a lot of fun playing their music."
This year the band has played more than 50 shows, and they have no intention of slowing down. They are always looking to book more shows to expand the band's fan base.
"We play a lot of shows and we are big advocates in setting up shows for touring bands. This gains us contacts in other states as well as friends all over the country," Kirschenbaum says.
Local media have recognized Alaska as an up-and-coming band, solidifying their recognition on the Vegas scene. They've also competed in several competitions, including Battle of the Fans and Bike Rack Battles, with hopes of beating out competitive local bands in the future.
"We take competitions that we participate in seriously, but writing music, playing shows and touring are what we like to focus on the most," Strader says.
The band has toured throughout the Western United States twice thus far, transporting their equipment with them.
"The tours are worth it for sure. We meet a lot of cool people and see a lot of cool places," Furin says.
Rivera says, "It's like watching 'Willie Wonka and the Chocolate Factory,' only better."
When they are not touring or making music, the guys' go-to pastime is playing "Mario Smash Bros." and "Super Mario Bros." in Kawada's living room.
"My house is where everyone just hangs out when we need a break from stuff like practice and school," Kawada says.
Thinking into the future, the guys say they agree that making music together is more than just the music itself. It's a beneficial experience to reflect back on later in life.
"Working with four other people every day to achieve a shared objective in an environment where you are forced to communicate your wants and opinions seems like a life skill that will be helpful in the future," Kirschenbaum says.
An expiration date on Alaska is not imminent, according to the group.
"I want to continue hopefully long enough to see the rest of the country. That's what I want the most," Kirschenbaum says.
R-Jeneration