Rancho Circle boasts rich history, possible comeback
December 6, 2014 - 4:57 pm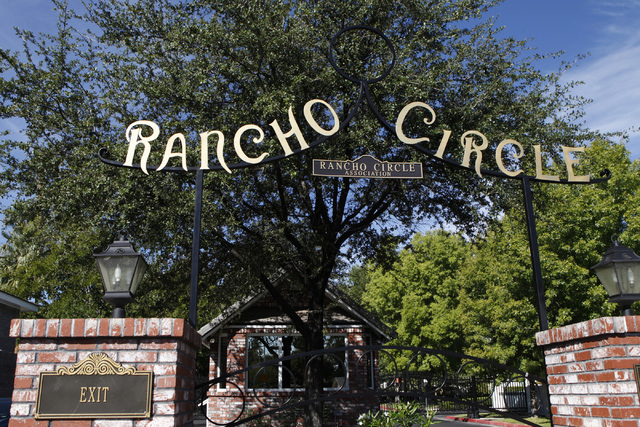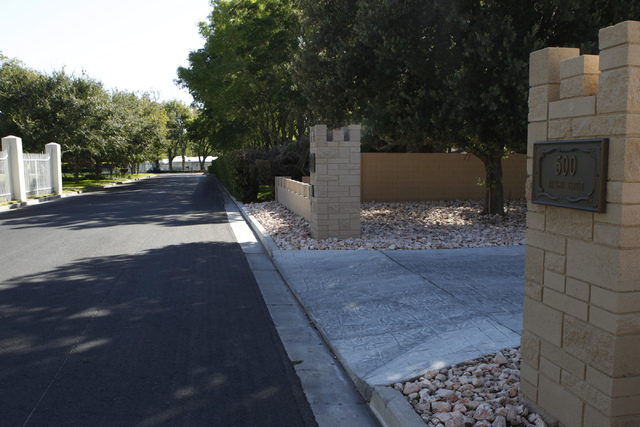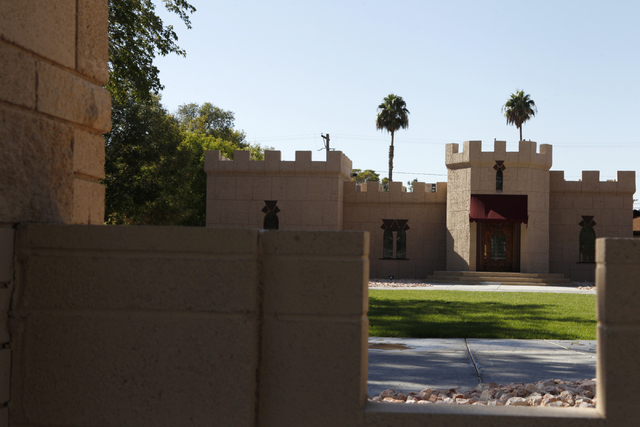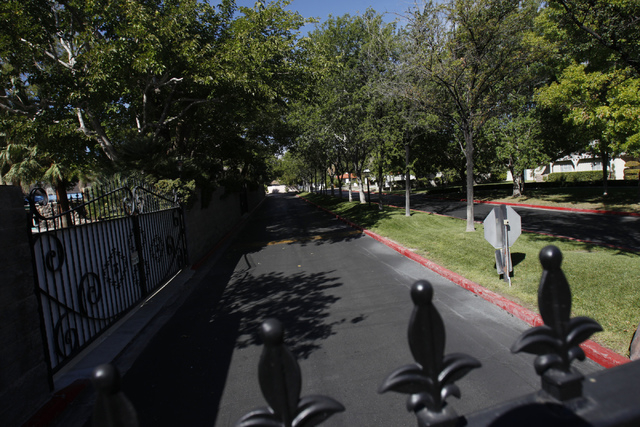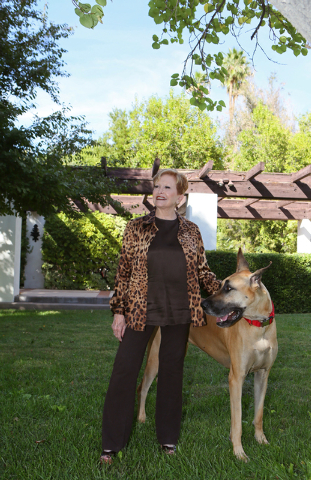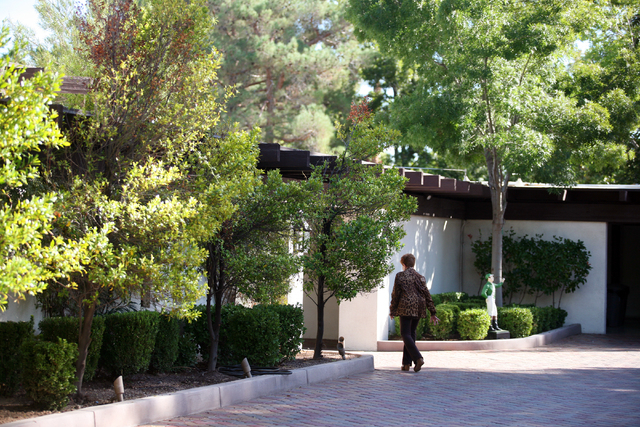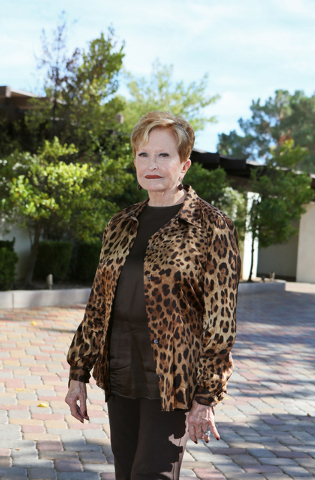 More than 40 years before Joe and Mary Blasco introduced the 600-acre Spanish Trail as the tops in luxury living in Southern Nevada in the 1980s, Rancho Circle was king.
Situated off Rancho Drive just north of Alta Drive about a mile west of The Smith Center for the Performing Arts, Rancho Circle was the hot spot for those seeking lot sizes no smaller than 0.88 acres. It became a neighborhood of exclusive large custom homes, many of which would often serve as gathering spots for prominent parties for notable people such as President Ronald Reagan, who hosted a fundraiser for his presidential campaign in the 1980s.
In the past five decades, the community has had its share of celebrities and economic ups and downs.
According to historian Mark Hall-Patton, the local water district wasn't interested in providing water to the community, so developers R.J. "Bob" Kaltenborn of San Bernardino, Calif., and his friend Bob Griffith scrambled to have a well installed.
When it came to visionaries in the valley, Kaltenborn should be considered one of the first. Seeing desert and envisioning a paradise, he and Griffith put together $2,000 in the early 1940s to buy the land that would become home to some of Southern Nevada's elite.
The owner of a wholesale auto parts business, Kaltenborn saw the potential for increased income and went to work promoting his business to anyone who would listen. In true Las Vegas spirit, he told of his new development that would attract residents such as singer Phyllis McGuire, who still lives there.
If you were a youngster in the 1950s and 1960s, Rancho Circle was viewed as the neighborhood where money grew on trees. Long before Rancho Circle had a security gate added to protect its residents from the steady flow of buses carrying tourists, kids would leave behind subdivisions such as middle-class Twin Lakes to capitalize on the candy of Rancho Circle homes each Halloween.
Although Rancho Circle is no longer the "Main Street" of high-end real estate, it carries with it a fascinating history that included impressive lighting displays each Christmas. With 34 lots as large as 2.72 acres, it's a paradise where residents enjoy their space and the surrounding landscape.
With a population of just more than 100,000, Las Vegas was small when Rancho Circle was big.
Among the current homeowners is Richie Clyne, the mastermind behind Las Vegas Motor Speedway, which opened in 1996 with the Indy Racing League 400.
In fact, Clyne is such a believer in Rancho Circle that he owns two homes there. He rents out one residence while keeping the other for himself since he escapes the winters of the East Coast by living in Las Vegas and avoids the heat of the desert by residing in New Hampshire during the summers.
Clyne bought his first home — a 10,000-square-foot residence — in Rancho Circle in 1996 before picking up the second property in 2007. He feels good about his investments, adding that the second home is even bigger than the first.
"I saw these as good investments," said Clyne, who remodeled his primary residence in Rancho Circle after buying it out of foreclosure. "The whole neighborhood has undergone a renaissance. This remains a good neighborhood and it's definitely stronger now after the decline of the economy a few years ago."
Rancho Circle has many residents who may have moved away, but still treasure the memories of the development. Among them is Sharon Pettit, who lived in a 7,000-square-foot medieval castle that backed up to Alta Drive from 1969 until the home was sold in 2005.
"At the time that we lived there, Rancho Circle was on the edge of the city," said Pettit, whose late husband, Don, was a prominent owner of casinos that included Money Tree, Coin Castle and Jolly Trolley.
Rancho Circle featured barns for horses and a baseball field called The Green Field that youngsters used to walk miles to frequent.
"My kids were very fortunate to be raised in Rancho Circle," Pettit said. "You dropped right off the city and into the country. We had huge trees and it was green everywhere. In those days, you didn't have another house right on top of you like you do now. It was a beautiful place to raise a family."
Pettit's daughter, Stephanie Stallworth, has fond memories of growing up in the community. She was just 5 years old when her family moved into Rancho Circle.
"I lived in what was known as 'the castle house,' " said Stallworth, whose memories include hosting pool parties with her now husband, Steve Stallworth. "It was a common sight to see many notable football players including Steve, Tony Gladney, Kirk Jones, Bob Orr and Rick Girard, to name a few.
"In addition, Steve's fraternity (Kappa Sigma) and my sorority (Sigma Kappa) would hold elaborate Halloween parties at my house."
Stallworth, who is director of public affairs for Cox Communications in Las Vegas, recalled the close-knit neighborhood once featured crews filming an episode of the popular TV series "Vega$" starring Robert Urich.
"They spent several days in the circle shooting, and us kids were total gadflies," Stallworth said. "It must have been in the middle of the winter because it was snowing, and Robert Urich actually had a snowball fight with us!"
Richard Ousley, owner of Apache Electric, grew up in Rancho Circle. In the early 1950s, his grandfather Liermann Ousley built one of the first homes, a 4,000-square-foot residence.
"I will never forget that Brigitte Bardot got married in Rancho Circle," Ousley said of the home that would eventually be purchased by Las Vegas attorney Bill Coulthard Sr.
In fact, local attorney Bill Coulthard Jr. remembers the wedding well. Bardot married shipping magnate Gunter Sachs in the Coulthard home in ceremonies conducted by Judge John Mowbray on July 14, 1966. He remembers the lavish ceremony along with what happened afterward.
"I was only 5 at the time," Coulthard said. "Brigitte and Gunter had flown from Europe to be married and they were really tired, so my parents told them to just sleep in their bedroom rather than finding somewhere to stay."
Only problem was that the younger Coulthard had a habit of climbing into bed with his parents in the middle of the night. Not knowing about the special arrangement with Bardot and her new husband, he did the same thing the night of the wedding.
"I now like to say that I'm the only 5 year old who has jumped in bed with Brigitte Bardot," Coulthard said, laughing. Word of the incident got out and was published in papers around the world. Coulthard is not surprised, considering that paparazzi were perched on the back wall of the property.
The neighborhood kids were good friends and Coulthard remembers climbing the old water tower that is still on the grounds.
"We used to climb it every summer," he said. "It was a rite of passage to climb the water tower. On summer nights, we would get halfway up the ladder to get over the wall before the security guard went after us.
"At the top, we would swim in the water. It was dark and cold and if you were really brave, you would dive deep so that you could come up with a handful of sand."
Coulthard's mother, Diane, sold the family home in 1996 and now lives part time in Sun Valley, Idaho, but she has fond memories of Rancho Circle. Overall, she has lived in Las Vegas for more than 80 years.
"There are lots of memories," she said, adding that the family moved into Rancho Circle in 1959. "Rancho Circle was the first enclosed community in Las Vegas. We had lots of young families and that was really nice. We used to walk around the circle and you knew everyone. It's five minutes from everywhere.
"In its day, Rancho Circle was really something."
Nancy Houssels moved into Rancho Circle in 1970 after marrying Kell Houssels, a gaming executive who had the home built. She came to Las Vegas as a professional dancer.
"It was really nice and you had land," said Houssels, co-founder of Nevada Ballet Theatre and a member of The Smith Center board of directors. "It needs a little face-lift now, but it's still a nice quiet place and I love the fact that we're so close to The Smith Center."
Rancho Circle seems in resurgence, especially as new residents capitalize on lower prices caused during the recession. There is new enthusiasm as evidenced by the remodeling of some of the properties.
Among those joining Clyne, Houssels and McGuire in the neighborhood are Electric Daisy Carnival promoter Pasquale Rotella and his wife, Holly Madison, and the couple's young child. Longtime real estate agents such as Kevin Buckley and Phyllis Schwartz noted that home prices are again rising in the iconic neighborhood.
"I sold many houses there," said Schwartz, adding that the demand for exclusivity has shifted over the years. "Rancho Circle was really hot property in the 1970s and 1980s and you're definitely seeing resurgence there. Many people want to live closer to town."
You might say that native Nevadans Greg and Mara Puliz are part of the new age of Rancho Circle.
The parents of three children, ages 1 to 4, the couple grew up driving past Rancho Circle during their youth.
The family is among the newest residents in Rancho Circle after buying a 3,500-square-foot single-story residence in August 2012. Through their real estate agent and uncle Kevin Buckley of First Real Estate Co., the couple paid $283,000 for the residence built in 1954, the same year Buckley was born.
"The home was listed for $395,000," explained Buckley, whose father, Robert Buckley, moved the family to Las Vegas in the 1960s to be the physician for Howard Hughes. "In addition, they wanted to be closer to their parents who live in Rancho Nevada Estates."
Underscoring the excellent deal the couple received is the fact that the home sold for $985,000 before the economic crash.
"We met at Our Lady of Las Vegas (Catholic Church and school) when we were in the fourth grade," said Greg Puliz, who works in his family's moving and storage business. "We also both lived in the area."
The residence situated on an acre also has its own well.
"We were looking to purchase in the area and shopped Rancho Bel Air, Rancho Nevada and McNeil Estates because we wanted to be near the center of town," Puliz added. "In addition, it's close to our parents."
Especially with young children, the couple loves the security of the neighborhood.
"It's definitely safe and secure here," he said.