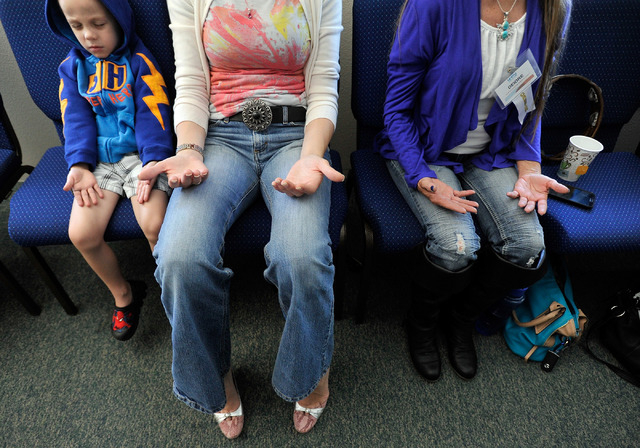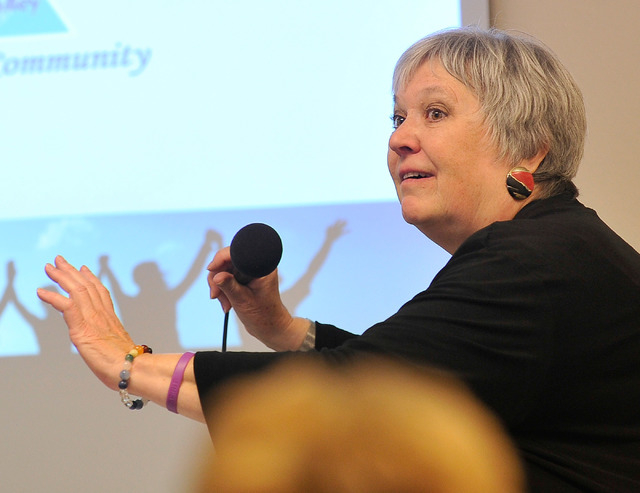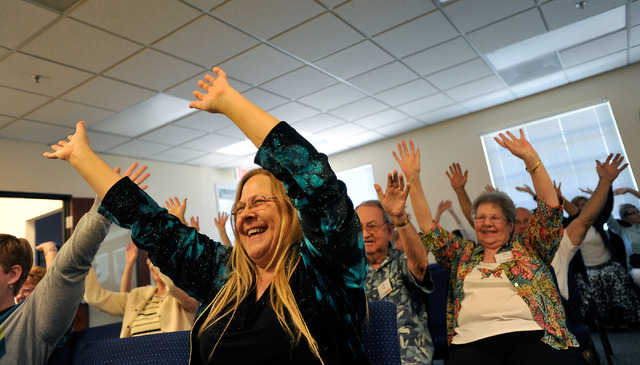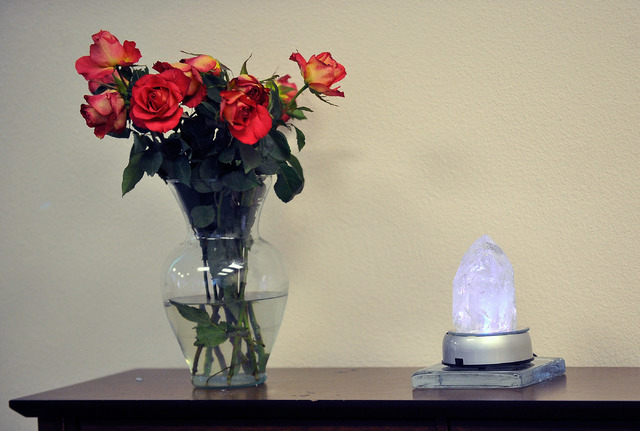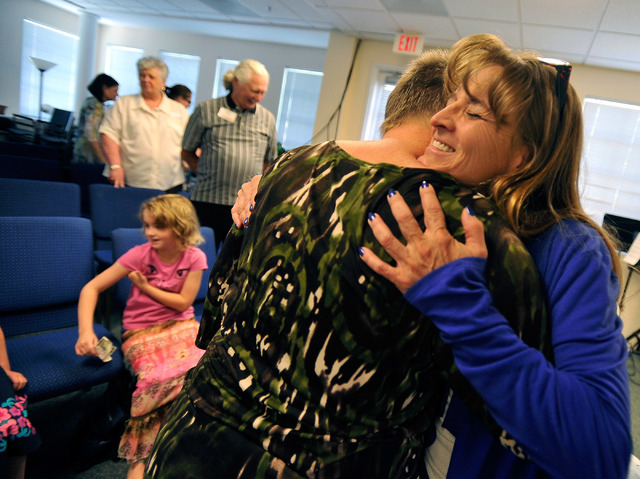 Not everyone associates churchgoing with the ups and downs of cocktail waitressing at a Strip hot spot. But Charli Douglass saw an opportunity.
Douglass had begun attending a Unity church rooted in "New Thought," a movement with connections to American Transcendentalists such as Ralph Waldo Emerson and Henry David Thoreau. She was working as a cocktail waitress at a Caesars Palace restaurant to furnish her recently purchased home. At 11 p.m., when Celine Dion wasn't singing and the tipping landscape looked bleak, Douglass' "Unity principles" would kick in, she says.
Sitting and meditating on her tips beforehand, "I would always believe that I was going to make $100 in tips. I'd say, 'The night's not over.' And I'd get five or six guys come in. And smoke their cigars and order their $150 shots. And I'd get tipped a hundred bucks. I'd say, 'Hello, I got it!' "
Douglass, who served as president of the board at Unity Center in the Valley, joined the church in 2005 when someone in her Course in Miracles spiritual study group informed her that she'd just put it together.
"I had a sponsor from Al-Anon who told me if I ever wanted to attend a group and there wasn't an Al-Anon, just go to Unity, because it has the same principles," she says. "So I started going."
Charles Fillmore and his wife, Myrtle Page Fillmore, founded Unity as a healing ministry in Kansas City, Mo., in 1889, after both reputedly experienced radical physical healing, using New Thought principles they'd learned, according to the Unity.org website. Myrtle Page Fillmore reported she had recovered from chronic tuberculosis, while her husband healed a broken hip that had caused longtime physical challenges. In their ministry, they emphasized both the power of prayer and the power of thoughts to create reality.
Unity Center in the Valley's congregation consists of about 50 members, according to the Rev. Sophia Falke, senior minister. That number has doubled, she says, since she began at the church in August 2007. Unity is unique, she adds, because "we go back to basic truth principles that we believe underlie all the major world religions. All the philosophies."
The church also reaches beyond restrictions. "No matter what your racial, sexual, national, whatever, proclivities are, you're welcome at Unity. We do not believe in sin. We do not believe in hell as a physical location. What we believe in is creating a divinely inspired life in partnership with God."
Unity emphasizes prayer and meditation practice — and the concept that "with your own personal relationship with God, you can heal yourself," Falke says. "You can overcome any kind of challenges that are going on in your life."
In addition to the meditation, music and message at Sunday services, the church offers book study and "4T Prosperity Program," guest speakers drawing on a knowledge base ranging from shamanic healing to naturopathic medicine, and events such as the annual White Stone ceremony, where members set an intention for the year.
Falke also works with people one-on-one when they request it.
One example of a Unity group making a transformative difference in people's lives, Falke says: the forgiveness support group on Wednesday evenings. "I watch people just transform from that group as they come in and realize, 'I'm holding on to this grudge because I want it to come out one way, and I need to release on that, and just see the wholeness of the situation, and bless it."
Another example is the "4T Prosperity Program," in which people work to free themselves of thoughts of lack and limitation and toxic work situations — and, in recent years, take steps to back up the decision that they're "choosing to not participate in any recessions," Falke says.
"People are looking for something more practical, something they can relate to in their daily lives," says Shad Groverland, minister at Unity of Las Vegas. "That's what I'm really interested in. I don't want to just tell you about something. I want you to go home and try it, and see how it works."
While serving a congregation of about 150, he estimates, Groverland is working toward his ordination, doing online study offered by the mother organization at Unity Village, Mo. He also juggles other responsibilities, including a full-time job as the sound supervisor for MGM Resorts International, as well as a 10-year-old daughter and a fiance. His father was also a Unity minister.
Groverland says that the application of Unity principles can take the edge off of a job that sometimes requires dealing with combustible personalities.
But don't be fooled by Las Vegas' hard-core veneer, Falke says. "I have met more spiritual people here than anywhere else I have lived in the country — which amazes me."