Las Vegas churches take their caffeine seriously
September 12, 2015 - 11:35 am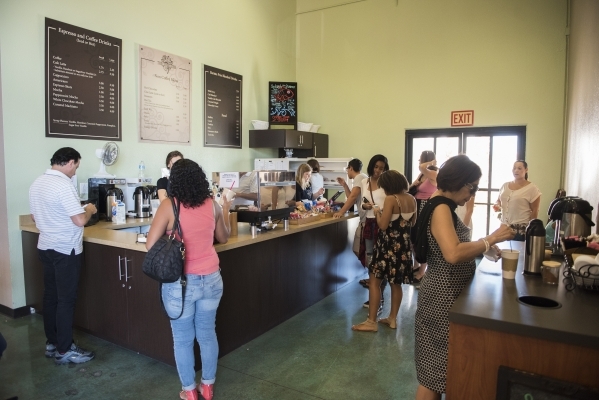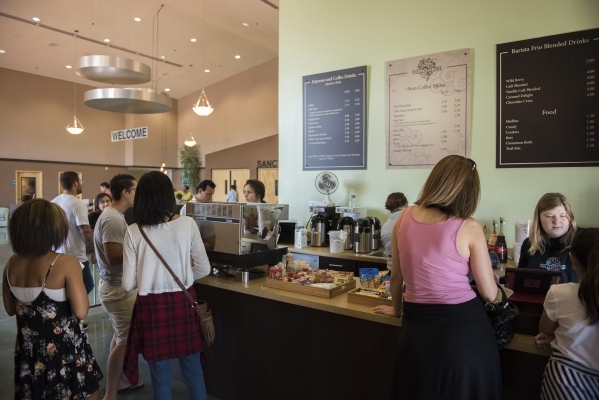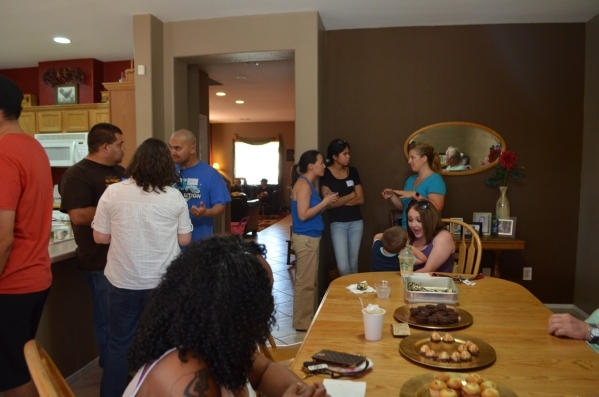 Coffee, tea and Christianity. Las Vegas Valley churches take their caffeine consumption seriously.
We're not talking about a simple pot of joe and a few cookies in a cultural hall after church. Many valley churches operate full-service coffee bars and shops with equipment and service to rival Starbucks.
From The Crossing and Central Christian to Calvary Chapel Spring Valley, coffee is a way of life before, after and even in the sanctuary during services.
At Holy Grounds, the shop inside First Christian Church (Disciples of Christ), Jill Smith, one of the managers, said they serve more than coffee. There are juices, fresh fruits, doughnuts, bagels and "delicious quiche."
"Our coffee shop is relaxed and gives members and visitors a comfortable place to mingle and get to know each other in a casual setting," she said. "Music is playing, and laughter is always heard. It's our fastest-growing ministry."
"It goes together — java and Jesus," said Vikki Sergio, manager of the Coffee Tree at the International Church of Las Vegas' Westcliff campus.
Sergio said that many Sundays the Coffee Tree's bar will sell more than 170 drinks, with most going out to regulars.
"We don't really do the name thing like Starbucks," she said. "Because most of the time we know who they are anyway. We just say their name when the drink is done. It's not, 'Hey you.'"
Lines will often stretch across the foyer.
"Thank God they'll wait," Sergio said. "We try to humor them. But if they're regulars, they don't tend to get too upset."
It's hard to get upset with volunteers running the brewing operations. Barista Jessica Sanchez, 18, has been helping out at the Coffee Tree since she was 12. Cat Trevino, 17, has been there for three years.
Sergio said now they look for volunteers who are at least 15.
Sanchez remembers when there were no registers and she had to add orders up in her head and calculate change on her own.
"It's definitely improved," she said.
"Some people don't know that they volunteer," Sergio said.
She said about a month ago a regular chatting with the baristas found out that they were volunteers and that the only pay they received for the work was a share of the tips.
"By the end, he left us a $150 tip," Sanchez said.
But Sanchez and Trevino don't volunteer for the money.
"We're all really close, like a really big family," Trevino said. "I just love that. We can help people out."
"For a lot of people we put smiles on their faces," Sanchez added.
Sergio said for some, the coffee shop is their first greeting when they come through the door.
"There is a Scripture about coffee … well, it's not really about coffee," she said. "I found it the other day and thought it was so funny. 'Be the aroma of Christ.' That's Second Corinthians 2:15."
Sergio said she is working to make the place more professional with regular hours, consistent quality and special promotions. She hopes to one day have an enclosed shop with a full food handling permit in the church. But for now, she said they're growing and trying new things from blended summer drinks to selling sandwiches patrons can microwave.
Not all operations are as successful. Canyon Ridge Christian Church had a coffee shop and closed it.
"It was a combination of a new vision for the space it was occupying (a space to serve new guests to the church), and the financial sustainability of a coffee shop that really only functioned on Saturday and Sunday," church representative Shad Fox said.
Fox said it's possible coffee will return to Canyon Ridge, but there aren't any plans to bring it back yet.
Grace Point Church, a congregation that hosts meetings at Mojave High School, takes the coffee in church concept a step further with its Pastor's Coffee, where Pastor Ty Neal and his wife, Angie, open their North Las Vegas home to anywhere from 20 to 60 people each month.
"We reach a lot of different people who have no church background, people who maybe have a lot of ideas about church that were false assumptions. We were wondering how do we make ourselves as Christians seem normal," Ty Neal said.
"So we had this idea, once a month to invite them, anyone who wants to come, if they come to our church or they're curious about our church, to Pastor's Coffee. It's intimidating sometimes to people to come into a large gathering or a service. They don't know what to expect. Will it be different? Will it be weird?"
Coffee, he said, is traditionally a peacemaking beverage that sets a casual welcoming tone for the gatherings.
"This is an opportunity for them to get to know people in a very nonthreatening way," Neal said. "There is no agenda here except for put a name tag on and meet people."
Pastor's Coffee regular Brian Collyer said he and his wife are new to Las Vegas and to Grace Point Church, and the monthly gatherings are a great way to get to know others.
"It's really about just trying to connect with other people and get to know people," he said. "It's a way to make people feel welcome."
Angie Neal said while she was concerned about the logistics at first, she loves Pastor's Coffee and thinks it's one of the best things Grace Point Church does.
"Of course telling people about Jesus is the best thing we do, but as far as building community and getting to know people, it has just been one of the neatest things I believe that we've ever done," she said.
"We literally have people come to church on Sunday, and if their first Sunday happens on a Pastor's Coffee, they will come to church and then come to this, just automatically," she added. "There's a lady here right now, today was her first day at Grace Point, and she came here. … This is just the neatest thing, because you get to know people."
Pastor Neal said as Grace Point grows and makes its planned move into its own church building, he hopes to continue hosting the monthly gatherings in his home as long as he can.
"I guess once we have a consistent 100 people every time we may have to change it," he said. "But I want to do it here as long as I can. It really does create an intimate feel where people get to know each other."