Lion dancers prepare to leap into Chinese New Year
February 5, 2016 - 1:46 pm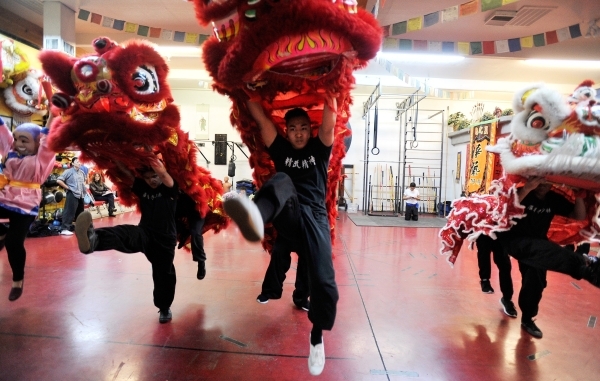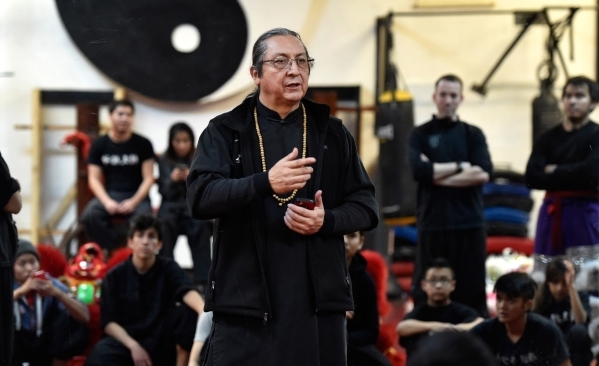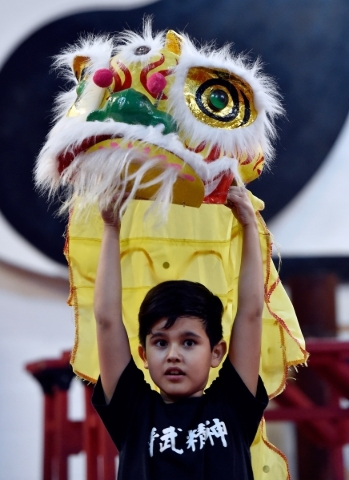 Traipse through a Las Vegas Chinatown back alley on a chilly January evening, and you might run into a dragon practicing its glide.
If your preference runs to lions, slip through a nearby back door, and step into the noisier hub of the Lohan School of Shaolin practice session. All that prep time is leading up to Chinese New Year, or the Chinese "Spring Festival," beginning Monday. It's the Year of the Fire Monkey, and time for a shot of good fortune.
Local casinos take their animals seriously. When it comes to the favorite, according to Dashi Steven Baugh, director and founder of the school, "Ninety percent of the time, it's the lions. But they do ask for the dragons."
The school's fur-legged lion dancers — attired in ferocious headdresses and costuming that Liberace would envy — translate years of kung fu training into celestial cattiness. They frisk and crouch to the beat of drums and clash of cymbals, while a "happy person" in a pink robe cavorts with a scroll.
This year's season puts lions, dragons and break-dancing monkey kings in high demand. At the heart of all that flying fur and intricate ceremony: the belief that one can cultivate good luck, whether for a new year, or a new business.
Nor is it all showbiz for tourists. The lion dance's purpose is "to remove any kind of negative energy or obstacles," Baugh says. "It allows good blessings to come into the building."
For about two decades, the school's lion dancers have run evil spirits off of the Strip, and out of local restaurants and businesses. They've visited a tattoo parlor. They've pounced at the Las Vegas Rescue Mission, according to 33-year-old Lohan School Sifu Lance Brazil, who, himself, has practiced lion dancing for 15 years, and currently serves as one of the team's captains.
The school's lions even popped up in "Rush Hour 2," with Jackie Chan, according to Baugh.
This year's schedule will encompass 51 performances in the space of about three weeks, at places ranging from Las Vegas City Hall to Caesars.
Mastering celestial cattiness covers details such as lion-regurgitated lettuce, symbolizing prosperity, and the ritualistic rolling of oranges (or tangerines) into buildings, signifying the rolling in of wealth — one each for mankind, heaven and earth.
Also, death-defying scrambles up and down tables stacked on tables. Attacking rubber snakes and "crabs" with carrot legs, representing obstacles. Scrambling up ledges to retrieve money. Knowing when and how to present a blessed offering back, whether on an altar or to a shop owner.
And, occasionally, the play-devouring of a mischievous child.
"Your inner animal's coming out," says Brazil, who's often played the lion's back end.
Still, "making sure everything is in the right place at the right time" is difficult, says Leslie Estrada, a 10-year-old lion dancer at the school.
The practice is immersed in ritual, rooted in a Taoist tradition that's morphed through the local cultures of Chinese villages and provinces, according to Baugh. One example is the dotting of the eyes ceremony, which awakens the spirit of the animal, bringing it to life. A shop owner or high-profile businessperson often performs the ceremony.
Manned by two dancers, the lion approaches a building cautiously, sniffing the door for bad energy or ghosts inside. Once he detects something amiss — which is "all the time," Baugh says — he takes a step, summons courage, and traces the Taoist "Seven Star," or Big Dipper, on the ground for empowerment.
"Horn" down, he rushes the door, carefully avoiding the bad luck of stepping on the threshold. He circles the space clockwise, then eventually backs out.
"I like to think that it does bring luck," says Jan-Ie Low, a local restaurateur and executive producer of the fifth annual Chinese New Year in the Desert (www.cnyinthedesert.com). Lohan School lion dancers have participated in the event for five years.
"Of course, you gotta have hard work," she adds. "And be smart in business. But why not?"
And yes, the lion dance must be done correctly.
"There's actually meaning to every move they do," she says. "That's why I love it. Every time the drum rolls and Sifu blows the horn, I'm just like, oh my God. Bring it on."
For more information about the Lohan School of Shaolin lion dancers, visit www.lvlohans.org/kung-fu-school-las-vegas/lion-dance