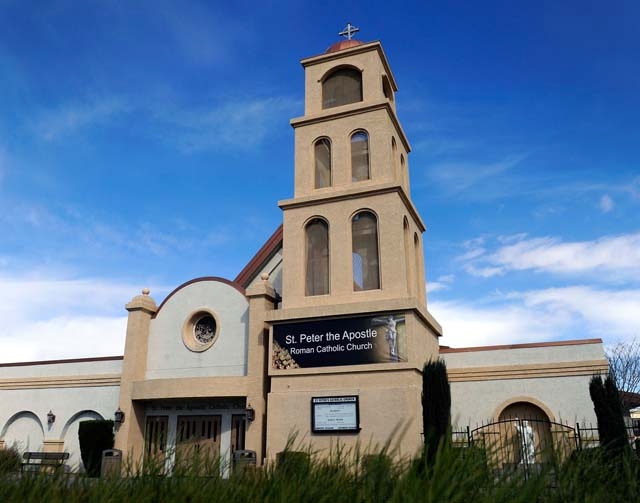 Question: How long has St. Peter the Apostle Roman Catholic Church been in Henderson?
Surprising, but true, answer: Since before, technically speaking, there even was a Henderson.
St. Peter's has been a fixture of Southern Nevada's spiritual landscape for 70 years. Next weekend, parishioners will celebrate St Peter's 70th anniversary with a two-day festival on the church grounds, 204 S. Boulder Highway, Henderson.
The celebration will include games, food, entertainment and arts and crafts vendors. In keeping with the church's social and human needs missions, organizations such as St. Therese Center HIV Outreach, Catholic Charities of Southern Nevada, HopeLink of Southern Nevada and the American Red Cross' Southern Nevada chapter will be on hand to highlight their work.
Over seven decades, St. Peter's history has been inextricably intertwined with that of Henderson's . It served defense workers during World War II. Its founding pastor was instrumental in creating St. Rose de Lima Hospital. And, for almost 20 years, St. Peter the Apostle's grade school educated scores of kids.
And all of that, as well as plenty of everyday memories, have made St. Peter's a touchstone of parishioners' lives.
"To this day, I'm very involved in the church. I love the church and I love my parish. It's my second home," says Michelle Couch, who moved here with her family in 1963 and has been a member of St. Peter the Apostle ever since.
"My husband and I were married there in 1980, and we're still there today," says Couch, who works in environment ministry at the church and this year is marking her 17th year serving in religious education there.
Kenny Lerum and his wife, Ellen, haven't been members for nearly as long. They moved to Nevada in 2004, joined the parish two years later and serve as its music directors. But it was while working on the church's website that Kenny Lerum viewed some archival photos and came to learn more about the church's history.
In fact, Lerum says it wasn't long after joining the parish that he and Ellen "first started to hear all of the stories of the different personalties and different figures who have come through the church and what they had to offer the church and what they meant to the community."
According to a 1988 parish history, it was in March 1943 that the Rev. — later monsignor — Peter V. Moran, then 33 and serving at a parish in Gardnerville, was notified by the Catholic bishop of Reno that he would become St. Peter the Apostle's first pastor.
Moran, a native of County Leitrim in Ireland, moved to what had until recently been known as Basic Townsite, an enclave created by the federal government to house employees of Basic Magnesium, the plant built there to produce magnesium for the war effort.
Mark Hall-Patton, Clark County museums administrator, said the town — which wouldn't formally incorporate as Henderson until 1953 — had a population of about 13,000 during its wartime peak, but saw that drop significantly, to just a few thousand, as the war ended, jobs dried up and wartime residents moved away.
St. Peter's first home was in an actual home, at 22 Idaho Way, where Moran set up a chapel in the front room. As the fledgling parish grew, Sunday Masses were moved to the auditorium of Townsite School before ground was broken on a church building on Aug. 31, 1943.
Moran convinced federal officials that a Catholic church would be an asset to the community, the parish history notes. St. Peter's was funded and built by the Defense Plant Corp., the federal agency that also built the town's magnesium plant.
The parish history notes that St. Peter's was one of two churches built by the agency in 1943.
"A church is a good way of making sure people are working well," Hall-Patton says of a reason for the federal involvement. "When you think about it, if you want your employees to be happy, you want them to have a good home life and all of the amenities of a community."
And Moran had definite ideas about what the church should be, according to the story heard by longtime parishioner Lou La Porta.
La Porta and his wife, Elayne, moved from the East Coast to Henderson so that Lou could train as a bombardier at Las Vegas Army Air Field. They came to know Moran after joining St. Peter's in 1945.
"Monsignor Moran did not like the building they were going to build," La Porta says, maintaining that "it must have a sacristy and it must have a full complement of what a church looks like, and (he would) not accept anything else."
On Feb. 20, 1944, St. Peter the Apostle Roman Catholic Church was dedicated by Bishop Thomas K. Gorman. The parish history notes that it was the area's third Catholic church, preceded only by St. Andrew in Boulder City and St. Joan of Arc in Las Vegas.
As a pastor and priest, Moran "was one of the best I ever had," La Porta says.
But Moran also was "community-oriented," La Porta adds, and worked to improve life in the still small, still unincorporated town.
For example, when Moran learned in 1947 that the federal government was planning to close and dismantle Basic Magnesium Hospital — which the federal government built in 1942 to provide health care to industrial workers and their families — Moran, with the help of Sen. Pat McCarran and U.S. Rep. Charles Russell, persuaded the government to turn it over to a nonprofit organization.
Moran then persuaded the Dominican Sisters of Adrian, Mich., to take over the hospital's operation. The order purchased the hospital (for, according to St. Rose Dominican Hospitals, $1 a year for 25 years) and, on June 27, 1947, changed its name to Rose de Lima hospital in honor of the Americas' first canonized saint.
"Father Moran and Bishop Gorman called it a red-letter day that the sisters would be here," La Porta says.
In 1951 — still two years before Henderson's incorporation — St. Peter the Apostle opened a parish school with four classrooms, offices and restrooms, the parish history notes . Four more classrooms and a library followed three years later. The school remained open for nearly two decades, closing in 1970.
The new century saw the church enter a dark period when, in 2003, then-pastor Mark Roberts admitted in court that he had abused five boys at the parish. Roberts entered into a plea agreement in which he was sentenced to three years' probation in an in-house treatment facility.
Couch says some parishioners left St. Peter's at the time. She didn't.
"We lost a lot of parishioners, from my understanding," she says. "I always said, 'Know what? It's our church, and you can't walk away from your church.' "
It was a terrible time for everybody, Couch adds. "But I feel great for the people who stayed and stuck with it and said, 'No. Whatever happens, it's not going to change the way we feel about our parish. We love our parish, and that's the bottom line.' "
Fortunately, parishioners will have better memories to recall next weekend. Memories, for instance, about the people of St. Peter's, including the priests who have served it well. Among that number is the Rev. Caesar Caviglia, pastor of St. Peter's from 1972 to 1994 who, in combining service to the parish with service to the community, had much in common with Moran.
Caviglia officiated at Couch's wedding Mass. He was, she says, "just a very quiet man to me, but he made Henderson what it is today.
"He was in everything. I don't know what he wasn't involved in or where they didn't reach out for his advice toward something or other: 'Could you help with this?' or 'What do we need to do to get this rolling?'
"It was just another way he loved our community here. It was his home as much as it was ours, and he wanted to see it move forward."
Parishioners recall features of the parish grounds. St. Peter's grotto, for example, was completed in 1954 and featured a statue of Mary imported from Belgium set amid stone taken, according to the parish history, from the Black Mountain and Railroad Pass areas.
La Porta says the now-gone grotto was a much-used background for Communion, wedding and confirmation pictures.
And, parishioners can recall memories that don't, technically, have much to do with religion at all. Couch fondly remembers Kool-Aid excursions to the nuns' residence with Sister Sharon, her second-grade teacher.
"She was a fun teacher. If I remember, she was the youngest sister there," Couch says. "They used to live in the apartments behind the church.
"But I remember going down there. We'd have to march very quietly through the halls. She'd take us there, and we'd get all the stuff and head back to make our Kool-Aid."
St. Peter the Apostle no longer is Henderson's only Catholic church — St. Francis of Assisi and St. Thomas More followed much later — but the parish's anniversary celebration will offer members the chance to remind themselves of the role their church has played in Henderson's history.
That it has survived for 70 years is "amazing, especially in this town," Couch says. "But we are Henderson. St. Peter's is Henderson. We are the foundation of Henderson, and we're not going anywhere."
Contact reporter John Przybys at jprzybys@
reviewjournal.com or 702-383-0280.
SCHEDULE
Full information about St. Peter the Apostle Catholic Church's 70th anniversary celebration can be found by visiting www.stpetersfestival.org or calling the church at 565-8406.
Here are a few highlights of the celebration:
Friday, Feb. 22
8 a.m. — Morning Mass
6 p.m. — Stations of the Cross in English
7 p.m. — Stations of the Cross in Spanish
Saturday, Feb. 23
9 a.m. — Meditative songs with St. Peter's Music Ministry
9:30 a.m. — Recitation of the Rosary
10 a.m. — Mass with Bishop Joseph A. Pepe
11 a.m. — Official festival opening with Bishop Pepe, St. Peter the Apostle Youth Mass Choir and The Self Quest Institute Performance Ensemble
Noon — Mariachi Antiguo de Mexico, Alejandro Virulo
1 p.m. — Ribbon-cutting
2:15 p.m. — Alizma performing world pop music on violin and voice
3:15 p.m. — St. Peter's Filipiniana performing traditional dance and songs from the Philippines
4:15 p.m. — Stan Rankin-T with the Mechak Reggae Band
5:15 p.m. — Yumurit and D.J. Mauricio Virgen (father-daughter singing and spinning team)
6:15p.m. — Brenda's Desert Dynamite
7:15 p.m. — St. Peter the Apostle Line Dancers
8:15 p.m. — Dancing under the Stars
Sunday, Feb. 24
9:15 a.m. — St. Peter the Apostle Choir performance: "Back to Broadway"
10:15 a.m — Hula dance and Hawaiian performance with Mi Nei and Friends
11:15 a.m. — St. Peter's Filipiniana
12:15 p.m. — St. Peter the Apostle Children's Choir
1:15 p.m. — Magic show with Doodad the Magician
2:15 p.m. — The Self Quest Institute Performance Ensemble
v
3:15 p.m. — Mariachi Antiguo de Mexico, Alejandro Virulo
4:15 p.m. — Matachines and Chinelos Dance, Danza de Carrizo (traditional Mexican dance)
5:30- p.m. — Yumerit and D.J. Mauricio Virgen
6:30 p.m. — Raffle ticket drawing for cash and other prizes
7:30 p.m. — Concert and closing ceremonies