To better pursue ministries, two valley Presbyterian churches merge
September 14, 2013 - 11:11 pm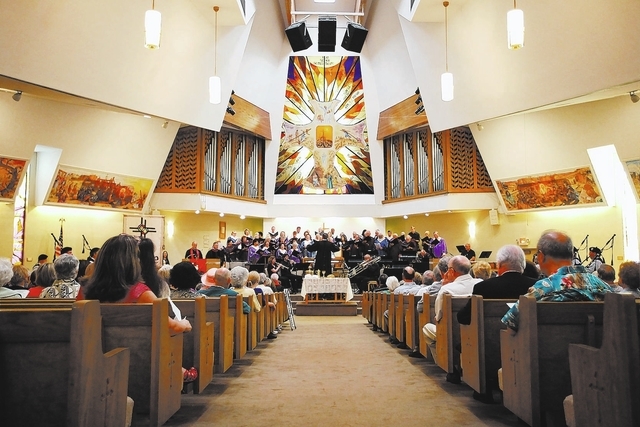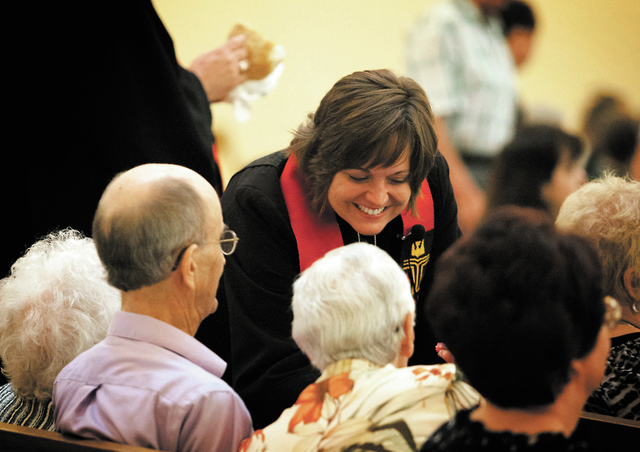 It was a wedding and a birthday party and a reunion and a get-acquainted mixer and a christening and even — but just a little, because nobody really dwelled on it — a sort of wake during which a few silent goodbyes surely were offered.
And when the music, the sermon, the prayers and even the humorous asides had ended, Southern Nevada's newest church was born: Grace Presbyterian Church, created through the merger of First Presbyterian Church of Las Vegas and Summerlin Presbyterian Church.
The new church began to write its own history exactly one week ago during a chartering service at the now-former First Presbyterian Church, 1515 W. Charleston Blvd. First Presbyterian Church, along with Summerlin Presbyterian Church, 4590 S. Hualapai Way, now become campuses of Grace Presbyterian Church.
The Rev. Jim Houston-Hencken, former First Presbyterian Church pastor and now pastor of Grace Presbyterian Church — the Rev. Dana Pope, associate pastor of First Presbyterian Church, similarly continues as associate pastor of Grace Presbyterian Church — said the merger has been in the works for more than two years.
First Presbyterian Church, which this year celebrated its 60th anniversary, played a key role in the valley's religious landscape. In fact, Houston-Hencken said, "most of the five Presbyterian churches in Las Vegas have been planted with members and finances from First Presbyterian Church and the Nevada Presbytery."
However, Houston-Hencken said, "nearly three years ago, we came on hard times because of the economy."
A trend toward decreased contributions was seen at the same time as the need for the church to assist people grew, he explained.
"Our attendance numbers have not decreased as dramatically as our budget, so we believed that was a sign that it was an economic issue: People had less money to contribute to the church and the ministry."
First Presbyterian Church was "a long way from closing," Houston-Hencken added. "But what we didn't want to do was reduce in size and just keep dealing with one crisis after another and let it wear us down."
Church leaders began to explore the notion of merging with another congregation. At the time, Summerlin Presbyterian Church was without a pastor "and we had two pastors," Houston-Hencken said.
"So that's where the idea of merging our congregations came from. We thought we could share — merge — our resources and share two congregations with one staff."
Members and leaders of both churches discussed the proposal over several months and reached an agreement. Now, under the name Grace Presbyterian Church, services and ministry will continue at both campuses. Houston-Hencken and Pope will continue to serve as the merged church's ministerial staff, and the two churches' boards have been merged into one.
The former First Presbyterian Church brings about 850 former members and the former Summerlin Presbyterian Church 150 former members to the new Grace Presbyterian Church, Houston-Hencken said.
The chartering service was the merger's final step. The upbeat service featured a choir and worship band made up of members of several local Presbyterian churches, a handbell choir and even the bagpipes of the Desert Skye Pipes and Drums.
During the service, Houston-Hencken and Pope were formally installed as pastors of the new church. Illustrating the service's thoughtful-but-fun tone was the applause and standing ovation that greeted the newly re-minted pastors, punctuated by what sounded like a rousing "yee-haw" from somewhere in the pews.
A few speakers noted the chronological oddity of the occasion: That Grace Presbyterian Church, the valley's newest and youngest church, brings to its birth six decades of history.
During a reception after the service, members of both congregations seemed pleased about the merger and excited about the expanded ministry the new church can pursue.
Barbara and Marty Swartout joined First Presbyterian Church after moving to Las Vegas from California nine years ago.
"The people of Summerlin have just been wonderful," Barbara said, and with a larger congregation, "we can reach more people, and that's really what God wants us to do."
Janice Plummer, who joined First Presbyterian Church with her family in 1986, said, "We found a community here. When we were raising our children, when they got chicken pox, everyone came to our home to help us."
Houston-Hencken said that, for some longtime members of First Presbyterian Church, "it's been a difficult transition because it has been a challenge to our identity."
For 60 years, "we have brought the Gospel of Jesus Christ to Las Vegas, we have fed the hungry and sheltered the homeless, we have educated children and we have provided dynamic leadership as First Presbyterian Church," he said. "And we have struggled to remind ourself that we are not losing that history as we merge with another church. We are taking our history with us.
"It's just like a marriage, where two people become one family but they still bring their histories with them."
One potential decision leaders and members may face is what to do if a project to improve Interstate 15 encroaches on the former First Presbyterian property.
Right now, "we don't know how much or if they will impact" the site, Houston-Hencken said.
So, on that score, "we don't know what the future holds for us," he said. "Our plan is to continue ministry (there) as long as we can."
"If the project forces us out of our property, we would envision the day where we would probably join in on one location," Houston-Hencken said. But that's speculative."
Contact reporter John Przybys at jprzybys@reviewjournal.com or 702-383-0280.