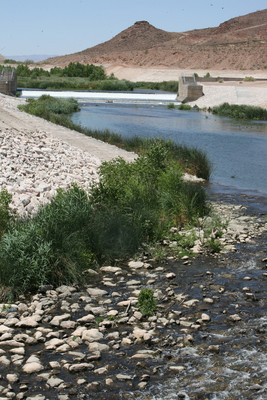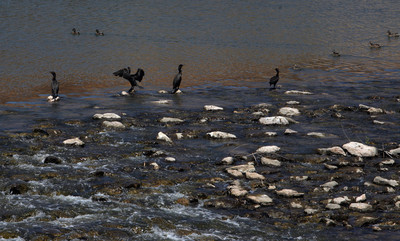 Though the Stardust was demolished last year, it still does its part to support the Las Vegas community.
Literally.
Along a seven-plus mile stretch of the Las Vegas Wash, chunks of the former Strip icon line the banks, holding the soil in place and serving as a buffer against erosion. There's a bit of Westward Ho in there, as well, and some Caesars Palace parking garage.
This rubble, along with rock, asphalt and concrete salvaged from valley construction projects, is playing a major role in the restoration and enhancement of the wash, which collects reclaimed water and returns it to Lake Mead.
So far, about 225,000 cubic yards of material has been hauled to the wash, says Gerry Hester, program engineer for the wash restoration project. To put it in perspective, that's enough to fill a football field to about 68 feet deep, he says, or the approximate height of an eight-story building.
Casino rubble would make up nearly two floors of that imaginary building.
When Las Vegas Water Authority engineers were planning the project in 1999, they knew it would require a huge amount of material but there wasn't enough rock in the valley, Hester says.
"Then we realized we could save room in the landfill by using some imploded casinos," he says.
It was easy to secure it. When a demolition crew bids on a project, it includes landfill fees and the cost to transport material there, he explains.
"We came in and said we'll come in and haul it and you don't have to worry about it," Hester says. "When you think about how much we've hauled and how much room we've saved in the landfill, it's just huge."
Eleven weirs, or small dams, also have been constructed out of the rock material, slowing the flow of water, which helps to decrease erosion. Some river plants have been added to the wash, which helps to secure soil as well as filter the water, Hester says. And that's a good thing, because the water ultimately becomes the valley's water supply.
A flood in 1975 caused box culverts to wash out at the Northshore Road below Lake Las Vegas. That event caused the park service to replace the box with a bridge, Hester says. It no longer acted as a dam against the erosion, which freely moved upstream. The bottom of the channel has eroded 35 feet down from the flood plane since the mid-1970s, when Hester began working on the wash. In the 1980s, officials talked about doing something to slow down the destruction of the wash, Hester says, but they couldn't get the funds.
"Basically, 35 (percent) to 40 percent of our funding is based upon the quarter-cent sales tax. The rest of funding is based upon grant sources," Hester says.
The cost of the total plan, which should be complete by 2014, will be about $150 million. Eleven more weirs need to be constructed and banks fortified, as well, Hester notes.
As the wash is stabilized, it will create natural back ponds in which wildlife can live, increasing the size of the wetlands and making it a more appealing experience for visitors. At one time, there were about 2,300 acres of wetlands, Hester says. As erosion took place, by 1999 there were 250 to 300 acres of wetlands left.
Clark County also is in the process of expanding its Wetlands Park, which surrounds the wash. Included in the project are hiking, biking and equestrian trails and a nature center, says Elsie Sellars, Wetlands Park manager.
Two hundred species of birds have been identified in the park as well as other wildlife, including desert coyotes, fox, beaver, ground squirrels, desert tortoises and Texas soft shell turtles, Sellars says.
The 30,000-square-foot visitors center will be in the heart of the park in the 210-acre nature preserve off of Tropicana Avenue and Boulder Highway.
So far, about $80 million in grants and other funding have been secured to complete the addition of 30 miles of trails to the existing 13 miles, Sellars says.
Contact reporter Sonya Padgett at spadgett @reviewjournal.com or 702-380-4564.