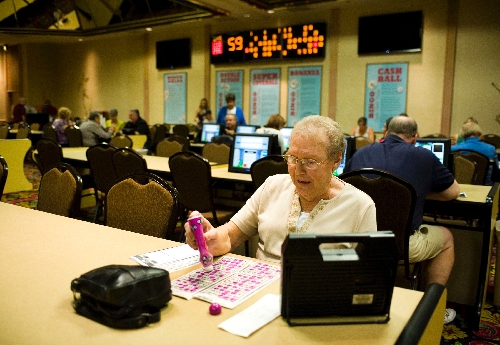 When Andy Choy was in kindergarten, he wrote a book called "My Trip to Los Vegas."
It was a noteworthy accomplishment for a 5-year-old, despite his spelling error, and it remains a strong childhood memory for Choy, now the 36-year-old CEO of the Riviera.
In his book, he wrote of his family staying in a Best Western and his adventures in the midway at Circus Circus. Choy's parents would give him and his sister a roll of quarters and say "stay upstairs" while they enjoyed the adult games on the casino floor. The family had fun, recalls Choy, and his parents were happy, always happy.
And why not? Their family vacation involved jackpots, inexpensive food, cheap entertainment and bargain room rates, all things that Las Vegas was known for in the 1980s and 1990s.
Those were the days of the "gambler's Vegas," when gaming was the main draw for the Strip and everything else — the cheap food, free booze and lounge acts — was just icing on the cake.
It is this era that Choy hopes to evoke in the Riviera.
"We want the gaming customer, the person who is coming to Vegas to have a great gambling experience," Choy says during a recent tour of the hotel.
The Riviera emerged from bankruptcy with new owners earlier this year. Since becoming CEO in April, Choy has spearheaded several changes — some obvious, others subtle — and promises more.
The bingo room was reopened in August, making the Riviera the only Strip property to offer the game. New slot machines were added to the casino floor, and an Asian gaming area was created. The old sports book was closed, and a new one, Lucky's, was opened on the casino floor. Poker tables were set up next to it. Lucky's also debuted a sidewalk betting window, the first of its kind on the Strip.
Several retail shops were closed to give the nongaming areas a less cluttered feel. Retail kiosks lining the transition space between the front of the property and the back, what Choy calls the "odd hawkers' bazaar," were removed.
The Riviera opened in 1955, themed after hotels along the French Riviera. At nine stories, it was the Strip's first high-rise building and the first to use elevators. It quickly became the most prominent hotel on the Strip, featuring a premier entertainment lineup. Liberace was paid $50,000 a week — equivalent to more than $400,000 today — to headline. Frank Sinatra, Dean Martin, Don Rickles and Debbie Reynolds were just a few of the big-name entertainers who played the Riviera.
That reputation endured for decades until the newer, bigger and more luxurious resorts opened, says Anthony Curtis, publisher of the Las Vegas Advisor newsletter and Huntington Press. Hip nightclubs, swimming pools and haute cuisine attracted a new, younger clientele.
"The new breed coming up, they haven't really heard about the Riviera," Curtis says. "It got lost in the shuffle just like a lot of those properties that aren't even around anymore. It (became) more difficult for them to attract the new Vegas visitor."
When Choy took over as CEO, the Riviera was irrelevant, lost among the budget-friendly Strip resorts with strong identities and solid customer bases, such as Circus Circus and Excalibur. Its location didn't help; it sits at the north end of the Strip, not far from the Sahara, which shut its doors in May.
"I knew they had the Riviera, but I didn't know anything about it," says Nathan Baij, 30.
He and his wife, Jaime, 28, were playing bingo in the Riviera on a recent Thursday. The Arizona couple had visited Las Vegas a few times before, staying in properties along the Strip. This was their first time at the Riviera. They chose it for this trip because, at $39 for Thursday and $64 for Friday, it was the right price, Jaime Baij says.
"It's dated," she says, offering her take on the property.
"But it's got everything you need; it's just not fancy," Nathan Baij adds.
The days of blowing things up and starting over, or totally rebuilding, are gone, Choy says.
"We have to do this on a budget, do things bit by bit," he explains. "It's an unconventional strategy, but it's working."
The casino's draw from table games has increased since April. And bingo has proven to be a big draw, attracting locals and tourists alike, says Tony Bender, vice president of marketing and advertising.
The Riviera has declared bankruptcy before. The last time wasn't nearly as scary as this one, says Terren Gibson, a cocktail server for the past 24 years. Then, they still had walk-in traffic. This time, Gibson says, they didn't. Tourists had no reason to walk down to the Riviera. About the only thing the property had going for it was a large convention space.
For nearly a decade, it got by on convention business alone, Choy says, catering to small, often oddball groups. When the recession hit, those groups got even smaller and other resorts began competing for that business.
"There was a long, sort of dead period for the property," Curtis says. "They just moved along, tried to keep pace, but there wasn't a concentrated effort to make it competitive. They were like, 'We'll take what we get.' But a lot of people who walked through there, they'd say: 'Oh, I don't like this. It's not shiny and new.' "
That's what they have to overcome, Curtis says.
The plan is to embrace the best of both worlds, the new and the old. What that means, management doesn't really know. Yet.
Entertainment will be important, Bender says. To that end, they plan to use some convention space as an entertainment venue.
The new entertainment director, Mark Massimino, has started booking bigger names with a broad audience. He thinks country and classic rock are the way to go, so Massimino has booked Trace Adkins. Bret Michaels will perform during the property's Halloween weekend lineup, when comedian Andrew Dice Clay is scheduled to appear, too.
The lounge will become a major focus, offering live bands for free. Back in the Riviera's heyday, the lounge entertainment was popular, Massimino says. During Halloween, Metal Elvis and the Monsters of Rock, a mixed-genre cover band from Los Angeles, are scheduled to give a free show in Le Bistro Lounge. The idea is that people will see what the Riviera offers for free and be intrigued enough to return for ticketed shows, he adds.
They're aiming for the 35- to 49-year-old customer.
"I think back five or six years ago when everything was going great, it was that young 20-something crowd going to clubs," Bender says. "They had the money. All of that has changed, the people who are a little older, a little more established, they have the money."
Is it retro? A little. The Riviera has become the Strip annex of the Pinball Hall of Fame, featuring several old-style pinball machines near the casino floor.
It's a good fit for what they're trying to do, Choy says.
"I just hope people give us a chance. I hope people who haven't been here in a long time give us a chance," Gibson says. "It's a Las Vegas classic and we're one of the few left."
Contact reporter Sonya Padgett at spadgett@reviewjournal.com or 702-380-4564. Follow @StripSonya on Twitter.