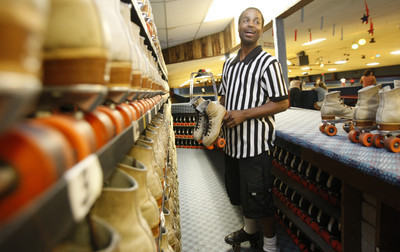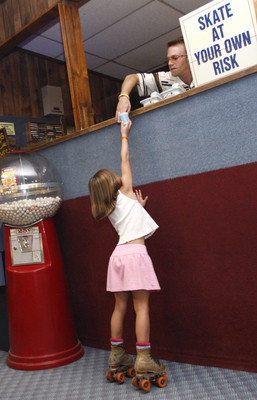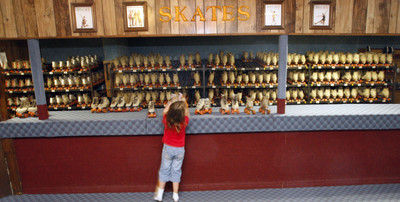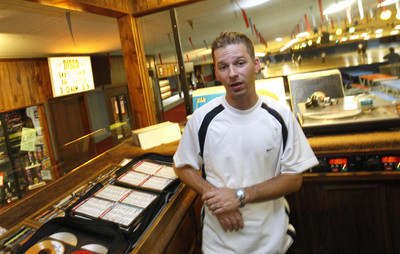 The aromas of popcorn and pizza, piping hot from the oven, mingle with the unmistakable smell of sweaty feet.
Kids rush the counter where a worker gives out pairs of 1970s-era roller skates; he looks at their hands and somehow magically knows what size skate they wear. A mirrored disco ball spins over the rink as graceful skaters glide around out-of-control bulldozers.
It's a recent Tuesday night at the Crystal Palace Skating Center, 4680 Boulder Highway, but it seems so 1978. At least to Elva Collins, 40.
"It's authentic," Collins says of the atmosphere. "It's just got that aura of a skating rink, that "Happy Days" feel to it."
Wearing kneepads and wrist braces, the mother of two sits at a table reminiscing about one of her favorite pastimes as a kid: roller skating.
Then, she didn't need armor. Like every other teen growing up in the 1970s, Collins spent a lot of her free time bopping around a roller rink to the latest disco hits. Now, kids are more likely to roll their eyes at the idea of roller skating than actually strap on skates, but for the 150 or so kids on this Tuesday night, it's a favorite pursuit.
"It's a thrill," says Mark King, 10. "You can do it however you want."
He had a choice between roller skating and Cub Scouts, says his mother, Dianne King. Mark chose skating, though he's still trying to master the art of balancing on eight wheels.
He'll get it, King says, watching her son teeter uncertainly. He has to, because it's in the blood. As a young girl, King skated with her father, accompanied by organ music. Tonight, '80s dance music propels skaters around the rink, providing a soundtrack for the near misses and unavoidable crashes that happen when people trade solid ground contact for wheeled feet.
Those roller-skating days are some of King's favorite memories. A self-described roller-skating princess from New Hampshire, she loved it because she got to spend time with her father.
Nonskaters don't know what they're missing, King says: the freedom, the fun, the chance to skate backward while grooving to a beat. It feels like flying.
"You just want to pass those really good memories on to your kids," she says. "I've got a feeling once it's in the family, it stays in the family."
Hailey Lord, 4, proves that theory. A tiny human locomotive, she pumps her arms like pistons, weaving in and out of the forest of adults, dodging the collisions that wipe out skaters three times her size. A year ago, her parents put skates on her and set her on the floor. It seems like she has been going ever since, says her father, Randy Lord.
An assistant manager at Crystal Palace, Lord, 34, loves roller skating so much, he got a job where he could do it. Four of his five children roller skate; the 2-year-old is too young, he says.
Traditional roller skating hasn't changed much since the height of its popularity during the disco era, Lord says. The number of rinks here has declined. The valley once boasted about five or six. Now, only two remain and both are owned by the same family.
The Crystal Palace rink looks much like it did when it opened in 1965. Every night, the rink offers foot races, limbo contests and skating challenges, Lord says. On this Tuesday night, a herd of small children, each wearing a single skate race around the rink for nothing more than bragging rights. That's followed by free skating, the time when people can show off their skills.
Donnie Upchurch, 46, and his fiancee, Geraldine Collins, 43, take a break on the sidelines.
Feeling every bit like a fish out of water and looking like a baby taking his first unsupervised steps, Upchurch shuffles his skates along the carpet, his arms extended from his sides for balance and his gaze fixed squarely on his feet. He hasn't skated in more than 30 years.
"I haven't fallen yet but I hurt myself trying not to fall," he says, lurching to a bench.
Collins looks excited to be at the rink. It brings back good childhood memories of her family trips to the roller rink. She grew up at a time when everyone skated and hanging out at the roller rink was a must. Collins wants to skate once a week.
It's not only good exercise, she says, it's an inexpensive form of family entertainment. Granted, admission back in the day was $2.50, a fraction of tonight's $8 price, she says.
But it's cheaper and better than a movie because you interact with each other, her sister-in-law, Elva Collins, says. Large sodas cost $2, a pizza is $8 and a family can skate for hours, while a movie usually is over in two.
Her one concern, though, is falling. Kids are seemingly made of rubber and bounce back up after hitting the floor. Not so much a 40-year-old woman, Elva Collins says.
"I'm scared to fall because I don't want to hurt my body. I wish I could skate better," she says, wistfully.
The place is packed when the doors open at 7 p.m. By 9 p.m., though, the once-full-to-capacity rink is nearly empty. It's a school night, after all.
Weekends are popular, says Crystal Palace manager James Newman, and kids are known to spend entire days in the rink. Because they have security, parents feel safe dropping their children off and picking them up later.
"It's the cheapest day care in town," he says.