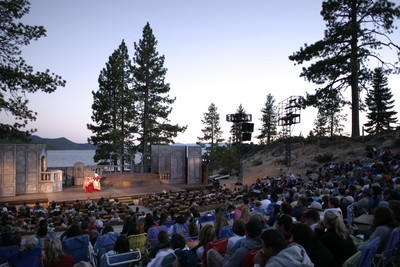 Summer visitors heading to Lake Tahoe for freshwater sport needn't go inside when night falls. Instead, they can linger on the warm beaches of Sand Harbor State Park for the Lake Tahoe Shakespeare Festival, July 10-Aug. 17. Now in its 36th season, it's the locals' favorite summer festival, offering drama under the pink and purple skies of dying day.
This season's festival alternates Shakespeare's wicked tale of "Richard III" with the impishly interfering immortals of "A Midsummer Night's Dream." On Monday nights a new romantic musical titled "Cambio," based on Victor Hugo's "The Hunchback of Notre Dame," takes center stage. At first glance, the plots of the three plays could be mistaken for those of modern films: a political leader slaughtering his way to the top, two youths eloping against their parents' wishes and an underdog fighting for the woman he loves from afar.
"William Shakespeare may have died 400 years ago, but audiences still connect with the plays, thanks to his acute ability to pinpoint the major themes in humanity," said Jan Powell, artistic director for the festival. "The beauty of producing and directing, and in turn watching, a Shakespeare production is that it can really be set in any time period — the stories adapt remarkably well. 'A Midsummer Night's Dream' doesn't lose impact or meaning when placed into modern context as we have for the 2008 season. And the tale of 'Richard III,' which we've set during his actual rise to power and reign in the 1480s, holds universal truths about leadership, greed and political manipulation that could easily translate into any era."
Shakespeare's Kitchen, the festival's food-and-beverage area located inside the theater gates, offers fare at every price level, including complete dinners with natural free-range selections and vegetarian options, children's portions, and desserts, plus a wide selection of wines, ales, lagers, liqueurs and spirits, specialty coffees and other hot beverages. Prior to each performance guests can also visit Shakespeare's Vineyard and for $25 receive a Festival wine glass and a sampling of five wines from California growers and international vineyards.
"Audiences at our lakeside amphitheater find that they don't need to be well versed in the Bard's plays," said Catherine Atack, the festival executive director. "For many visitors, the festival atmosphere is the major reason for attending."
Each year, the event draws more than 30,000 attendees from the across the country. Tickets are available at www.LakeTahoeShakespeare.com with reduced handling fees for all online purchases, or by calling (888) 327-4697. Prices range from $22 for open seating tiers up to the premier reserved section from $67. Information about the 2008 season, membership, volunteer opportunities and sponsorships is available online.