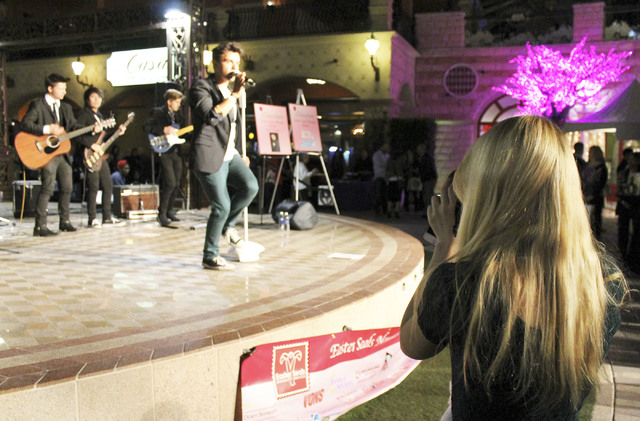 For teenagers, it can be challenging to get your skills recognized, especially skills in the fine arts.
Elizabeth Hunt studies theater at the Las Vegas Academy, but her true passion lies in photography. It's her senior year at the academy, and she already has a head start in her career by interning for John Knopf as a photographer at the Stratosphere.
She started the internship last August and plans to continue pursuing it for a "jump-start" to her career. For the internship, she works three days a week and begins right after school until 6 p.m.
"It doesn't conflict with school, and I can finish up on some homework while at the gallery," she said.
"This internship allows me to show my skills and learn more about photography," she said. "Also, the New York Film Academy in Los Angeles has contacted me about applying. I'm pretty excited about that."
Another opportunity for Hunt is earning money from taking photos of her peers for $25 per 50 pictures.
"Even my teachers are asking me to take pictures of their kids," she said.
Not only does she take pictures, but Knopf also permits her to run the gallery and teaches her the process of selling pictures. If she sells any pictures, Hunt receives 15 percent commission.
"John is also trying to make a spot for me in the back of the gallery to take family portraits or headshots for people where the pictures will be printed right on the spot," she said.
Knopf said Hunt shows a lot of promise and may give her more things to do as her skills progress.
"Right now, I assign her to take pictures of (headliner) shows on the Strip, but she'll eventually get bigger projects once she gets better equipment and an eye for photography," he said.
Tessa Lepore, a senior at LVA, says Hunt is "an incredibly talented photographer."
"I was one of her first models when she started photography in our sophomore year, and she has immense amounts of potential," Lepore said. "I could see her having her own gallery in New York or Los Angeles."
Hunt said she got interested in photography at a young age.
"When I was little, my mom would always record me but every time I saw it, I reached for it and wanted to use it," she said.
Despite some hurdles, Hunt remains upbeat about pursuing a career in photography.
"I think it's tough and challenging to get your skills recognized, but I work hard," she said. "All my hard work is going to be worth it since I want to do photography for the rest of my life. I hope this internship really helps me in the future with my career."
Knopf said Hunt has a bright future in photography.
"She's awesome and I love her work," he said. "I'm a big fan of her work."