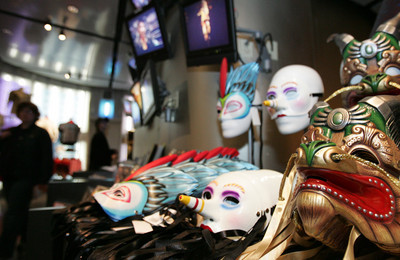 Elizabeth Thelen, a mother of two from Oconomowoc, Wis., already has passed the Manilow Store at the Las Vegas Hilton a dozen times during her vacation. But it always was with her husband, who does not use the word "fanilow" when describing himself.
Seizing some rare alone time, Thelen enters the store and begins hunting for a present for her mother. She beelines, past the Barry Manilow chocolate turtles and Manilow Merlot, straight for a lighted display case.
"This is 14-karat white gold with half a carat diamond," says store supervisor Bernice Aguirre, who explains that the glittering necklace is an exact replica of one Manilow wore in the '70s.
Thelen is grateful that her mom is baby-sitting her two boys while she's away, but not $950 grateful.
"What else do you have?" she asks.
The Manilow Store is one of 16 stand-alone retail outlets on the Strip devoted entirely to entertainment attractions (17 if you count the "Jersey Boys" store, which will open sometime before the show at the Palazzo on April 4).
It seems that no entertainment brand worth its salt and pepper shakers doesn't have one.
"Our job is to extend the theatergoing experience for the guest when they leave the show," says Patrick Lucas, the MGM/Mirage retail vice president who oversees the KA Boutique at the MGM Grand and the Zumanity Boutique at New York-New York.
"It's all about branding," he says.
Show stores attract the curious and bored, but generate most of their sales from showgoers before and after a performance.
"If you had a chance to see what we call the blow-off after the show, it's really exciting," says Lucas, who estimates that the KA Boutique alone averages 1,500 transactions per week.
"Imagine a store getting packed with 500 people," he says.
Words such as "successful" and "smashing" were used by all executives contacted by the R-J. However, casinos are private entities that universally choose not to reveal sales figures. So none of their claims can be verified.
A spokesman for the Manilow Store, for example, indicated that it recently doubled in size since opening in 2005, from 700 to 1,500 square feet.
"That definitely indicates a profit," he said.
In the unique universe that is Las Vegas, however, it's possible for an entertainer to get an increase in the size of his or her store just for asking … or to get a hotel to open a store when his Cirque du Soleil show won't even debut there for months.
"But there is a relationship between Criss Angel and Luxor," Lucas says. "If you've ever watched (Angel's TV show) 'Mindfreak,' you know that everything is done around the Luxor.
"And his fans are real fans."
Keith Schwer, director of the Center for Business and Economic Research at the University of Nevada, Las Vegas, suspects that show stores might not show the kinds of profits ordinarily necessary for survival.
"They're probably covering their out-of-pocket expenses," he says. "They're buying their inventory and they're paying for the cost of labor. But they're not paying rent."
Show stores are all owned by the hotels that house them, in partnership with the show's producer/promoter and, if there is one, the show's star. (None of the hotels responding to our query would furnish ownership percentages, but all confirmed that no rent is paid.)
According to Schwer, anything that attracts a visitor to a casino — even if it's not directly responsible for a purchase — is beneficial.
"The more time people are there, the more important that becomes in terms of gaming revenue," Schwer says, adding that show stores "also create an ambience, a total experience, and what that does is create repeat business, for the show and the hotel."
According to Lucas, the Cirque du Soleil shops he supervises are all self-sufficient.
"They enjoy very nice revenue," he says.
But the fact that show stores do not exist on Broadway, which offers only lobby gift shops as an option, suggests something unique about the Strip environment that is necessary for their existence.
"Broadway has the Theater League, which does extensive marketing research," says Michael LaTour, UNLV marketing professor. "They know down to the last penny they're going to invest, how big a rate of return they're going to get.
"If they don't try something, there's a reason."
Laura Hauck, director of retail for Caesars Palace (which houses the Bette Midler and Cher-exclusive Colosseum Boutique, the Elton John Gift Shop and the Pussycat Dolls Kiosk) says that Midler's recent opening-day merchandise revenue came within $2,000 of Celine Dion's 2003 numbers. Yet she also says that, if the fate of the Colosseum Boutique were decided based only on receipts, "it would not be profitable enough that we would choose to keep it."
Back at the Manilow Store, Thelen makes a decision. She leaves with a $30 "Who's been sleeping in my bed?" Barry Manilow nightshirt.
"I'm sure my mom will be very excited," Thelen says.
Contact reporter Corey Levitan at clevitan@reviewjournal.com or (702) 383-0456.
SHOW BOUTIQUES
'O' Boutique, Bellagio
KA Boutique, MGM Grand
Cher/Bette Midler store (called the Colisseum Boutique), Caesars Palace
Elton John Store, Caesars
Mamma Mia! store, Mandalay Bay
LOVE Boutique, The Mirage
Sirens' Cove Shoppe, Treasure Island
Mystere Boutique, Treasure Island
Zumanity Boutique, New York-New York
Chris Angel Mindfreak, Luxor
Pussycat Dolls, Caesars
Spamalot/Le Reve (called The Wynn Store), Wynn Las Vegas
Chippendales Boutique, Rio
Manilow Store, Hilton
Toni Braxton store, Flamingo Las Vegas
Phantom of the Opera store, The Venetian