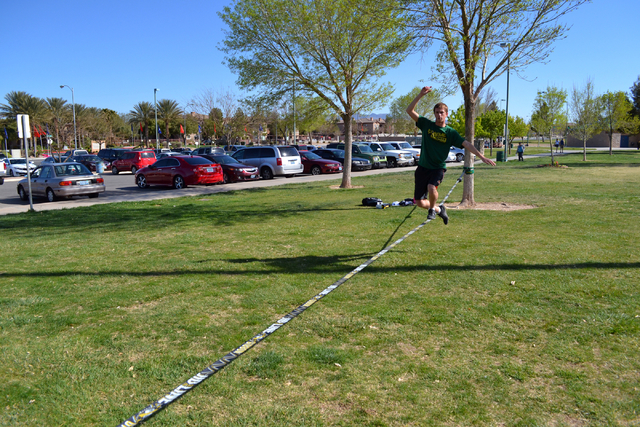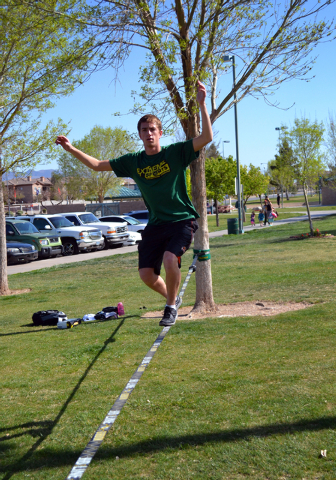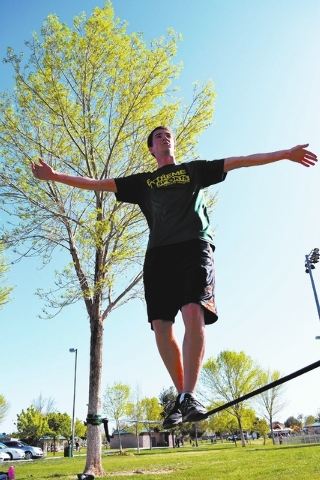 A 3-foot gap exists between Silverado senior Aaron Schwarze, 18, and the earth beneath his feet, yet he manages to walk without the support of solid ground. He balances himself as his feet center atop a 2-inch-wide string, known as webbing, and begins his stride forward.
These actions depict the sport of slacklining, or balancing and performing tricks on webbing held together between two points. It's often compared to walking on a tightrope with a looser feel.
The Silverado student, swimmer, artist and Eagle Scout discovered the sport about a year and a half ago through Southern Nevada Climbing centers. He viewed it as a challenge, which made him want to participate. Since then, he's practiced slacklining techniques about three or four times a week, either at a park or in his backyard. Each session lasts about two hours.
Although Schwarze said he's comfortable slacklining, he described his first attempts at standing on the webbing as far from easy.
"It took five or six hours just to stand and take a step. That was the hardest part," he said. "After that I got really good at falling in a way that I wouldn't hurt myself."
After many practices, however, Schwarze became more accustomed to the sport, balancing himself with ease.
"Now I can get on in a few seconds," he said, adding that beyond walking he can perform a variety of tricks, including static activities similar to yoga moves. More action-packed tricks include running and landing on the webbing. Schwarze also butt bounces, which is the act of bouncing into a sitting position on the webbing then bouncing up into a standing position. Other moves he performs are single- and double-drop knees, which require balancing on one's knees.
After witnessing Schwarze perform these tricks on several occasions, the young athlete's sister, Janessa Schwarze, 16, said she could tell her brother really enjoyed the sport.
"He can pretty much do anything he wants when he's slacklining as long as he's balanced and focused," she said.
Regardless, Schwarze was sure to add that slacklining is a never-ending challenge.
"Once you get something down or can stand or take a few steps, you walk the whole webbing. Then, you start doing tricks," he said. "It keeps getting harder."
After mastering a trick on the slackline, however, Schwarze said he feels rewarded.
"I feel really cool when people see me slacklining and are impressed," he said.
Conversely, when he's fallen, people have laughed.
Regardless of slacklining's difficulties, Schwarze continues to find himself attached to the activity. When he sprained his ankle toward the end of 2013, for example, he continued to participate, injuring his foot so seriously that he was forced to take a one-month break, which was difficult for him.
"Slacklining helps me focus and ignore everything else," Schwarze said. "And even though it's frustrating and hard to stay motivated, I'm still doing it."
In the future, he said he hopes to participate in competitions although he hasn't heard of any.