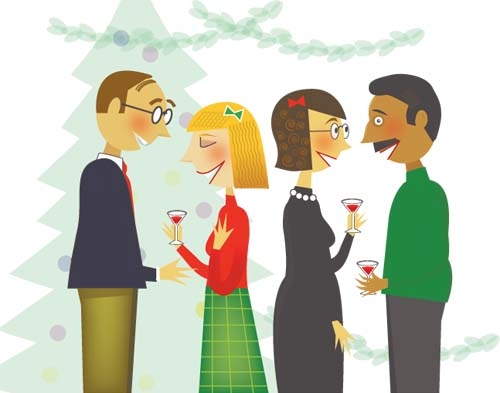 It's December, a month traditionally associated with song, celebration and interminable small talk with people you never even knew existed.
And for that last bit, thank the holiday party which, to shy people, private people and anybody who isn't terribly fond of talking about the weather with total strangers, sometimes can feel like a festively decorated verbal minefield.
To make this annual thicket of holiday chitchat a bit easier to navigate, we asked a few experts for help in creating a survival guide to holiday party conversation.
First, however, consider this: Framing holiday party conversation in such negative terms right from the get-go may be part of the problem.
Enjoying a holiday party depends on a person's attitude toward other people, says Kay Collis, an officer of Chamber Voices Toastmasters in Las Vegas. Try, Collis says, to think of it this way instead: "A stranger is a gift that's been given to you, and it's your job to open that gift and see what that person is all about."
Of course, Collis adds with a laugh, "I've had quite a few people say, 'Not my gift' and wrap that gift back up and put it out for someone else. But if you like people, you're going to have more fun when you go into it."
That doesn't mean trying to be somebody you're not. The reality is that there are introverts and there are extroverts, and some people do find it easier to strike up a conversation at a party than others.
Magician Mac King's job requires him to be verbally adept with anybody, including fans at after-show meet-and-greets and audience members he brings onstage during shows. Yet, admits King – whose show plays Tuesdays through Saturdays at Harrah's – "I'm secretly the shyest guy in the world."
King says he's apt to be the guy at a party who spends more time listening to other people talk than he does talking himself.
"I think part of it is, everybody needs a certain amount of attention," he says. "But I get my fill every day of people laughing and applauding for me."
Understand, too, that feeling shy or intimidated in unfamiliar social settings isn't unusual. Cameron Basquiat, a communications professor at the College of Southern Nevada, says that while phobias about public speaking get all the press, "in reality, there is an equally significant phobia about interpersonal interaction.
"Dealing with somebody one-on-one can be just as terrifying – in some cases more so – than speaking in front of 200 people, because those people (in an audience) are just general and there's no real connection."
So, our experts say, walk into your holiday party with the notion that it's not a test to be aced or a popularity contest to be won. Rather, consider it merely an opportunity to have some fun, meet a few people and, perhaps, learn something you didn't already know.
Collis says that, when she goes to a party, she'll scout out the room. The idea is to see who's there and search out people you already know and might wish to talk with. This social reconnaissance also gives you a chance to note the conversational groupings that already have formed and see which ones might seem amenable to welcoming a newcomer.
"You have to look at body language," Collis says. "Is there space for you to even enter the group? If it's a tight-knit group, I just walk right by it. We all know what our personal space, our safety zone, is. If it's a loose-knit group, that's the one I sort of look toward going to."
Basquiat says that, in any potential social interaction, "you look for approachability cues, where they're saying, yes, it'll be OK if I came over to talk to them."
Besides obvious negative cues – scowling or other indications that suggest newcomers aren't welcome – look for such positive cues as easy eye contact and an open, relaxed posture. Those are the sort of cues "we're going to be drawn to," Basquiat says. "We're more likely to interact with those people."
Remember, however, that approachability is a two-way street. Others at the party will be evaluating your approachability just as you are evaluating theirs, Basquiat says, and giving off negative cues means "nobody is going to want to come and talk to you."
Don't feel pressured to immediately join in on an existing conversation. Collis suggests ambling over to a group and just listening for a bit.
"You can stand there politely, listening for a couple of sentences, and there's usually somebody in that group who will invite your comment," she says. "There really are a lot of nice people out there and your goal is to find a group that has that person in it."
Buffet tables or bars are good places to meet potential conversational partners. Everybody stops there during a party, and Collis says asking a stranger about a favorite cocktail or appetizer is a natural conversation starter.
For other conversation starters, Basquiat suggests beginning with "small talk and what we consider free information."
That means nothing too personal and nothing that will make the potential partner feel as though they'll have to share too much. So, Basquiat says, "the safest things are, like, weather and traffic."
People generally enjoy talking about themselves and Collis makes it a point to ask such questions as "what a person does for a living, what their hobbies are, what books they've read or movies they've seen."
The idea, Basquiat says, is to come up with questions that can't be answered with a simple, conversation-stalling "yes" or "no,'" but which set the stage for further questions or more conversation.
Don't overdo it, though, lest others think you're trying too hard or coming on too strong. King says that, for icebreakers, he's been known to do "a couple of goofy little tricks."
"But I try not to," he adds. "I don't want to be that guy who's always on."
Instead, King will ask others what they do for a living.
"People always want to talk about my job because they think it's more interesting somehow," he explains. "But I'm really interested in stuff that other people do and I try to get people to talk about their jobs. That's my deal: I try to be curious about people."
Collis often will offer strangers a compliment about what they're wearing.
"I'm a tie lover," she says. "So if you're a guy and you're wearing a great tie, I'd make a comment about your tie: 'That's a great Snoopy tie' or Garfield tie, or whatever."
Don't hew too closely to a script. Instead, feel free to try out more than one icebreaker and follow any ensuing conversation where it leads.
"You'd be amazed," Collis says. "I've met men who loved to cook and we talked about recipes and cooking. And, of course, sports are obvious with men, but a lot of women love sports. I think you need to throw out all of your old stereotypes."
By the way, Collis adds: "We're taught as children, 'Don't talk about politics or religion,' and those are some of the most fun conversations to have."
Be willing to answer questions from your newfound conversational partner, too, because any good conversation flows in two, or more, directions.
"We expect reciprocity," Basquiat says, and for our conversational partners to share "something of equal value. So you need to put yourself out there."
Sometimes, however, the biggest holiday party conversation challenge lies in bailing on a conversation that's not going so well. In that case, Collis says she might excuse herself to use a restroom or freshen up her drink or get a drink for somebody else.
"Have a buddy system," she says. "Go with somebody and have a glance or little signals to give each other (indicating), 'I need a rescue here.' "
Finally, for the terminally shy or introverted partygoer, here's a can't-miss partygoing strategy: Marry an extrovert.
King says his wife is "much better" at parties than he is, "so I tend to hover over her while she's talking."
"That's my real tip," he jokes, "to hang out with somebody who's really good at that."
Contact reporter John Przybys at jprzybys@ reviewjournal.com or 702-383-0280.