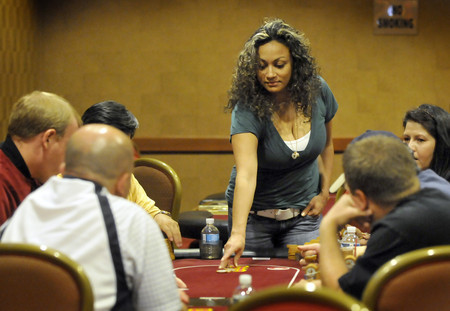 Tucked into a corner of the casino, the Gold Coast's poker room might seem easy to overlook — if all you're doing is looking.
If you're listening, however, it's impossible to miss.
Even in the casino, where happy chatter blends with slot-machine clatter, the poker room's signature cascade of clicks cuts through the background noise.
Somewhere between the side-to-side slide of abacus beads and the insinuating rhythm of castanets, the clicking of all those chips provides a steady pulse as the poker room downshifts to late-night mode.
Mary Fico, who has been running the room, prepares to end her workday — by giving a ride home to poker-room regular Judy Pousman — while colleague Jack Slatter clocks in.
For the next eight hours, Slatter will cash players in and out, page gamblers to take their seats, clarify rules, even clear dirty glasses and crumpled napkins from the tables.
"I'm kind of a neat freak," Slatter says, almost apologetically.
There's no smoking in this particular poker room, either, which lends it a fresher air — thanks to actual fresh air — than you'd find at many a kitchen game.
That explains why one chain-wearing, almost chain-smoking player abandons his chips, albeit temporarily, to step outside so he can light up and take a few cigarette puffs before returning to the game.
This time of night, only five tables are in action. The sixth sits idle, its chips locked in a table bank: $200 in orange $2 chips, $100 in brown $1 chips. Before the hour is up, another table will close, prompting players to fill empty seats at the four remaining games.
Or, more precisely, game: Texas hold 'em.
Images of other games — a basketball playoff, ESPN's "Baseball Tonight" — flash past on plasma-screen televisions mounted on the walls, above the heads of the players.
But the players aren't looking up. They're watching as dealers flip cards with practiced ease at each burgundy red felt-topped table.
The players themselves could play extras in a "We Are the World" video: tourists and locals of both genders, all ages and ethnic backgrounds, attired in everything from T-shirts to tube tops to tattoos.
Most of them play with relaxed intensity, a few quiet words punctuating the business at hand. One table, however, emerges as a magnet for the gregarious, who just can't help providing play-by-play commentary.
"Yes! Champion!" one exults, embracing a pile of clattering orange and brown chips.
"You kiddin' me, man? All those jacks?" another carps, sticking out his tongue as his successful opponent corrals the pot.
Yet, undaunted, the loser antes up again, ready for the next deal, as the cards keep whizzing across the table — and the chips click on into the night.
Contact reporter Carol Cling at ccling@reviewjournal.com or 702-383-0272.
ON THE WEB: MORE STORIES FROM THE BEWITCHING HOUR
Slideshow